Theming and Accommodations at Disney's Grand Floridian Resort & Spa
By Dave Shute
For the first page of this review of Disney's Grand Floridian Resort & Spa, click here.
THEMING AND ACCOMMODATIONS AT DISNEY'S GRAND FLORIDIAN RESORT
Disney's Grand Floridian is one of 8 official Disney owned and operated deluxe resorts at Walt Disney World.
In their recommended order for first time family visitors, they are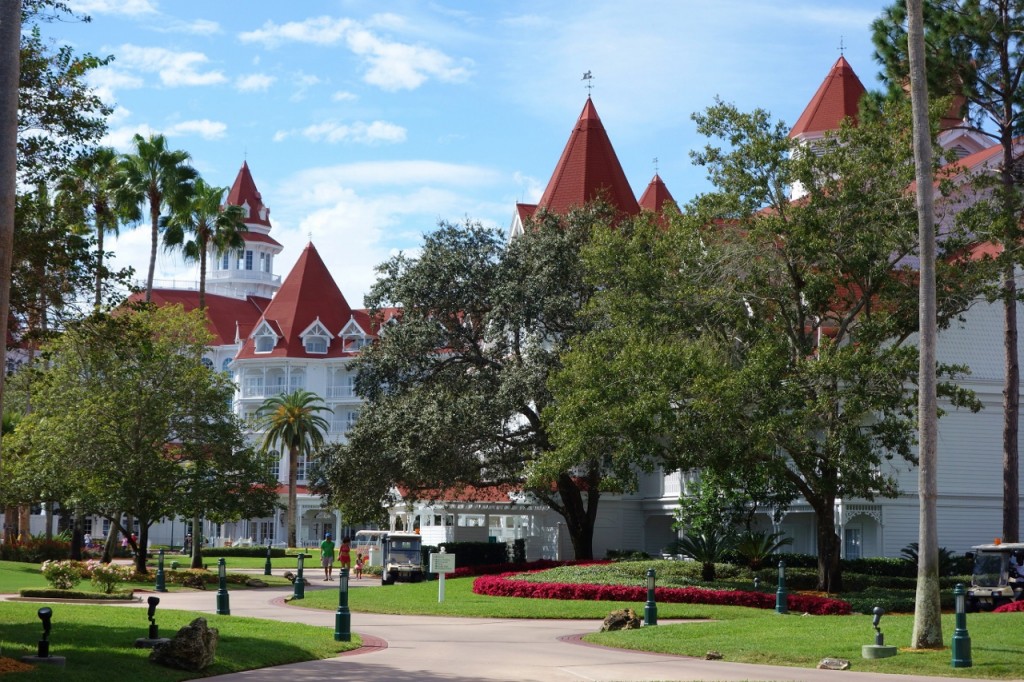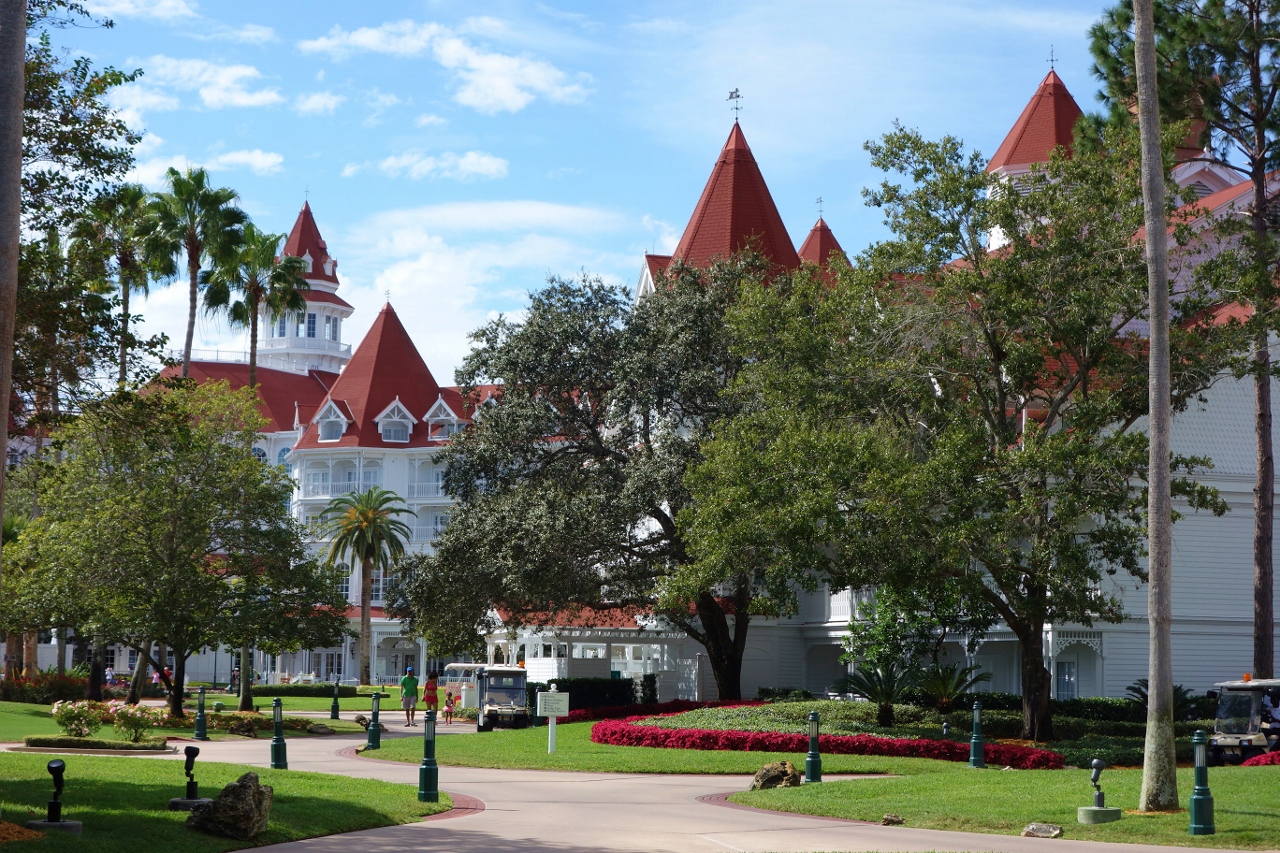 Many of these also offer Disney Vacation Club ("DVC") studios and villas, all for rent to the general public–see this for more on the Disney Vacation Club resorts. At the Grand Floridian, the DVC offering is The Villas at Disney's Grand Floridian Resort & Spa.
THE THEMING OF DISNEY'S GRAND FLORIDIAN RESORT
Disney's Grand Floridian Resort & Spa opened in July 1988, and saw its last major renovation in 2014. While this refurb was not all that long ago, the most recent Disney World hotel refurbs have outclassed its rooms a bit in terms of powerpoints, TVs, storage, bath privacy and other dimensions of livability. For a photo tour of a Grand Floridian room, see this.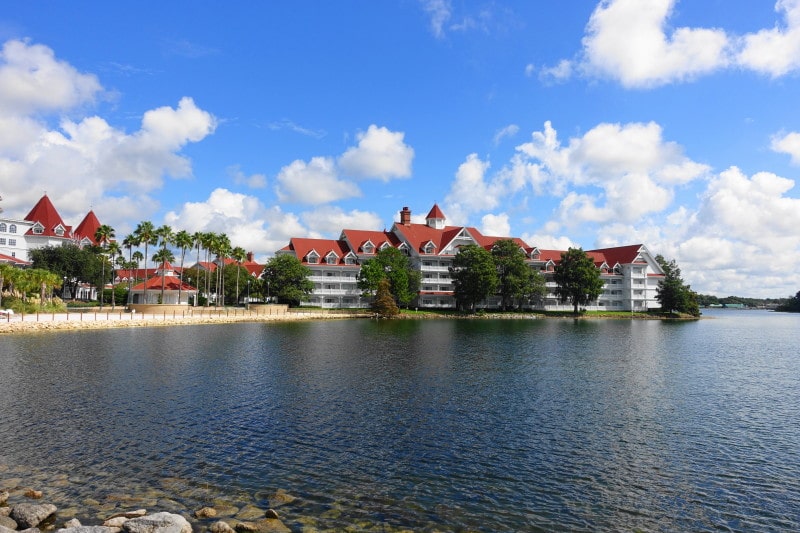 When it opened, it replaced the Contemporary Resort as Disney's flagship resort, and remains Walt Disney World's most expensive and loveliest resort. (Some cast members at the Contemporary call the Grand Floridian the "red roof inn"; in turn, some Grand Floridian staff refer to the Contemporary as "the toaster.")


According to Disney World's website, the Grand Floridian is
"a Victorian-style Disney Deluxe Resort distinguished as the flagship hotel of Walt Disney World Resort and offering world-class dining, entertainment and luxurious accommodations in its 6 striking red-gabled buildings. This magnificent hotel sits along the white-sand shores of Seven Seas Lagoon …With its gleaming white exterior, intricate gingerbread trim and gorgeous stained-glass domes, the Resort is an architectural marvel."
The theming is sometimes claimed to reflect the design and grandeur of Henry Flagler's Florida hotels, which were meant to attract well-off Ohioans and northeasterners to his Florida East Coast railroad. Anyone who has seen, for example, the remaining Flagler hotel buildings in St Augustine, will understand that this is nonsense.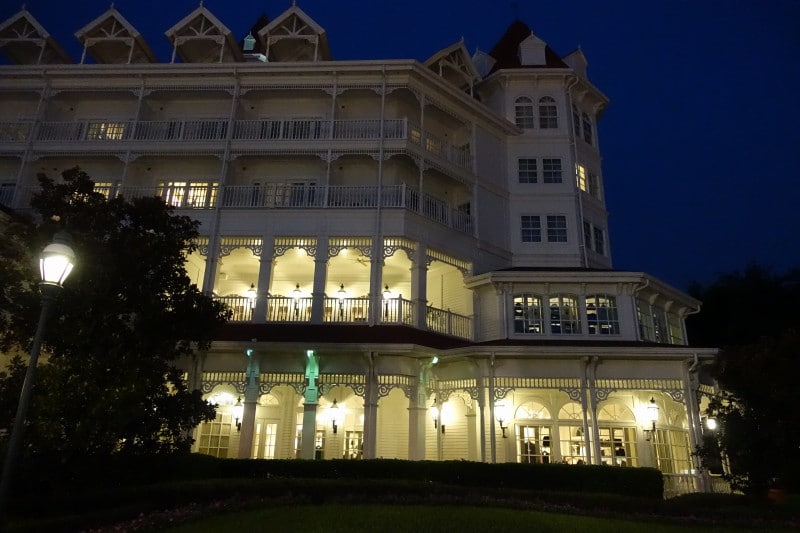 The Grand Floridian is a creation of the Disney imagineers, and more influenced by southern California hotels (especially the Hotel del Coronado) than any Flagler edifice. It is the only hotel at Walt Disney World fundamentally designed by Disney's imagineers, and they did a glorious job with it.
It is remarkable for not only its beauty but also its serenity. To relax at the main pool, surrounded by the glorious buildings, is to fully take advantage of the ability of architecture to add peace to life.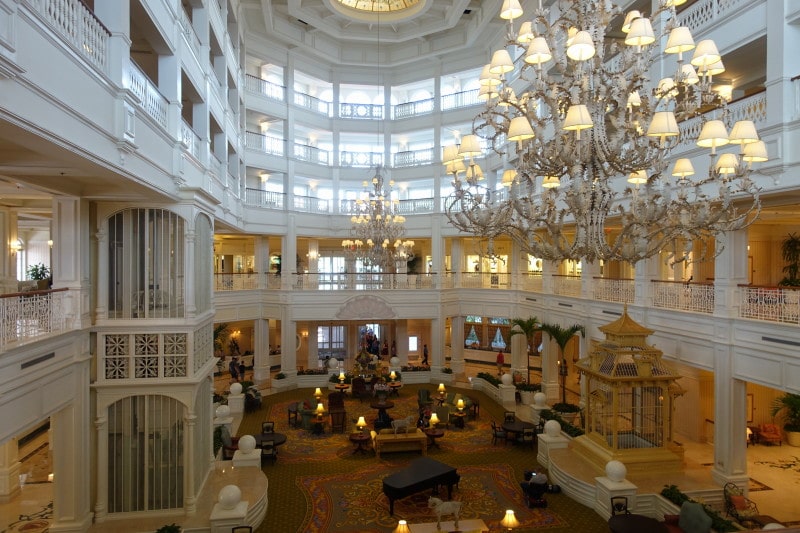 The vaulted lobby is also a favorite, and there's a group that returns to the Grand Floridian every year in November to watch its famous Christmas decorations be re-created here.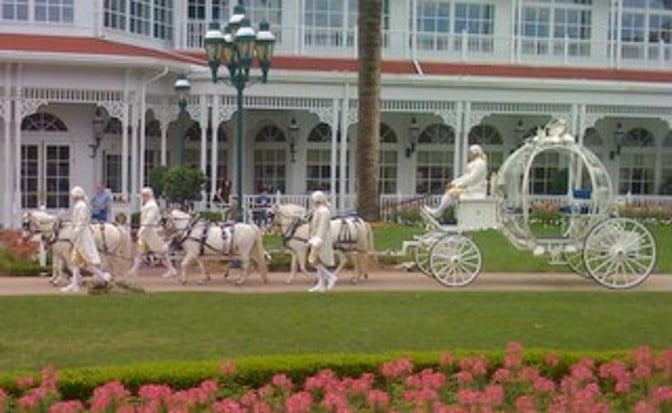 The resort is also popular for weddings and honeymoons. As noted on the first page of this review, the interior decor is conventional and somewhat dull, and the resort has no particular kid-appeal. But for adults who welcome, or can overlook, the dull interior decor and lack of kid appeal, the Grand Floridian is a wonderful place to stay.
The Grand Floridian is a step above other Walt Disney World deluxe resorts on a couple of dimensions, with architecture, dining and minor amenities–such as robes–being at the top of the list.  What it is not is a peer to world-class luxury resorts such as the Four Seasons.
ACCOMMODATIONS AT DISNEY'S GRAND FLORIDIAN RESORT
All Disney deluxe resorts have standard rooms; concierge rooms, which Disney calls "club" rooms; and suites. (See this for more on suites at Walt Disney World.)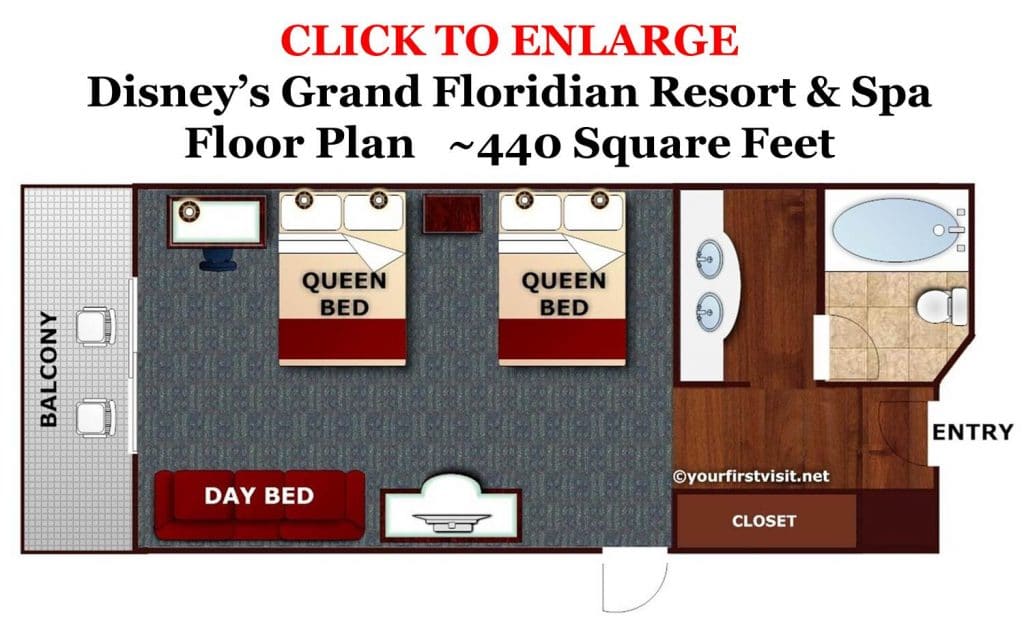 At Disney's Grand Floridian Resort, multiple room types exist. Standard rooms, and most club/concierge rooms, sleep either four or five, five in two queens and a fold-down day-bed. A floor plan for a standard five person room is above, and a photo of such a room is below.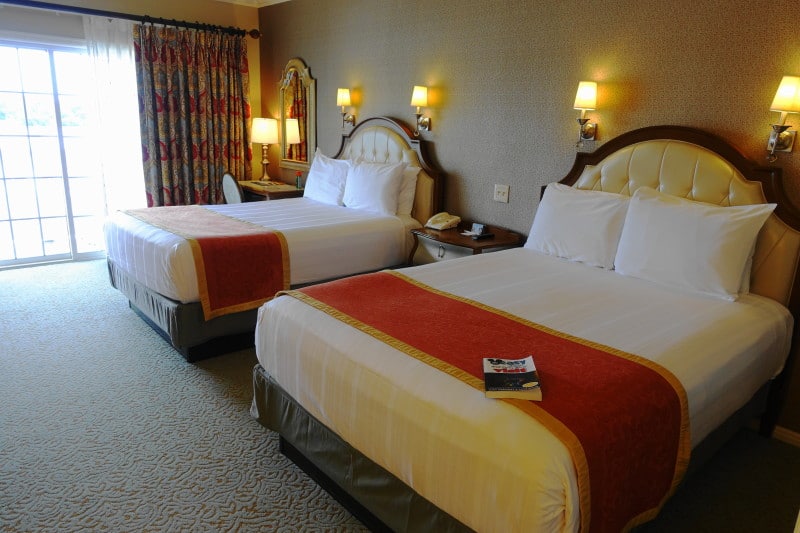 For a full photo tour of a room at Disney's Grand Floridian Resort, see this.
"Dormer" rooms sleep 4 in two queens, are a little smaller than standard rooms, have much smaller balconies, but offer a vaulted ceiling. King bed rooms are also available.
The Grand Floridian also has multiple types of deluxe rooms and a ton of suites. I'll return to these in a minute.
I generally advise against special room types for first-time visitors, as they won't be spending much time in their rooms. However, they may be well worth it for families intending to spend more time at the Grand Floridian Resort than implied by this site's itineraries.
TikimanPages.com has a great discussion of the value of club/concierge rooms here. Though focused on the Polynesian, it applies to any deluxe resort. Moreover, in an experiment for 2018, certain club level rooms that meet specific requirements (mostly, paying more) have access to extra FastPass+ that are bookable at 90 days from departure and free of tiering restrictions.
Standard and club rooms come in three view categories, Lagoon, Theme Park, and Garden.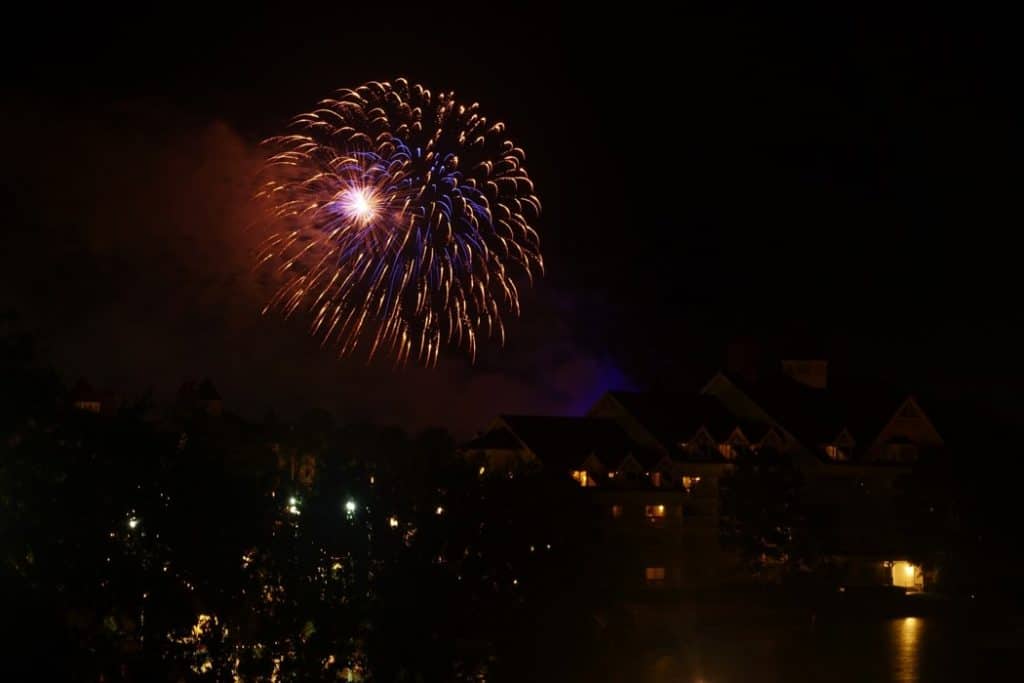 Lagoon views mean you can see the Seven Seas Lagoon from your balcony.  Theme Park views mean that in addition to the lagoon, you can see the Magic Kingdom, and most importantly, the evening fireworks show–although views of this are off center.
There's two different types of club rooms, outer building and main building. Outer building club rooms are in Sugarloaf Key and have their own, somewhat noisy and underwhelming club lounge. Main building club rooms are more expensive and have another club lounge.
Most Grand Floridian club rooms are the same size as the rest of the resort's rooms. However, there's also several types of "Deluxe" concierge rooms, and more than two dozen one and two-bedroom suites.
Deluxe rooms (and most one-bedroom suites) don't offer any more sleeping capacity–some offer less–they just give you more space, and more separate spaces, for your family to live in.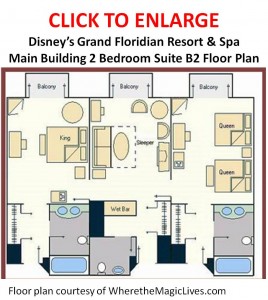 Most one bedroom suites are two bays wide, and most two-bedrooms three bays.
Two bedroom suites are often a near-standard queen and a near-standard king room on either side of a central parlor room, with connecting doors. This permits the queen and king rooms to be booked separately if there isn't demand for the suite, or the king and the parlor rooms to be booked as a one-bedroom suite. See the image.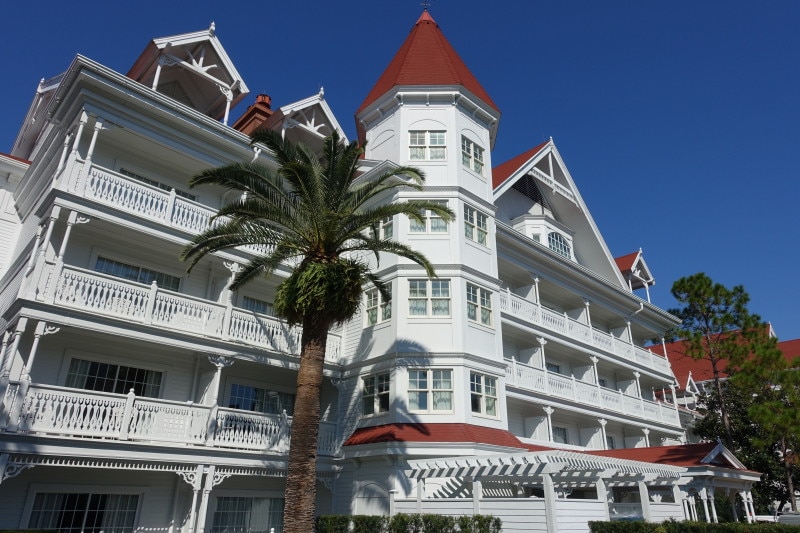 Exceptions in the main building include the Walt Disney Suite and Roy O. Disney Suite, the equivalent of 4 bays each, and the Presidential Suite, also known as the Grand Suite, about five bays.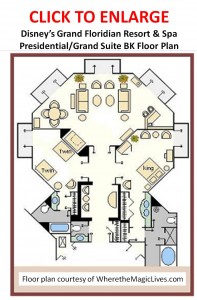 These are each folded into main building turrets–very cool.
See the image for the Presidential Suite floor plan.
The two Outer Lodge Hospitality Suites on the first floors of Conch Key and Sago Cay are four bays each. They have the usual standard king and queen connecting rooms at the end, separated by a two-bay living space.
These two suites, often used for convention special events, each also have large private outdoor patios, perfect for watching Wishes.
As you can tell…suites at this resort are quite different.  Work with a travel agent if you are interested in suites at the Grand Floridian. Kelly B is the travel agent I recommend. Call or text Kelly at 980-429-4499 or request a quote below.
For more on suites, see this, and for more on larger families seeking deluxe options, see this.
Note that to all the capacity figures above you can add a child under three in a crib. In standard rooms, a crib fits nicely between the dresser/TV and the closet.
This review continues here.
PAGES IN THIS REVIEW OF DISNEY'S GRAND FLORIDIAN RESORT
OTHER KEY PAGES FOR WHERE TO STAY AT DISNEY WORLD


Follow yourfirstvisit.net on Facebook or Twitter or Pinterest!!
RELATED STUFF