Softening a Bit on Free Dining at Disney World after September 2013
By Dave Shute
MORE FREE DINING AT DISNEY WORLD IN 2013?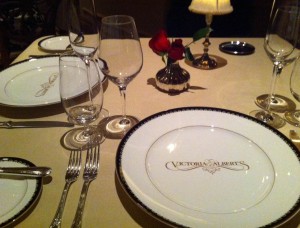 So I've forecast a number of times—most recently here—that I don't expect to see any generally available free dining in 2013 beyond the current deal for September.
But the possibility that we won't see Fastpass+ until January 2014 has me re-thinking this a little.
Not much.  Just a little.
There's several possibilities, all framed around how well bookings for October to mid-December are already going:
Bookings for October to mid-December are going fine (which is still my guess, based on how strong attendance has been so far this year): if so, then no more free dining
Bookings for then are running a little behind expectations: then expansion of the current individualized pin-code offer, probably around 8/1
Bookings for then are running a lot behind expectations: then expansion of the pin-code offer, possibly well before 8/1, and also a limited general public free dining deal, probably after August 6th
Here's why I think this.
THE LOGIC OF MORE DISNEY WORLD FREE DINING IN 2013
Disney has made it clear for years now that as the economy slowly improves, it will be cutting back on discounts.  We've seen this so far in 2013, when in sharp contrast to recent years, there's been no free dining, at all, for the worldwide general public except for September.
Disney wants to get out of these deals for three different reasons:
With improvements in both the economy and in the appeal of Disney World from the Fantasyland expansion, it doesn't need to offer so many deals to hit its economic goals
It wants to "train" people to no longer expect such deals
And in a related point, it wants to reinforce to people that the value of a vacation is there, even without free dining
Most of this comes from Pricing 101, but there's two time-related issues that make me think there may be more to the story.
First, and most important, word is that Disney World's marketing plan for later 2013 was planned around MyMagic+ being in pretty much full launch.  As that looks less and less likely, there may be a concern that Disney does not have enough to talk about to energize later 2013 bookings.  Free Dining could help with that!
Second, Disney will be reporting on its third quarter (which ends at the end of June) on August 6.
Disney always reports on its earnings call how hotel bookings and prices per day for the current quarter (at the time of the call, the current quarter will be July-September) are going.  The preparation for this call forces attention on the general topic of future bookings, so I'm sure there are multiple contingency plans for launching various deals to push later bookings if the level at the time of the call is projected to look thin.
Complicating this for the August earnings call is that Q3 2013 will suffer compared to Q3 2012, simply because Q3 2012 had both Easter holiday weeks in it, while Q3 2013 had only one.  You'd think analysts would get the profound impact of this timing on parks profitability, but at least a couple proved on the Q2 earnings call that they didn't.
So there may be some earnings skepticism purely related to analysts misunderstanding–or mistrusting the explanation of–comparability issues, which Disney won't want to reinforce with weak booking.
So if Disney really needs to move bookings, and/or needs something more to talk about in later 2013, I could see more free dining in 2013 meeting either need.
However, I'd expect Disney to base any expansion of free dining as much as it can on pin codes.
These don't give it as much to talk about in a marketing campaign—but that's kind of the point.
They can be explained to the analyst community as targeted and limited compared to prior years, and because they won't have as much of a big marketing push behind them, won't have the same effect in reinforcing deal-seeking behavior or erosion of the sense of what price makes a Disney vacation sensible.
The more it needs to build bookings, the earlier this renewed pin code push would come.
And if bookings are enough behind plan that Disney does need to offer free dining to the general public, my guess is that it won't come out until after the earnings call. 
This timing would avoid having to explain it to the analysts…a limited set of dates and hotels on offer compared to prior years would in fact be a continued scaling back of discounts, but that's a subtler conversation than Disney needs to get in to…
My takeaway is still that we won't see a general public free dining deal for 2013 after the September deal…but I could see a renewed push behind pin codes, and do see more reasons why a free dining deal may in fact come out!
Follow yourfirstvisit.net on Facebook!
RELATED STUFF