Fastpass+ Not Until 2014?
By Dave Shute
THE NOMURA MEDIA AND TELECOM SUMMIT AND FASTPASS+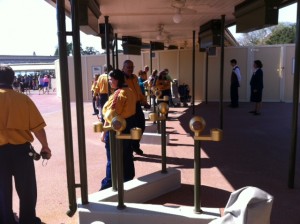 Fastpass+ is a new, not-yet-released Disney World program that will allow…and perhaps require…Fastpasses to be reserved well in advance of a visit.
(Len Testa has a great write-up of what's known (not a lot) and what can be reasonably speculated about Fastpass+ here.)
I predicted back in early April that the earliest date we'd see this consequentially operational in the parks would be October 1, and nothing in Disney's early May earnings call led me to revise this date to earlier.
I thought a telling exchange on this call was the following (bold added by me)
Analyst: "…in terms of [the Fastpass+] timeframe, would that be something where by fiscal 2014 you would think we start to see some impact?"
Bob Iger, Chairman and Chief Executive Officer, The Walt Disney Company: "Yes. I think–well, I definitely believe we'll see some impact in fiscal 2014. That is certainly our plan…"
Disney's fiscal 2014 starts in October 2013. This waffling is sensible—you don't want to announce a date before you are confident in it, and Disney can't be confident in Fastpass+ until a number of systems issues are resolved, and lots of further testing happens.
Now Jay Rasulo—who was also on that call, and is Disney's CFO—was at the Nomura Annual U.S. Media and Telecom Summit last week, and of course got a similar question.
Here's what Jay had to say about the timing of MyMagic+, the overall program of which the major element will be Fastpass+:
"…MyMagic+… will probably launch before the end of this year in its, I don't know, I won't say totality, but largely be launched by the end of this year and fiscal year."
So my take-away?  October 1 is still the earliest date I'm seeing for the widespread in-park use of Fastpass+, but if I had to bet, based on just the passage of time and the comparative words used between these two early and late May sessions, I'd look for an even longer timeframe…
I'd now guess for a formal widespread opening of Fastpass+ for reservations sometime between late September and early November, with the first pretty full use of the program in the parks beginning no earlier than January 4 or 5, 2014—after all the holiday crowds are gone.
This is just a forecast—it could be earlier, especially if the launch in the parks explicitly excludes Thanksgiving week and the weeks of Christmas and New Year's or even later.
But that's my bet now—no widespread use of Fastpass+ in the parks until 2014.
Follow yourfirstvisit.net on Facebook!
RELATED STUFF