An Interesting Disney World Survey and the Future of Room Deals
By Dave Shute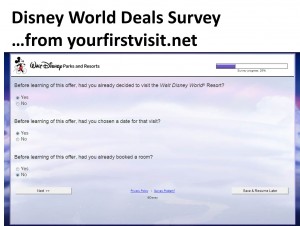 So later this week I'll be headed to Walt Disney World for six nights, split between All-Star Movies and All-Star Sports.
(I also have double bookings in Cars and Lion King at Art of Animation and the Polynesian–I'll explain all in a later post, "Resort Hopping at Walt Disney World" lol).
I made all these reservations on Disney World room-only deals, and for the first time ever got pre-visit surveys about my Disney World deal-seeking behavior–actually I got the survey twice, once for Movies and once for Sports.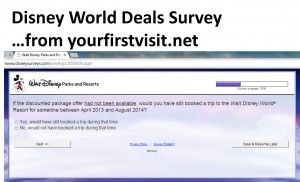 The survey was pretty clearly trying to get at the role of the deal in my choice of when to visit and where to stay, and if I would have gone then and there anyway had the deal not been out.
Now that the Disney World deals for the rest of 2013 are clear, we're all speculating about 2014 deals at Walt Disney World.  These surveys–and lots of other stuff–give food for thought.
DISNEY WORLD DEALS IN 2014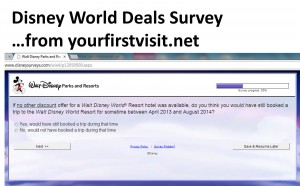 Disney does deals because it makes more money that way.
Almost all Disney deals are about driving up occupancy in its resort hotels.  This makes perfect sense, as these are high-fixed-cost assets with inventory that if not sold just disappears, and so are perfect for discounting.
Deals enable it to hit profitability targets at a higher overall average per room rate–offering rack rate to those who don't know about, are unwilling to seek, or are not eligible for, the deals, and deals to get the last bit of demand from those who need lower prices, or just demand a discount.
The art of putting two different prices on the same capacity–from the strategic pricing perspective–is to
Not give the deal to people who would have happily paid full price, (thus the surveys, trying to measure this) and to
Not let the deal permanently reduce the perception that people have of the value of the offering
So, one way or another, you make these deals hard to get.  I suppose we saw that in spades last Thursday…
The need to offer the deals at all is partly influenced by what people perceive as the value for money of the resorts themselves–so the easiest way for Disney to make more money off of its hotels is to add value to the resorts and make fewer deals.
Well, what's happening in 2014?  A couple of things.  The Mine Train ride at New Fantasyland will open, and, someday, Fastpass+ will open too.  And it's been widely speculated–and as much as admitted on a recent earnings call–that Walt Disney World resort hotel guests will get something better than everyone else out of Fastpass+–though no one on the outside can say for sure what that'll be.
So I put these together and say that Disney resort hotel guests will get something special, and that that–combined with the improving economy–suggests limited discounts in 2014.  We saw no free dining in 2013 until September–and based on what I've laid out so far, that's my bet for 2014 too.
But…Disney does not act in a vacuum.  And Universal Orlando has a couple of big openings in 2014 as well.  Harry Potter will expand into Universal Studios, and Universal will be opening its first lower-priced hotel, Cabana Bay Beach Resort, in stages beginning early in the year.
So what does this mean?  Well, honestly, I'm still thinking about it.  The timing of everything mentioned is a key variable, and I don't have confidence in any opening dates.   I guess the best I can forecast right now is lesser discounts (especially less free dining) from Disney in early 2014 compared to late 2013 unless and until Universal starts making an impact on Disney bookings…
Follow yourfirstvisit.net on Facebook!
RELATED STUFF