Disney World Free Dining for September 2013
By Dave Shute
DISNEY WORLD FALL 2013 FREE DINING DEAL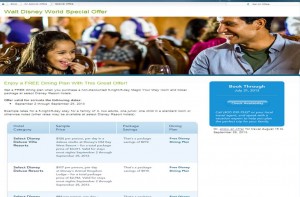 As expected, Walt Disney World announced today a free dining deal good for most arrival dates from September 2 through September 25. You need to book this deal by July 31.
Savings vary by resort, and not resort hotels are included in the deal.
Here's the basics of what's available:
Deluxes, Disney Vacation Club, and Moderates:
Free "regular" dining plan, which gives you credits for one table-service meal, one quick-service meal, and one snack per night of your hotel stay.
Values:
Free "quick service" dining plan, which gives you credits for two quick-service meals and a snack per night of your hotel stay.
For more on the dining plan, including how/when you can use these credits, see this.
The best-loved dining venues will book very quickly, so make your dining reservations as soon as you can!  See this for ideas, and also this.
While I'm widely booed for saying so, I expect this to be the only free dining offer for US residents in 2013.  For why, see this.
Oh, well, gotta call em as I see em!  And at least I'll get a free breakfast out of this!
For more, see Disney's page on this deal here.
Also today Disney World announced a room rate deal covering most arrival dates August 15 through September 28
Many smaller families aimed at more expensive hotels will save more with the room rate deal than with the free dining deal.  See this for more on this room rate deal.
Follow yourfirstvisit.net on Facebook!
RELATED STUFF