2014 Weeks to Visit Walt Disney World, Ranked in Order
By Dave Shute
OVERVIEW: 2014 WEEKS AT WALT DISNEY WORLD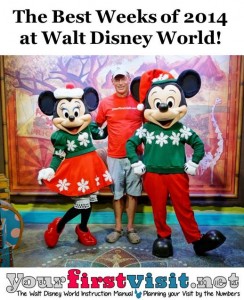 This site recommends arriving at Walt Disney World one of the first three Saturdays after Thanksgiving.
If you can't go then, presented below are the weeks of 2014 in order of best to worst.
The week rankings are based on the 2014 Disney World Crowd Calendar and 2014 Walt Disney World price seasons, as well as other factors–the Christmas season,  ride closure season and hurricane season in particular.
The 2014 crowd rankings and price seasons were updated in the summer of 2013–and these week rankings were updated then too.
There are two pages of 2014 Disney World week rankings. The page you are on has recommended weeks. The second page has the rest of the weeks of the year, and is here.
The ranking is designed for first time visitors who do not know whether or not they will return.
For visitors on a return trip, less concerned about ride closures, the later January and early February weeks would be ranked much higher–with the Marathon and Martin Luther King Day weeks being the worst of these.
Returning visitors should use the 2014 Disney World Week Picker.
(For 2015 rankings, see this, and for 2016, see this.)
RECOMMENDED 2014 WEEKS, RANKED IN ORDER
The recommended weeks that follow are wonderful weeks to visit Walt Disney World in 2014.
Week number one has it all–lower crowds, low prices and wonderful Christmas programs and decorations. The first Saturday of this week overlaps with Thanksgiving crowds and prices, but the rest of it will be marvelous:
Weeks 2 and 3 have many, but not all, of the strengths of week 1:
2: 12/13/14.  A week as good as week 1 on crowds and holiday programs. Much more expensive,  however, than weeks 1 or 3
3: 12/6/14. Largely a terrific week with low crowds, low prices and wonderful holiday programs. However, this is a week that, because of Pop Warner football demand for resort rooms, is rarely discounted beyond its already low prices. Those intending to stay at a value resort should consider avoiding this week and target week 1 instead, as Pop Warner may make the value resorts crowded and boisterous this week
Week 4 is a very strong week.  It has low crowds and prices, and while the holiday program won't be fully in place, the Magic Kingdom should be fully decorated for Christmas by early in the week
Weeks 5 and 6 are similar, sharing low crowds but moderate prices. The May week is ranked slightly higher because of slightly lower prices
Weeks 7-9 share great late autumn weather and have low crowds.  These are near-tied, but are in calendar order as the best weather is earlier.
7: 10/18/14
8: 10/25/14
9: 11/15/14
Week 10 is similar to week 5, with slightly higher crowds
Weeks 11-13 are the best before-Easter options. Weeks 11 and 12 have similarly low crowds, but 12 has higher prices than 11. Week 13 has higher crowds than either 11 or 12, but prices comparable to those in week 11.
11: 2/22/14
12: 4/5/14
13: 3/1/14
This completes the weeks in 2014 that are recommended.
THE RANKING OF THE REST OF THE WEEKS OF 2014
The  rest of the weeks of 2014 continue here.
These remaining weeks are not recommended, although some are much better than others.
For a calendar view of the entire year, click the image.
RELATED STUFF