Summer Itinerary For Walt Disney World v3
OVERVIEW: WALT DISNEY WORLD SUMMER ITINERARY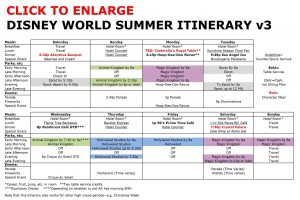 This 8 night itinerary is for most of the incredibly busy weeks from late May to mid-August.
It also works during other very busy times–e.g. Christmas, New Years, and Easter week.
(Click thumbnail to open; when open click again once or twice to enlarge)
For itineraries for the rest of the year, see this. For when to go to Walt Disney World, see this.
Click on your arrival week on this page to check for exceptions. If you are returned to this page, then this itinerary should work.
LINKS FOR THIS ITINERARY
WALT DISNEY WORLD ITINERARY LINKS
RELATED STUFF