Disney World Room Rate Deal For Most Dates from July 11 through September 28, 2023
By Dave Shute
Walt Disney World has released a new set of discounts off of its standard hotel room rates, some quite substantial, for "most nights" July 11 through September 28, 2023.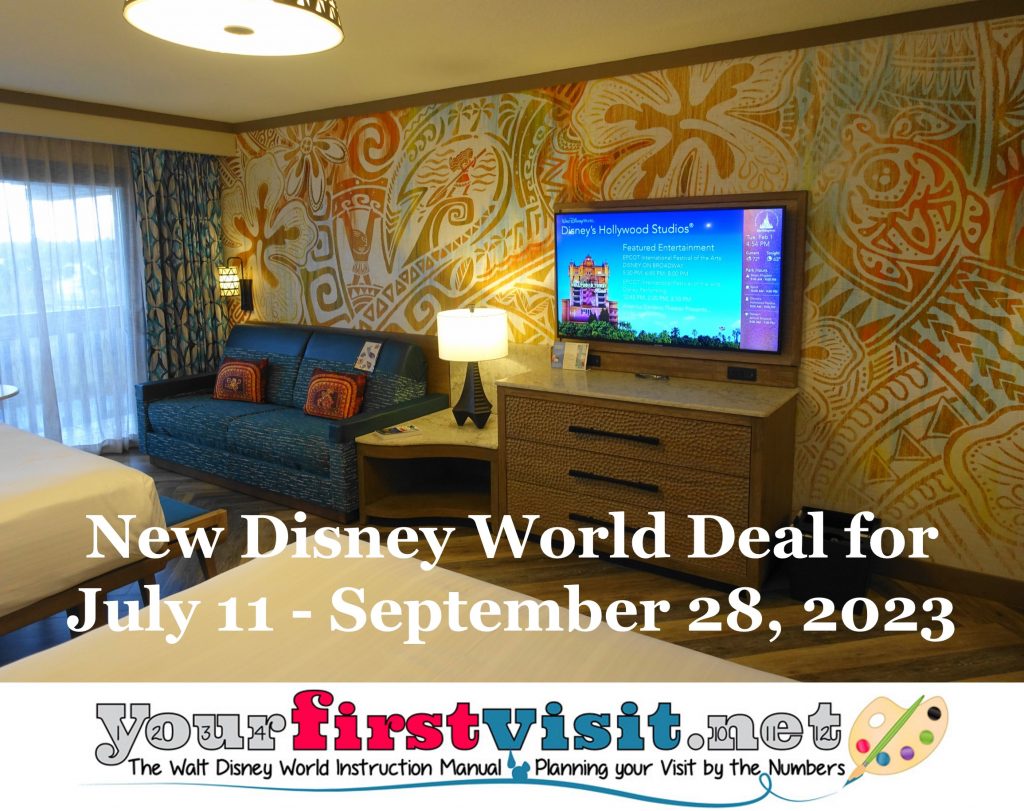 There's four sets of discounts that range from 10% off to 25-30% off, and most of the sets have two discounts in each, the lower of the two for most of the period, and the higher discount during the traditionally slow times at the beginning of the fall semester, August 21 through September 14.
SAVINGS OF 25% TO 30% AT WALT DISNEY WORLD
Substantial savings in this group apply to many deluxe resorts, some DVC resorts, and moderate resort Coronado Springs (this is a VERY nice price on Coronado Springs…):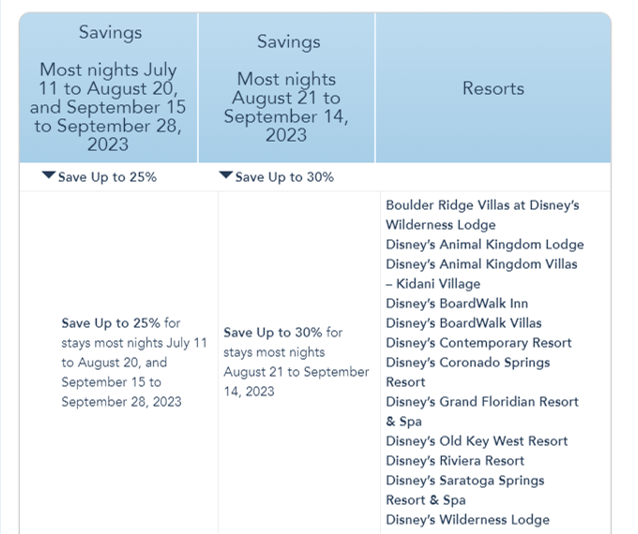 SAVINGS OF 20% TO 25% AT WALT DISNEY WORLD
Pretty good savings in this group apply to several moderates, and also to the Family Suites at the value Art of Animation, one of two room types there: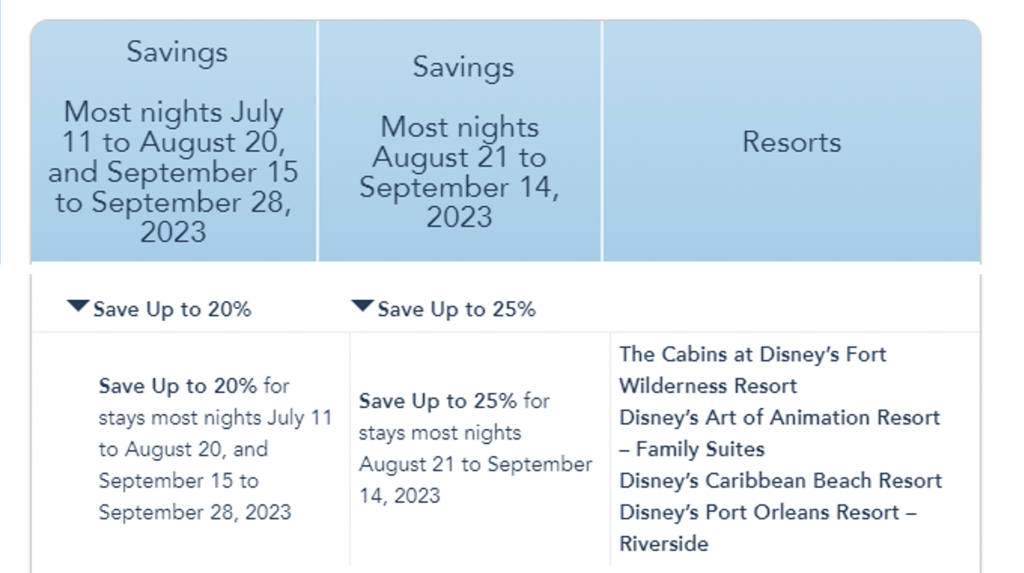 SAVINGS OF 15% TO 20% AT WALT DISNEY WORLD
These savings apply to the rest of the value resorts, and also to the Epcot deluxes Beach Club and Yacht Club. Note that the almost equally fine (though seeing construction) Epcot deluxe BoardWalk Inn is in the 25-30% off group: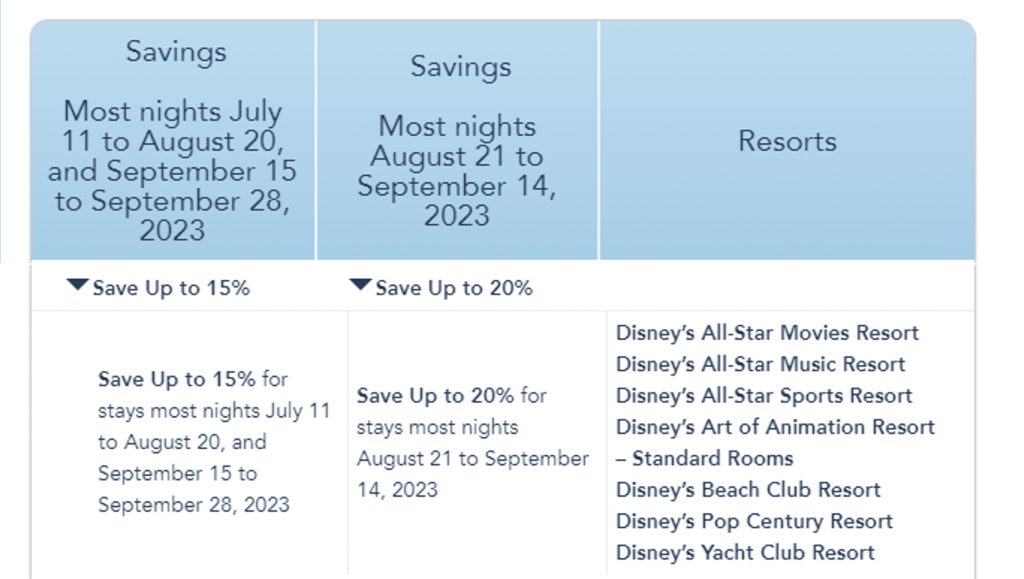 SAVINGS OF 10% AT WALT DISNEY WORLD
The lowest savings are available at a mix of resorts where supply and demand seem enough in balance that Disney does not need much to discount: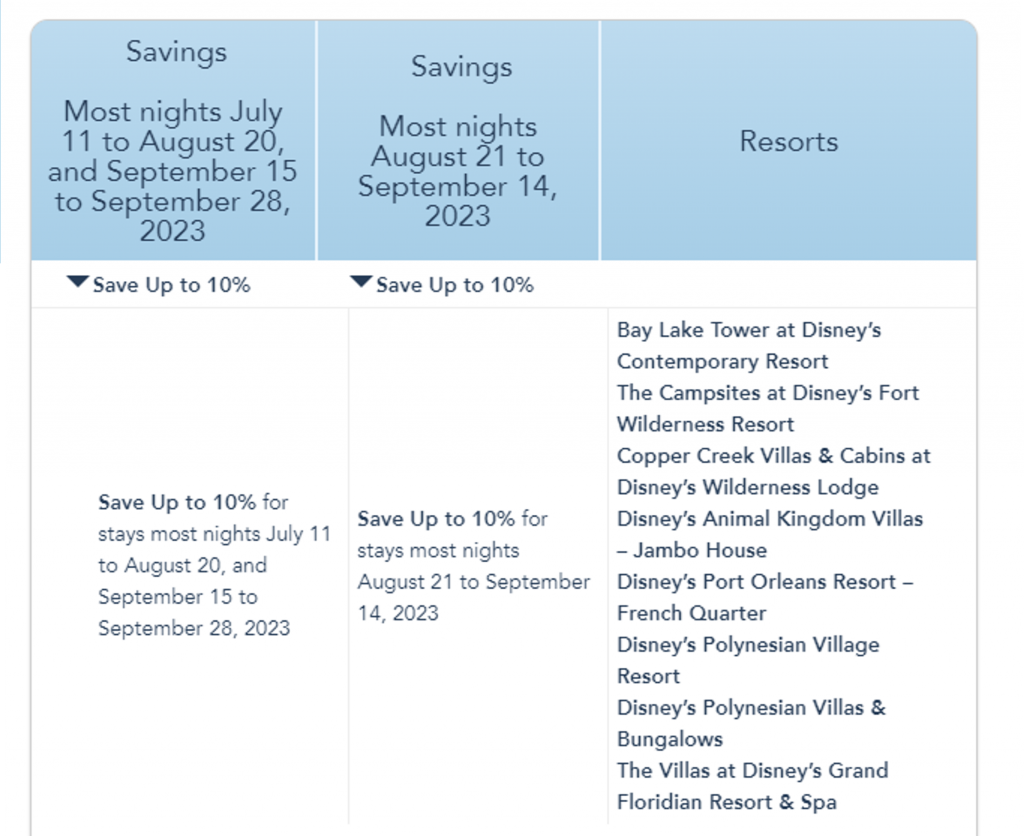 BOOKING THIS NEW DISNEY WORLD DEAL
These deals are available for booking now, but eligible rooms are limited, and—if the past us any guide—the least expensive rooms at any given resort are the toughest to find.
Disney World's page on this deal is here.
A different "dining promo" deal is also out for many of the same dates. Different visitors will save more on one deal or the other.  Details on the Disney World dining deal are here.
My friends at Destinations in Florida, the long-term travel agent partner of this site, can help you sort out which deal is best for you. Contact them using the form below.
Follow yourfirstvisit.net on Facebook or Twitter or Pinterest!!
RELATED STUFF