Fireworks and Evening Shows at Walt Disney World
By Dave Shute
(This page is one of a series explicating Walt Disney World lingo, abbreviations, and FAQ for first time family visitors to Walt Disney World.)
Notes:
Related to COVID, there are no scheduled evening shows/fireworks at any of the Disney World parks.

Rivers of Life at Disney's Animal Kingdom seems to be permanently gone.
FIREWORKS AND EVENING SHOWS AT WALT DISNEY WORLD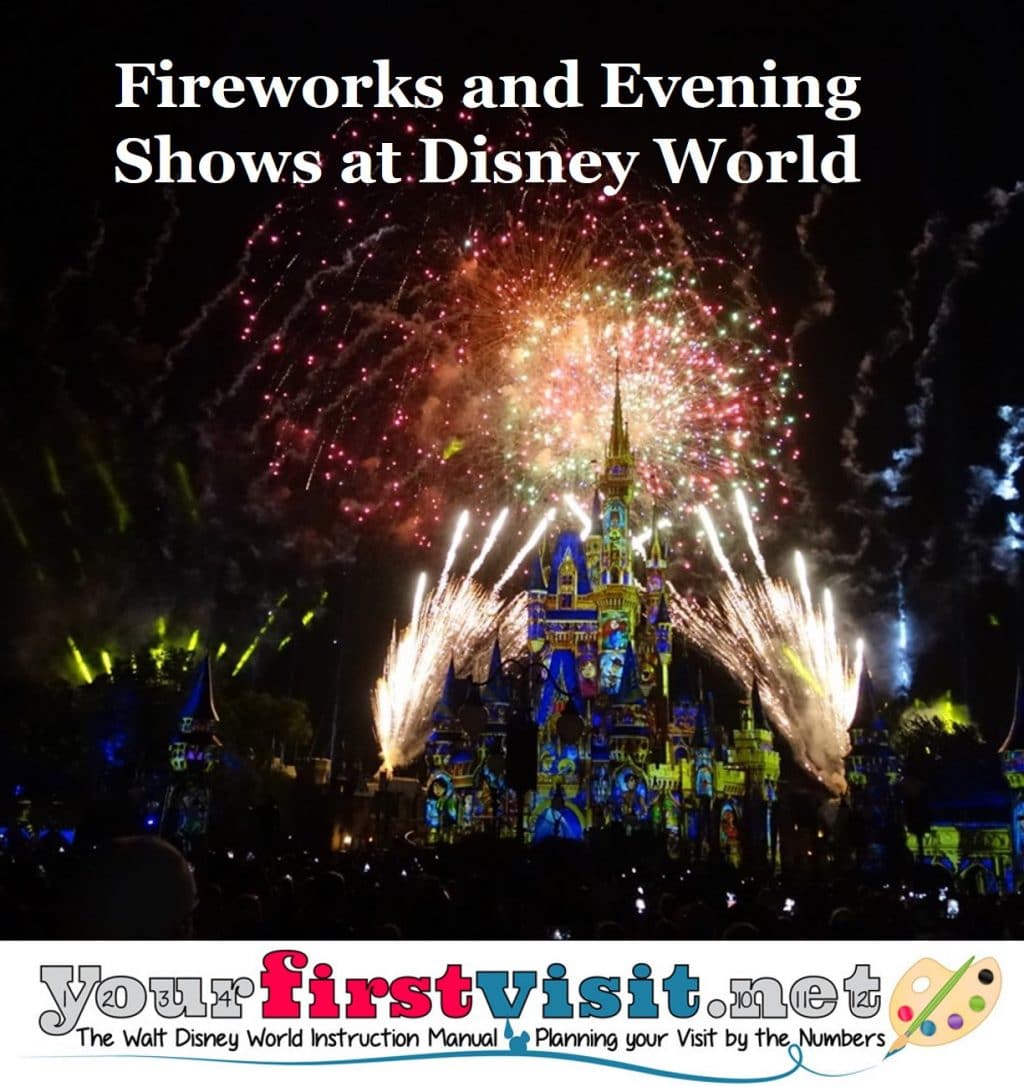 There are currently five routinely-scheduled fireworks or special evening shows at Walt Disney World:
Happily Ever After at the Magic Kingdom, which shows at varying evening times, from a few times a week in the slower seasons to every night during the most crowded times of the year.
IllumiNations at Epcot, which shows every night, most of the time at 9p.
Fantasmic at Disney's Hollywood Studios, which shows almost always every night.
Star Wars: A Galactic Spectacular at Disney's Hollywood Studios, which shows almost always every night, but may be off the schedule over the holidays, as it was in 2016
Rivers of Light at Disney's Animal Kingdom, which–so far–has been showing nightly during the busier parts of the year, and four nights a week during the slower parts.
Each of these is a great show, and a don't miss.
Some of these theme parks also commonly have additional fireworks during the two nights of the year where fireworks are an essential part of American life–New Year's Eve and the Fourth of July!
To check what days and times these shows are scheduled during your trip, check the Disney World calendars:
(Note that it's common for Disney not to release the schedules for these shows until just a few months out–especially the Animal Kingdom and Hollywood Studios shows.)


Follow yourfirstvisit.net on Facebook or Google+ or Twitter or Pinterest!!
RELATED STUFF