FastPass+ and Daily Agendas Now Out for the High Crowd Itinerary
By Dave Shute
Disney changed its basic Extra Magic Hours pattern a while ago, so I've had to re-do my example itineraries to reflect new patterns of the ebb and flow of crowds among the parks.
All the integrated itineraries on this site come with To-Do Lists tied to the basic calendar issues of a Disney World trip: restaurant reservations opening 180 days ahead, and FastPass+ opening 60 days ahead.
So I posted the first draft of my Higher-Crowd Itinerary back in December, more than 180 days before the first period it was aimed at (the busy weeks beginning the Memorial Day weekend in 2016) and this morning (70 days before the first day of this itinerary) I published the daily agendas and FastPass+ that make it work.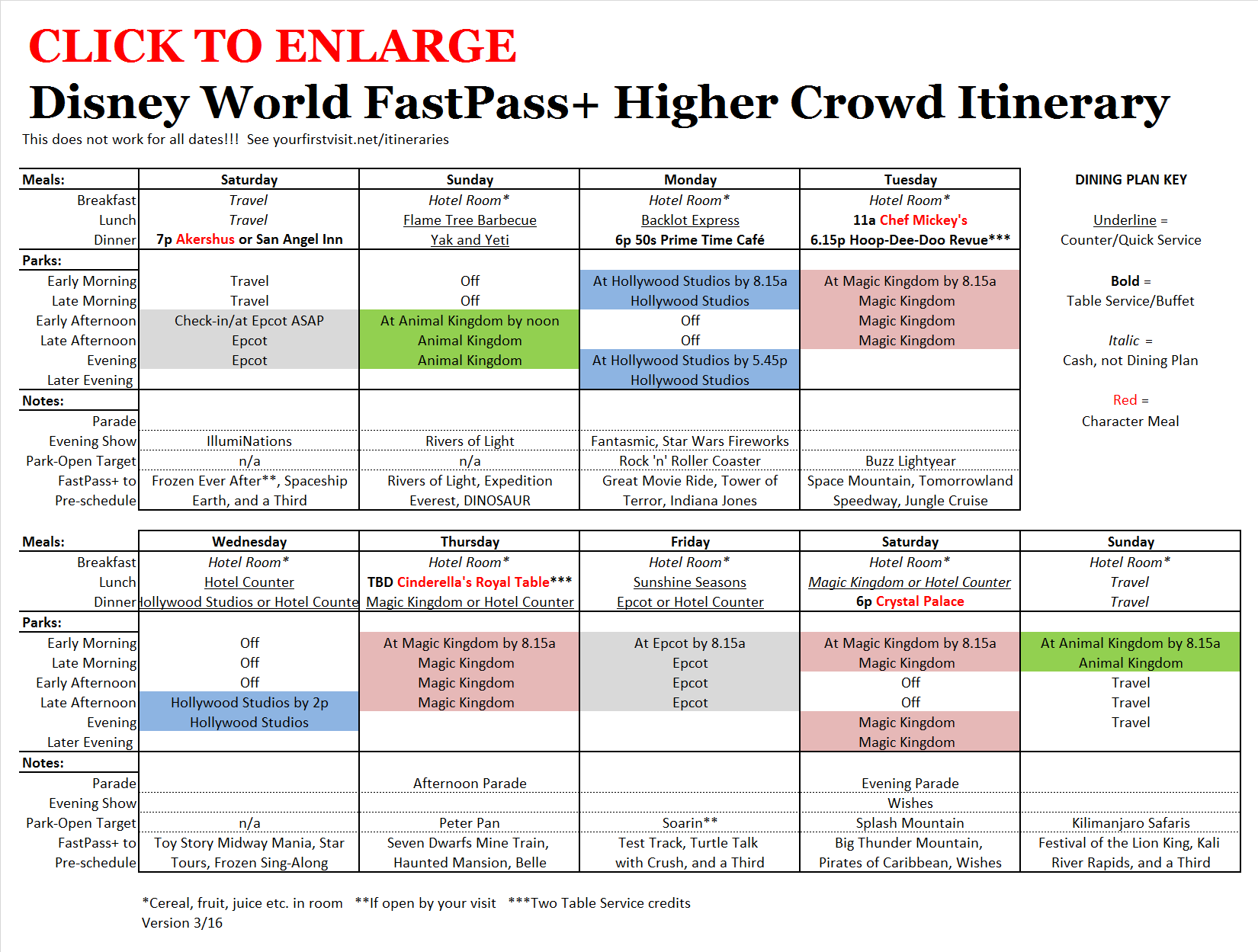 The itinerary, its To-Do List, and the daily agendas are in the links:
Saturday  Sunday  Monday   Tuesday   Wednesday  Thursday   Friday   Saturday  Sunday
Summary of this Itinerary      To-Do List
The itinerary follows the basic design principles of this site:
See all the best of Walt Disney World over a nine day trip.
Spend the equivalent of 2.5 days at the Magic Kingdom, 1.5 at Epcot, and a day each at Disney's Animal Kingdom and Hollywood Studios (people who think either of these last two is a half day park have not written itineraries for them!)
Have people see Epcot first and the Magic Kingdom last, because MK can set visual expectations that the other parks–especially Epcot–don't deliver on.
Curious?  The full Disney World FastPass+ Higher Crowd Itinerary beings here!


Follow yourfirstvisit.net on Facebook or Google+ or Twitter or Pinterest!!
RELATED STUFF