Walt Disney World in 2017
By Dave Shute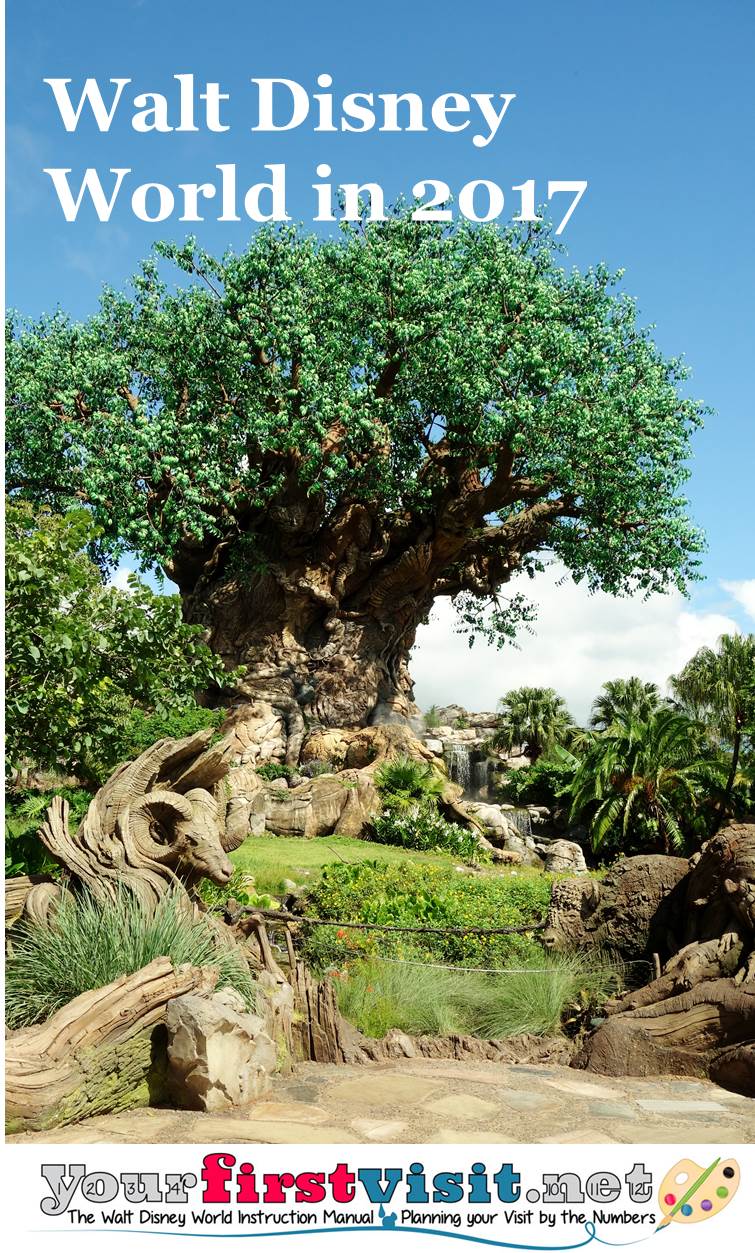 Here are my thoughts on rides, hotels, crowds and such at Disney World in 2017.
NEW RIDES AT DISNEY WORLD IN 2017
After the February 2017 opening of the evening show Rivers of Light at Disney's Animal Kingdom, 2017 will see an even deeper transformation at Disney's Animal Kingdom, as the new land Pandora opens May 27.
Pandora–deeply themed to the moon of James Cameron's Avatar–will include two new rides, one a spectacular banshee ride through the world of Pandora, the second a boat ride through bio-luminescent forests (Disney concept art below).
While there's not much to the movie Avatar itself, it does have gorgeous and stunningly creative settings.  I expect all elements of Disney World's Pandora to lavishly recreate the experience of being there, and the rides to be well worth doing. Joe Rohde, the original lead designer for the Animal Kingdom, remains in that role for Pandora, and I expect a great performance from him and the team.
When combined with the eventual opening of Rivers of Light, the overall attractiveness of the Animal Kingdom will be transformed.
Construction of the new Star Wars and Toy Story areas will continue at Disney's Hollywood Studios in 2017. I don't expect anything much of these areas to be open until 2018 at the earliest.
DISNEY SPRINGS AND THE DISNEY RESORTS IN 2017
I don't expect much material change at Disney Springs in 2017, nor at the current Disney resorts.
DISNEY WORLD CROWDS IN 2017
Presidents Day, February 20 in 2017, is almost as late as it can be, meaning more good January and early February dates, and fewer good late February dates.  Crowds for this week actually begin the Thursday before.
Mardi Gras in 2017 is the week after–February 28th.  A few southern school districts have it off as a single or multi-day holiday. This will lead to the weekend of the 25th being a little busier than usual, but the part of the week following the 28th will be just fine.
Easter in 2017 is late, on April 16. As a result, March breaks and Easter breaks won't overlap, so later March will be a little better than past few years, but there will be fewer good April weeks.
Summer crowds will continue to be rough in 2017, as South Americans take advantage of their winter breaks to come to Disney World and join the hordes of US families on summer breaks.
Thanksgiving, November 23, is almost as early as it can be in 2017, giving more good late November dates but fewer good early November ones.
Christmas is on a Monday in 2017.
Many, many school districts that take long holiday breaks will begin their breaks on Monday December 18, so holiday crowds at Disney World will begin to roll in on December 15th.
Districts that take shorter breaks will be off something like Friday the 22nd through Monday the 1st. This means that the week between Christmas and New Years Day—always the worst of the year at Walt Disney World—will be an especially crazy mess in 2017.
DISNEY WORLD PRICING IN 2017
Disney World raised ticket prices in February 2017. Resort prices should not change again during the calendar year.
MORE ON 2017 AT WALT DISNEY WORLD
Disney World 2017 Crowd Calendar
Disney World 2017 Price Seasons


Follow yourfirstvisit.net on Facebook or Twitter or Pinterest!!
RELATED STUFF