Accommodations and Theming at Disney's All-Star Sports Resort
By Dave Shute
For the  first page of this review of Disney's All-Star Sports Resort, click here.
ACCOMMODATIONS AT DISNEY'S ALL-STAR SPORTS RESORT
Disney's All-Star Sports Resort is one of 5 value resorts at Walt Disney World:
Each of these five has four-person standard rooms, and for standard rooms, for most families Art of Animation is the best choice, followed by Pop Century. All-Star Sports is the fourth best choice.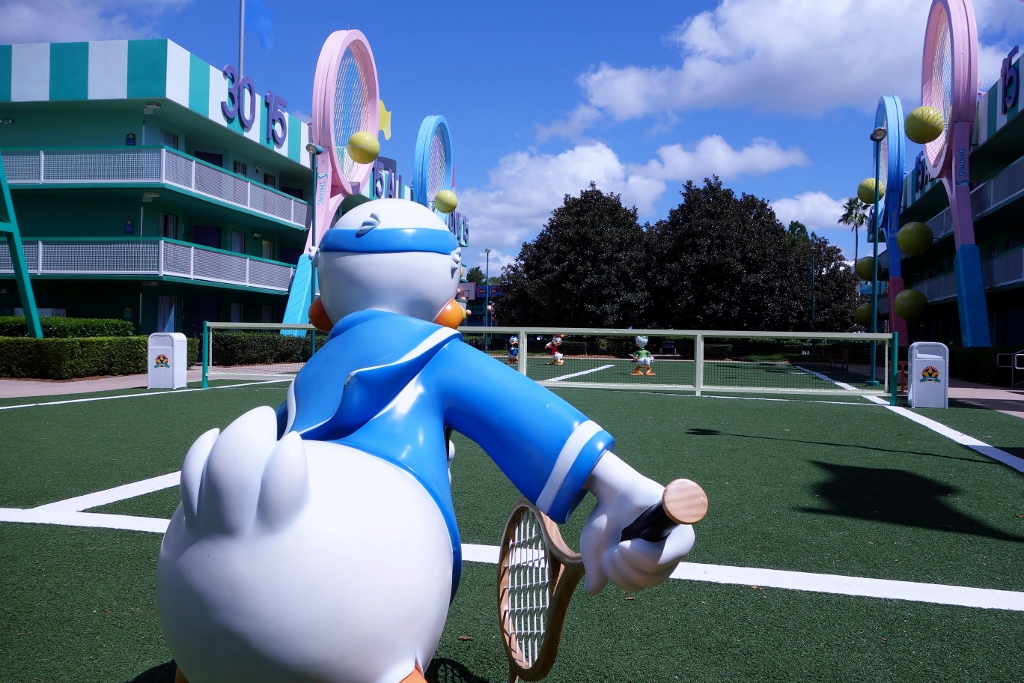 Art of Animation rooms are the most expensive, and next Pop Century. The All-Stars all have the same, lowest pricing. While prices vary tremendously over the year, on average the All-Stars are around $40 less per night than Pop Century, and $80 less per night than Art of Animation.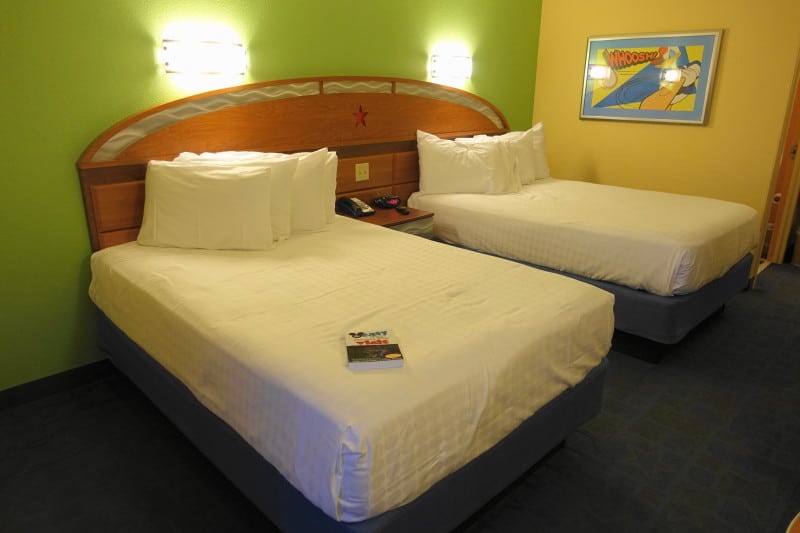 Four person room sizes are similar across all five value resorts.  Art of Animation has the best theming, and All-Stars Sports and Music the weakest (unless your family particularly resonates with the depicted themes at these two).
Until recently, all four person value resort standard rooms offered two full beds (the beds at Sports are shown above), but now, rooms at Pop Century, All-Star Movies and All-Star Music offer queen beds. All-Star Sports rooms have begun a similar refurb to queen beds.  As they emerge between now and mid-2023, refurbed rooms will look like these.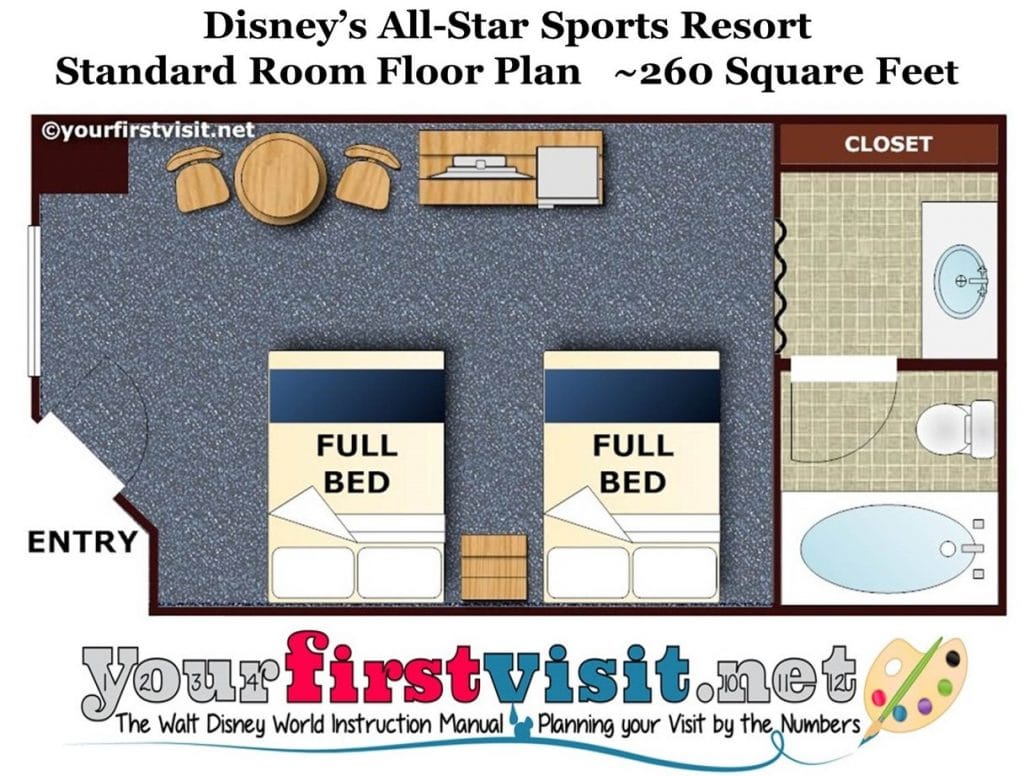 Above is the floor plan of a full-bed room at All-Star Sports. There's a full photo tour of a room at All-Star Sports beginning here. There are also a few king bed rooms here–I believe they are all in accessible rooms–but king bed rooms are not a separately bookable class, though you can call and request one.
There's two price classes of rooms here–preferred rooms and standard rooms. Preferred rooms are closer to the main pool and the central services in and bus stop outside Stadium Hall.
THE THEMED AREAS AT DISNEY'S ALL-STAR SPORTS RESORT
Disney's All-Star Sports Resort officially celebrates "the fun and excitement of sports–including baseball, basketball, football, surfing and tennis…Guest rooms are divided into 5 pairs of 3-story buildings—each bright, whimsical pair is themed after one of the featured sports."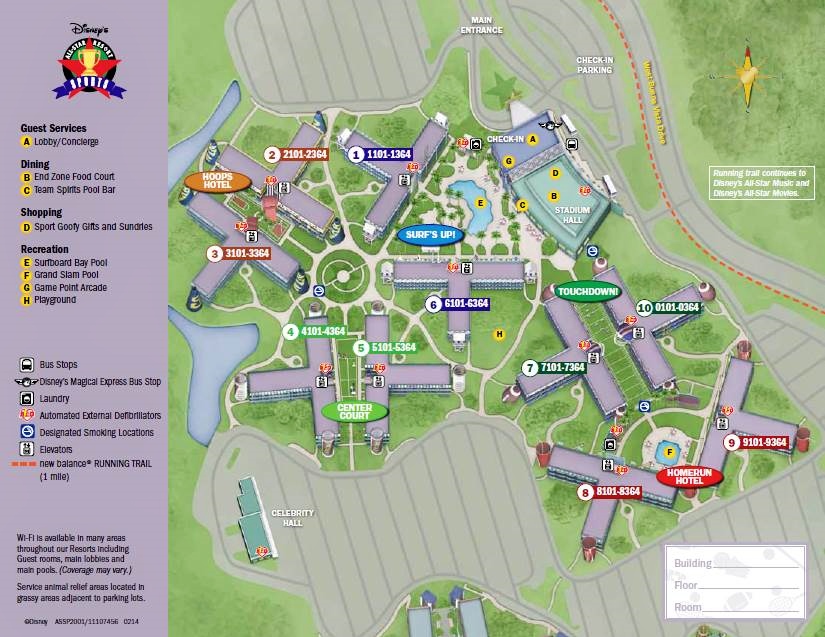 All-Star Sports has 1920 rooms in ten identical three-story buildings, all with elevators. These buildings are in five areas, each themed around a different sport.
Buildings 1 and 6, called "Surf's Up" (surfing), are grouped around the main Surfboard Bay pool, and very close to Stadium Hall.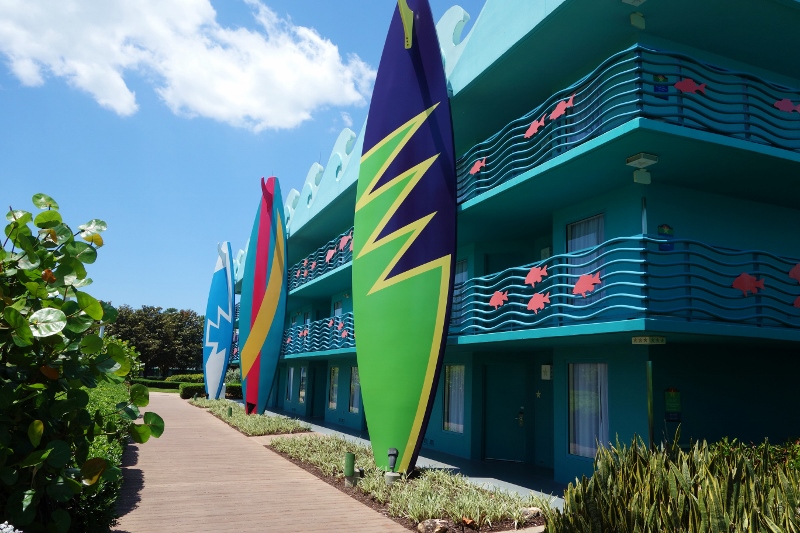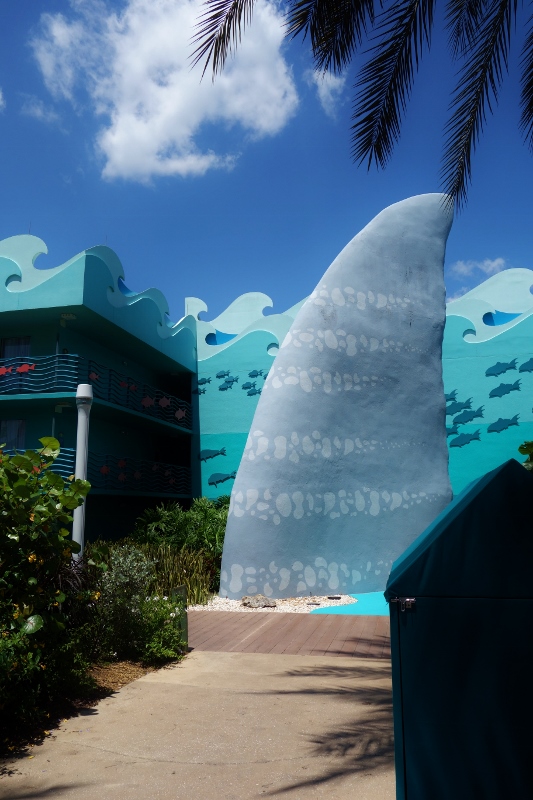 Buildings 7 and 10, "Touchdown" (American football), are grouped around a playground designed to look like a football field, and close to Stadium Hall.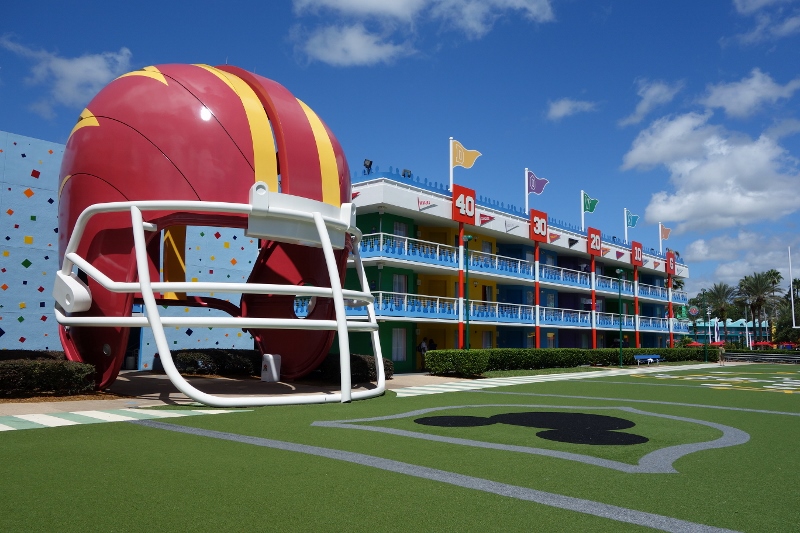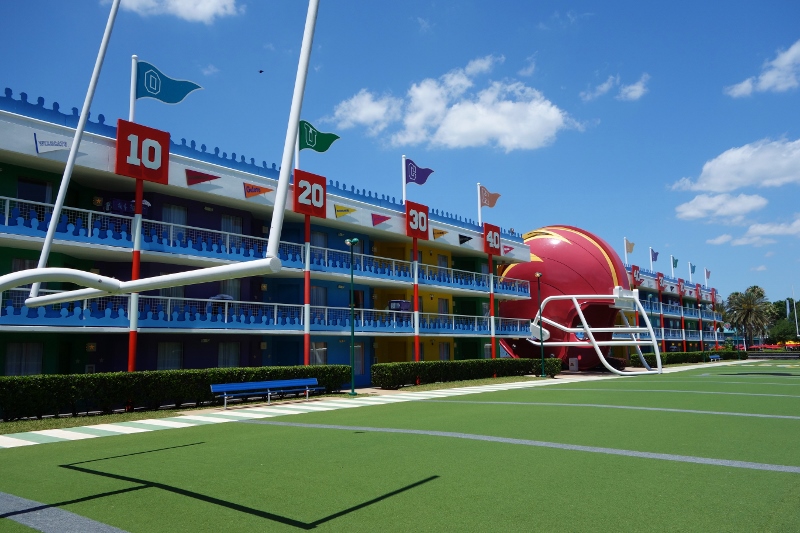 Buildings 8 and 9, "Homerun Hotel" (baseball), are grouped around a second pool, the Grand Slam pool, that is designed to look like a ball field (the pool is the infield) and far from Stadium Hall.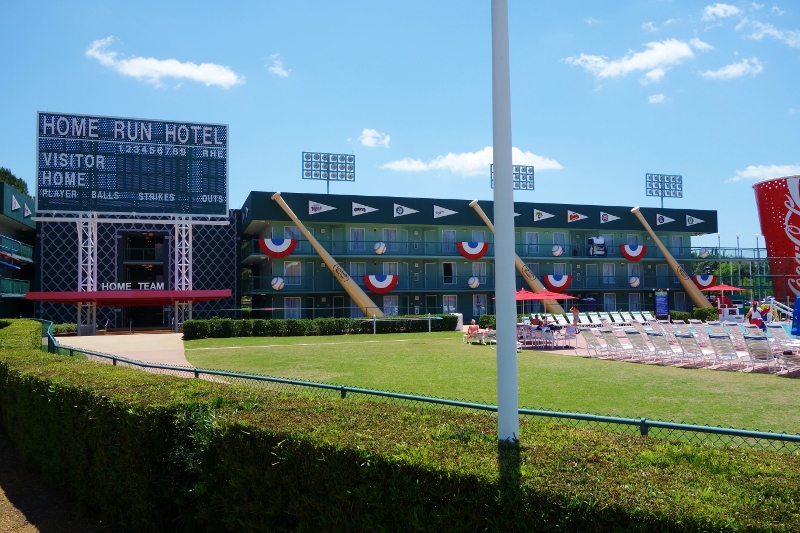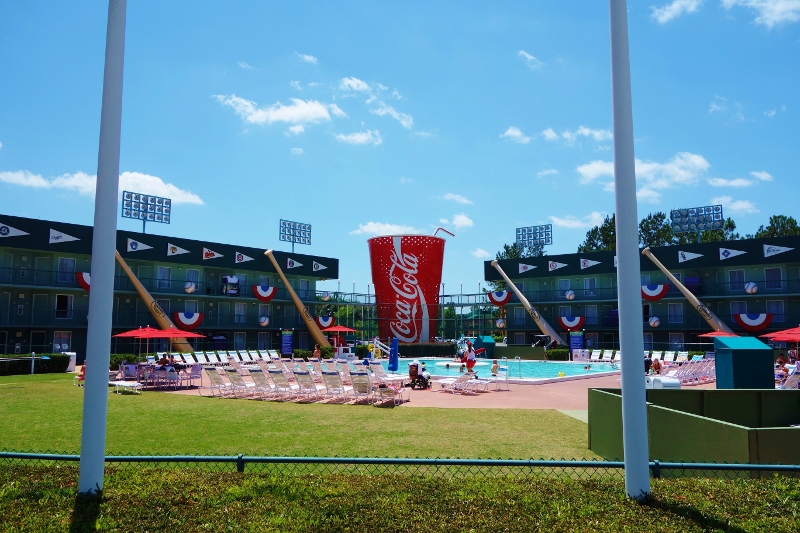 Buildings 2 and 3, "Hoops Hotel" (basketball), are quieter than those above, but more distant than the first two from Stadium Hall–most rooms in building 2 are closer than those in building 3.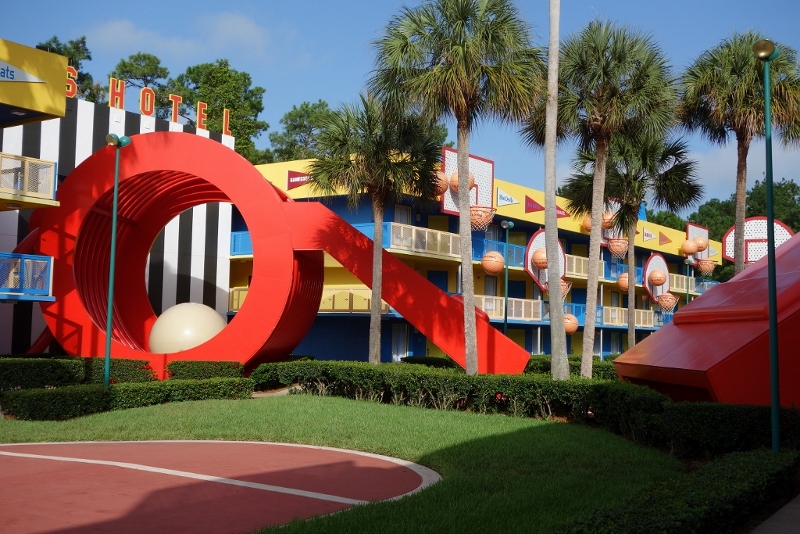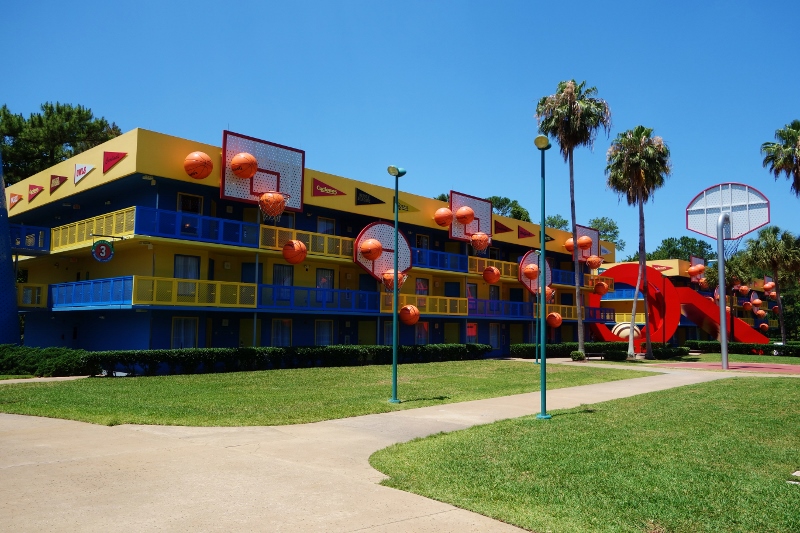 Buildings 4 and 5, "Center Court" (tennis), like Hoops Hotel, are quieter than the first three areas, and like it, further than the first two.  Building 5 is mostly closer to Stadium Hall than building 4. The area between buildings has Donald and the boys playing on a tennis court.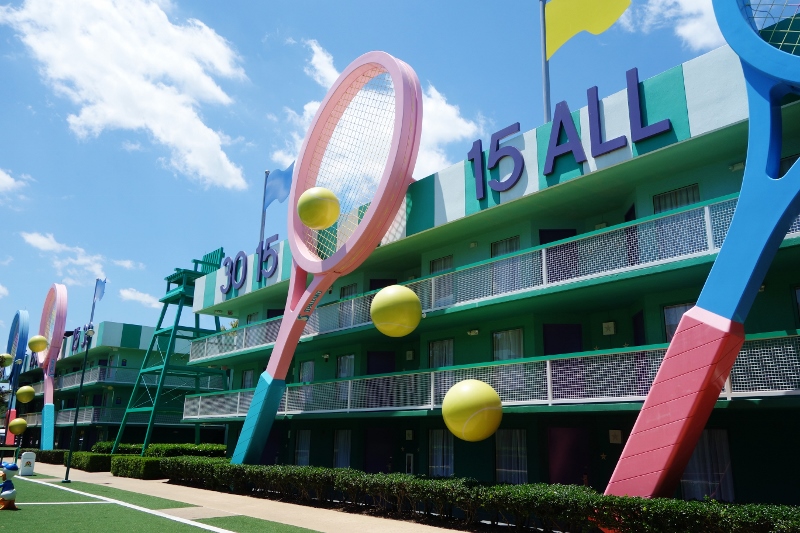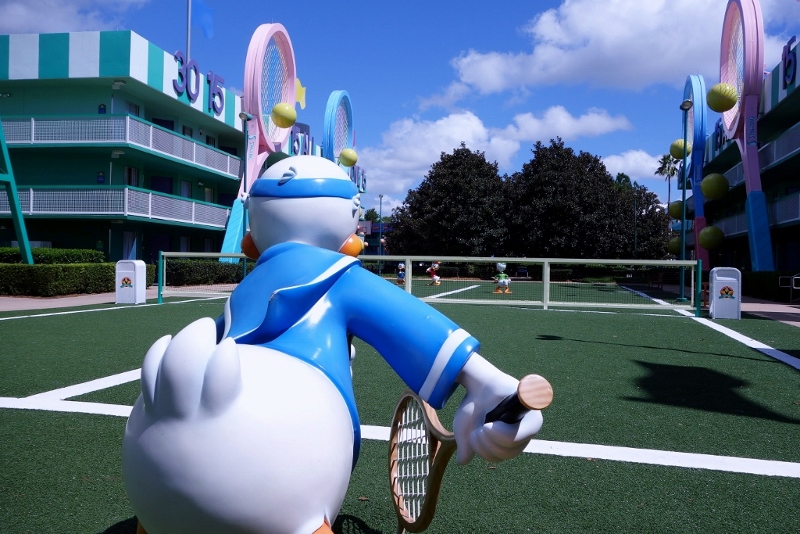 All-Star Sports (and the other values) are often dinged for being "too large and spread-out."
This is an inaccurate criticism, as each of the values fits into a much smaller footprint than any of the three larger moderates, leading to much less walking than at the moderates.
Among the values, Sport's strength for first time visitors is a slightly higher degree of convenience than the other two All-Stars, as buses stop at Sports first both on the way in and the way back from the parks, and its theming, which will work great for kids interested in the sports it highlights.
Its negatives compared to the other values include full beds, thin Disney theming (All-Star Movies and Pop Century are both better with this, and Art of Animation much better) and more raucous kids. See this for more on distinctions among the values.
This review continues here.
MATERIAL IN THIS REVIEW OF DISNEY'S ALL-STAR SPORTS RESORT
OTHER KEY PAGES FOR WHERE TO STAY AT DISNEY WORLD


Follow yourfirstvisit.net on Facebook or Twitter or Pinterest!!
RELATED STUFF