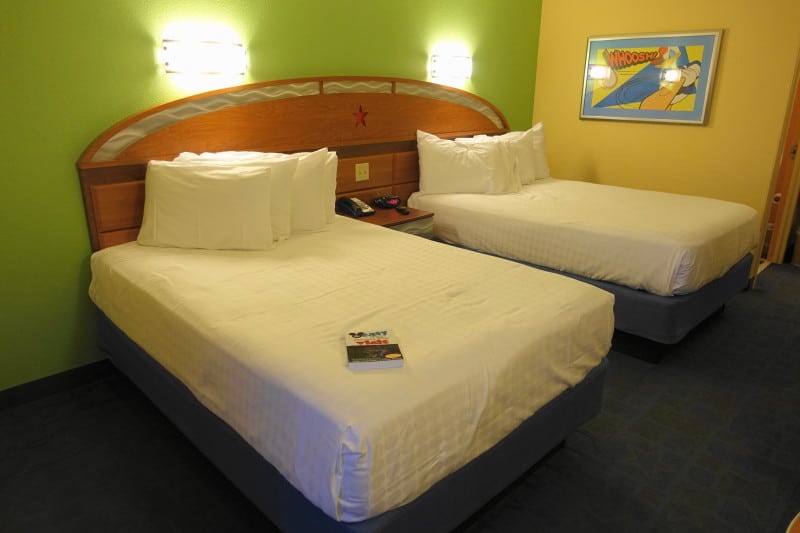 For the  first page of this review of Disney's All-Star Sports Resort, click here.
PHOTO TOUR OF A STANDARD ROOM AT DISNEY'S ALL-STAR SPORTS RESORT
Note: a room refurb project has begun at All-Star Sports. This will yield queen bed rooms similar to those in All-Star Music and All-Star Movies.  For a photo tour of one of these rooms, see this.
Building 10 (in the Touchdown area) is complete, and Buildings 7 (Touchdown) and 9 (Grand Slam) are being worked on.
This photo tour covers an un-refurbed room.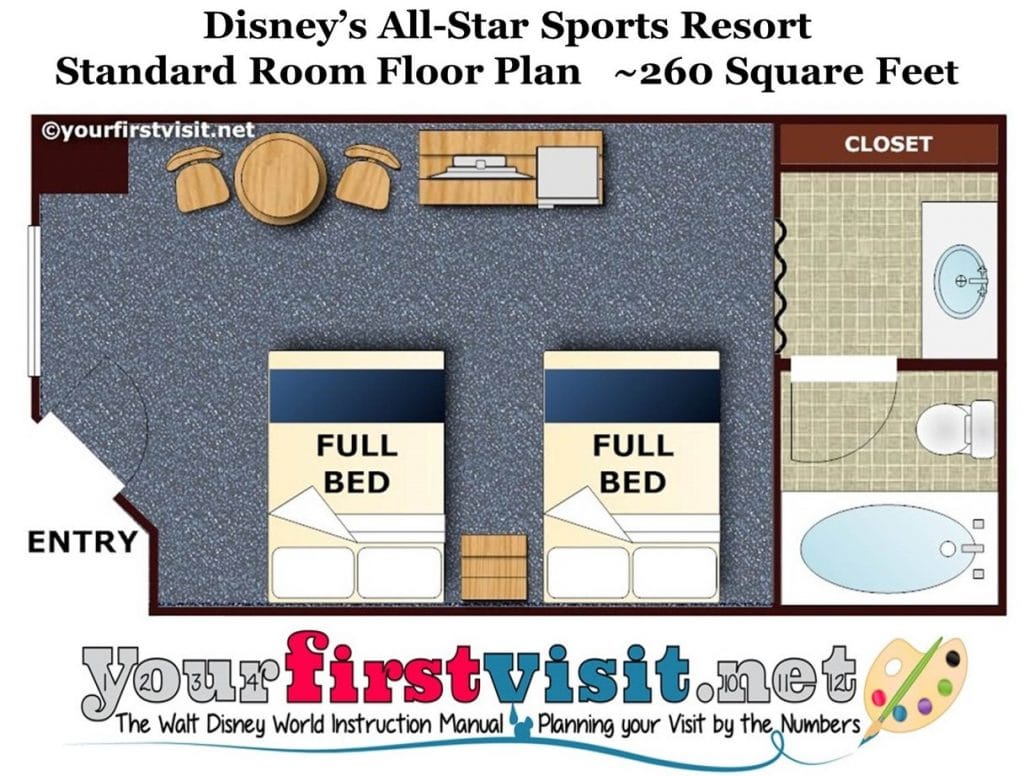 Rooms at All-Star Sports are entered from an outside corridor, with the bedroom space first, and the divided bath and closet at the back.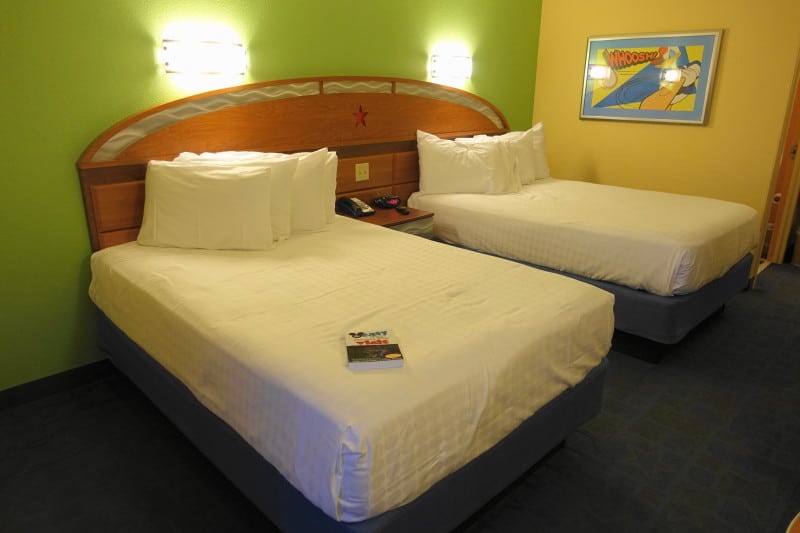 On one side you'll find two full beds with a small table between.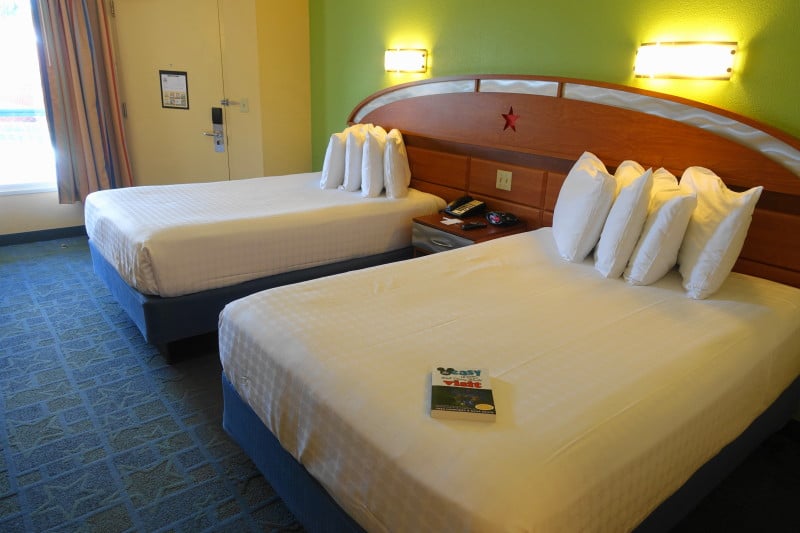 The beds from the back of the room.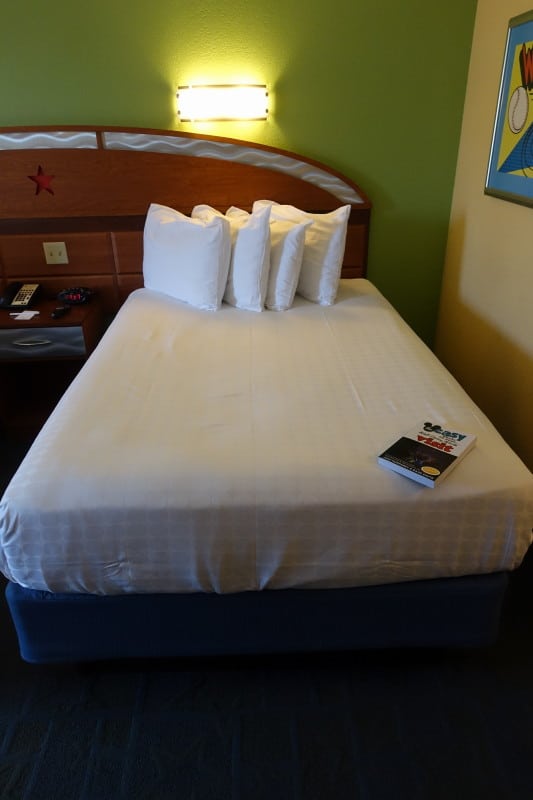 Here's a closer view of one of the beds.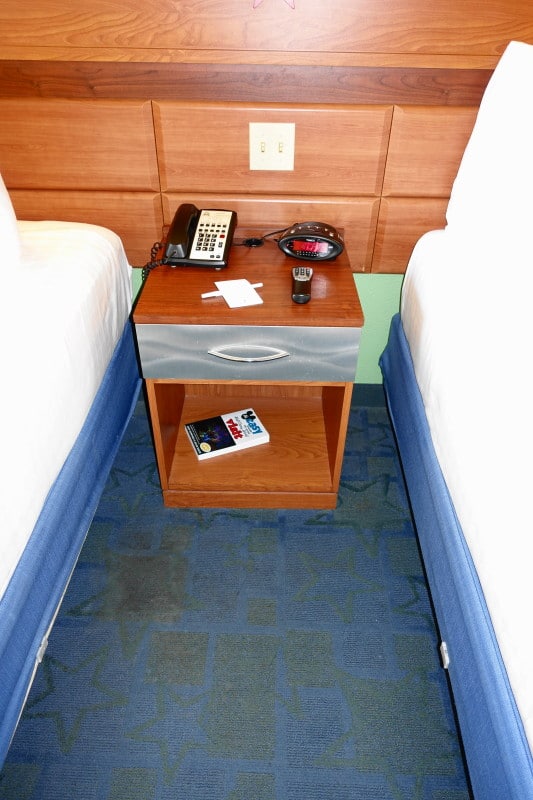 Between the beds is this small bedside table, with storage below…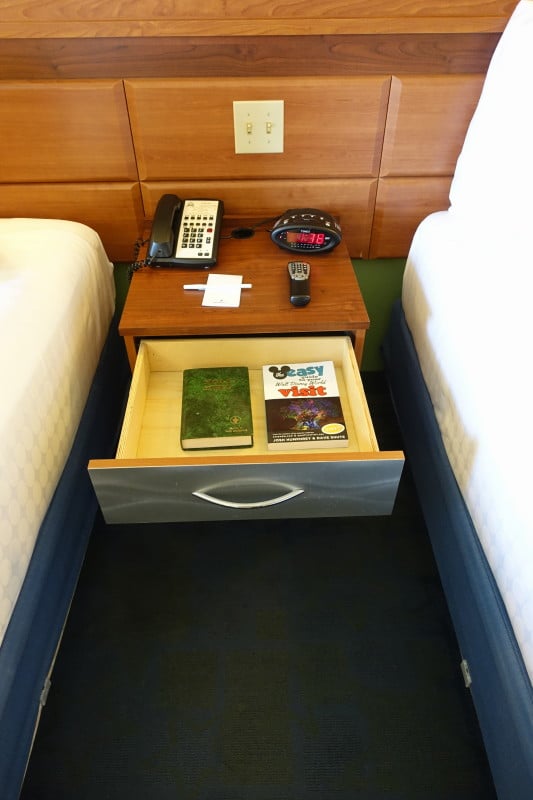 …and also in a drawer, with plenty of room for your important books.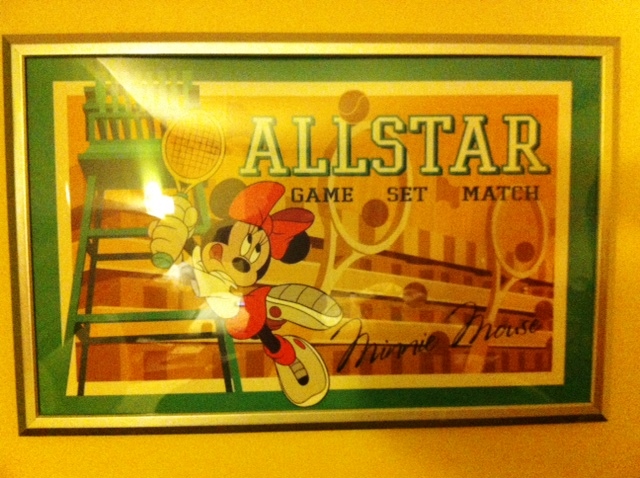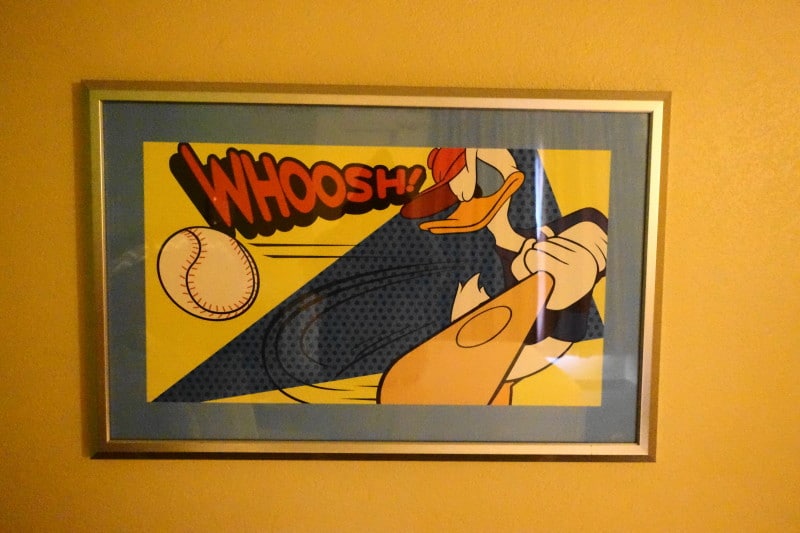 The art on the wall between the bed area and bath is the only material theming in the room. The top one is from the Center Court area, the lower from Grandstand.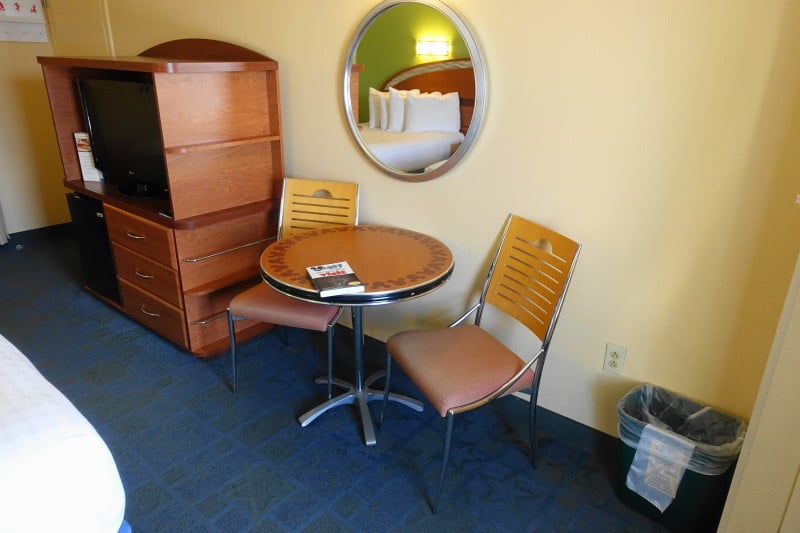 The other side of the room has the rest of the basic furnishings.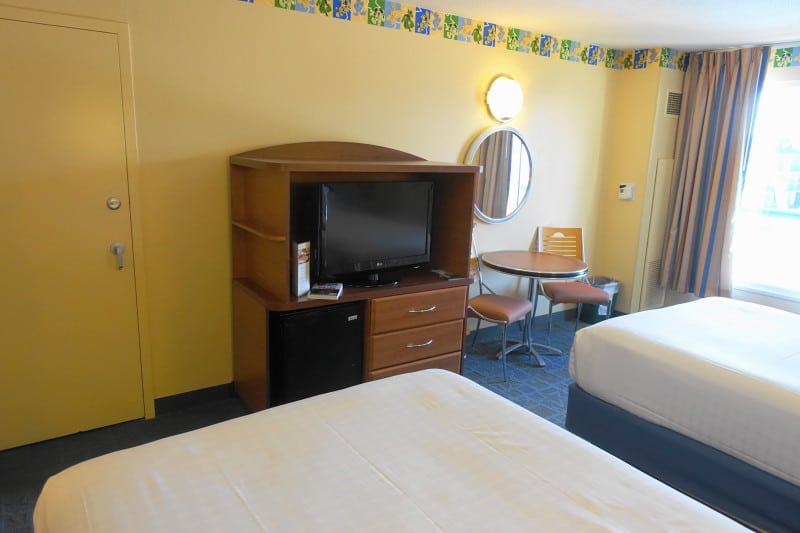 Here's' the TV side from the back of the room.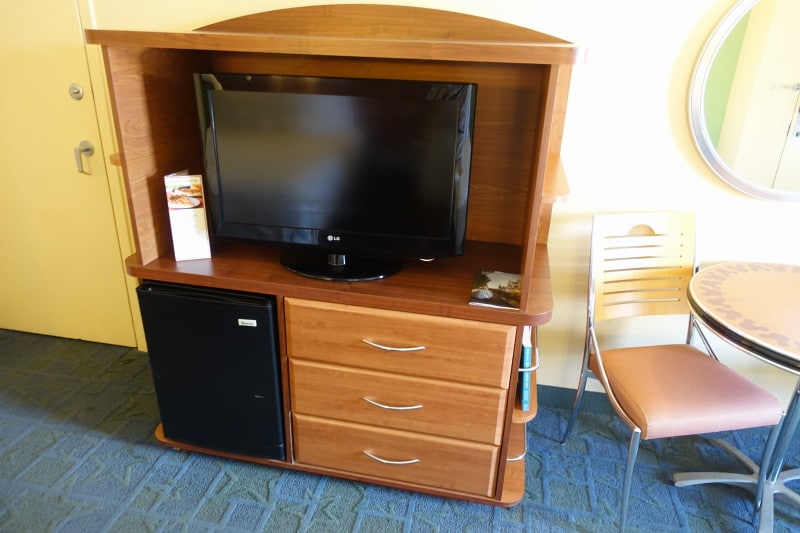 You'll find a small table and pair of chairs and a dresser with a small TV above and a mini-fridge on the side.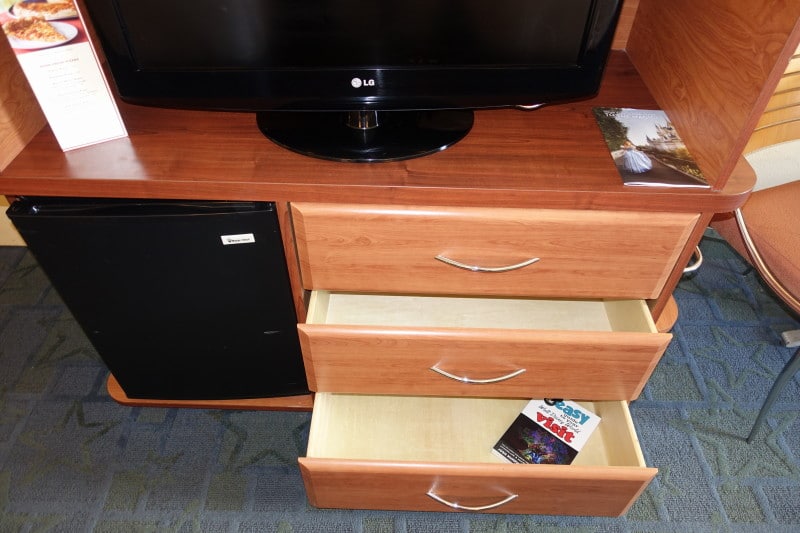 Here's a closer view of the drawers…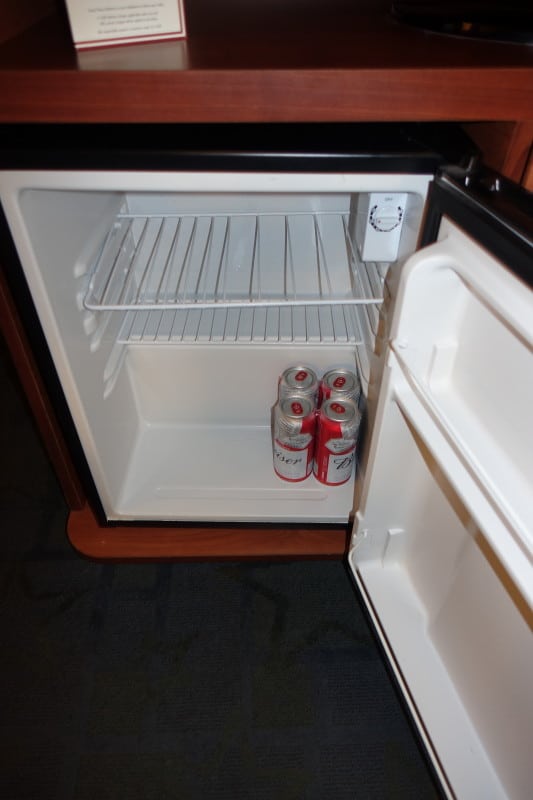 …and of the mini-fridge, with scaling objects inside.
Between the dresser and the bath is the space where you'll find the connecting door if your room has one, and a coat rack on the wall.  This is the part of the room you'd put a crib or such.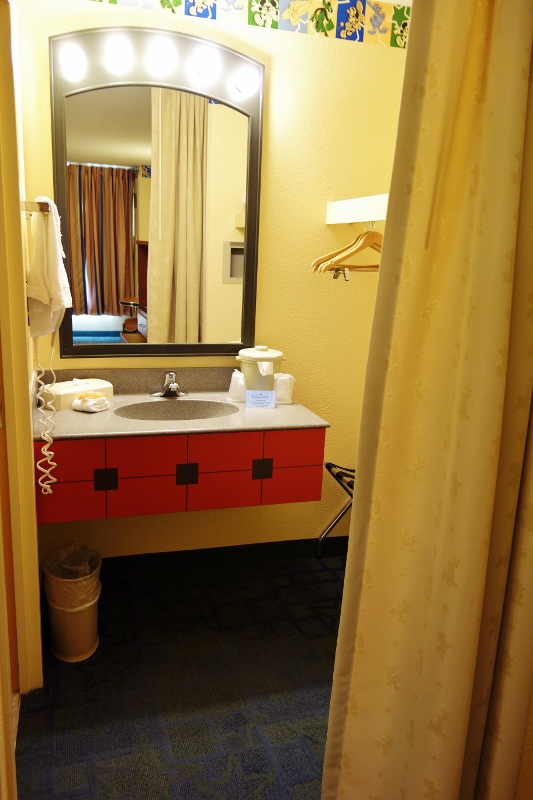 The bath is divided into two parts, separated by a wall and door.  The sink area is open to the rest of the room, but has a curtain (at the right) for privacy/light control.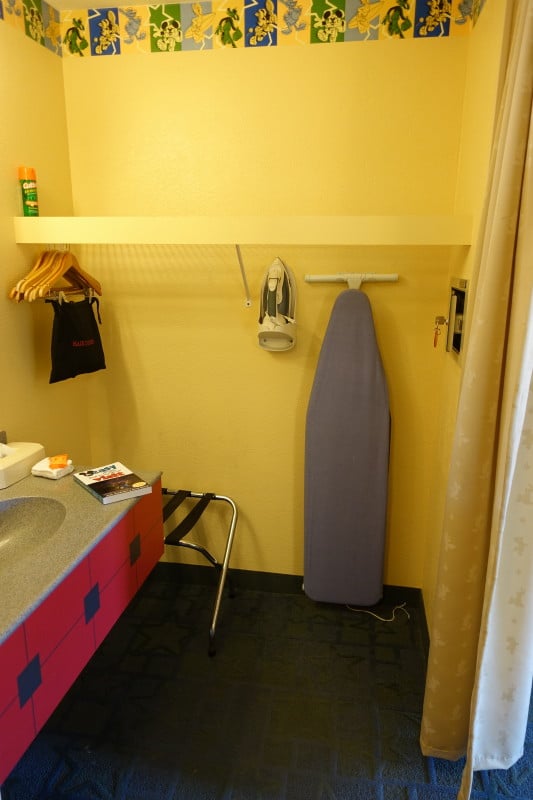 Also in this space is the clothes hanging area, iron, luggage rack, and safe.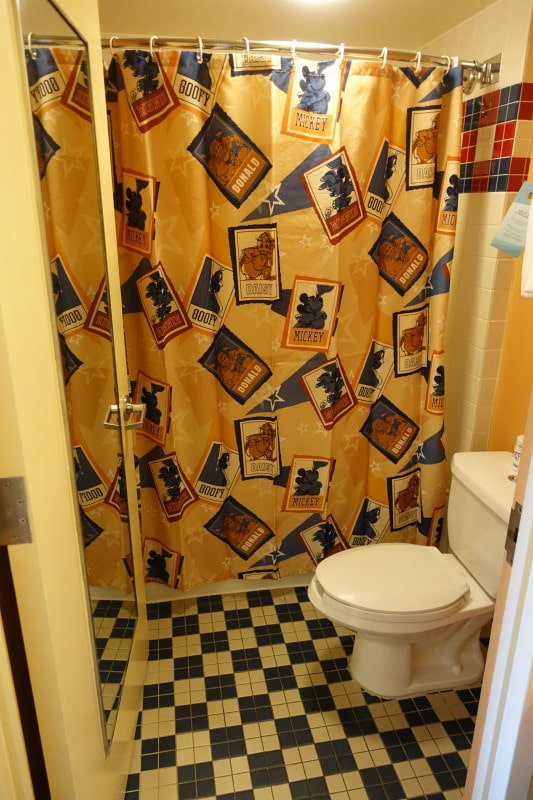 The other half of the bath includes the toilet and tub/shower combo.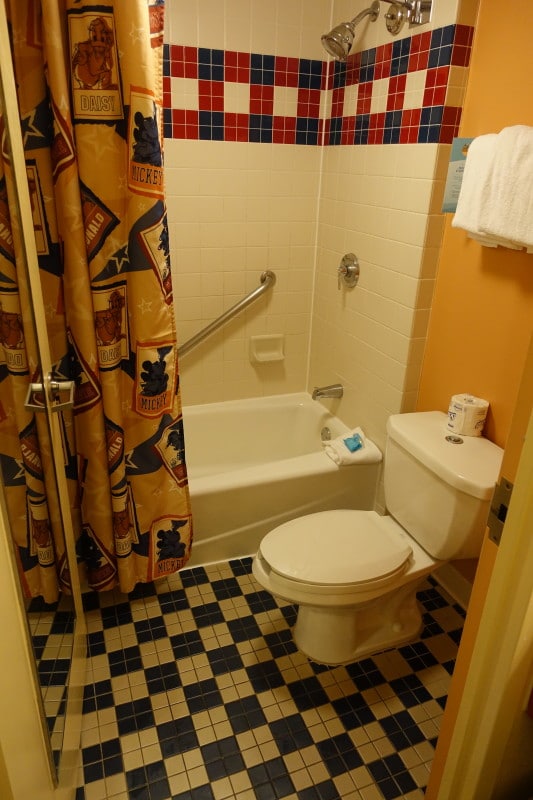 Here's the tub with the shower curtain partially pulled.
Rooms at Disney's All-Star Sports Resort, like standard rooms in the other Disney World value resorts, are about as basic–and as small–as they get.  But the All-Stars in particular are the least expensive way to get Disney-owned accommodations for a family of four.
This review continues here.
MATERIAL IN THIS REVIEW OF DISNEY'S ALL-STAR SPORTS RESORT
OTHER KEY PAGES FOR WHERE TO STAY AT DISNEY WORLD


Follow yourfirstvisit.net on Facebook or Twitter or Pinterest!!