Theming and Accommodations at Disney's Saratoga Springs Resort & Spa
By Dave Shute
(For the first page of this review of Disney's Saratoga Springs Resort & Spa, see this.)
THE THEMING OF DISNEY'S SARATOGA SPRINGS RESORT & SPA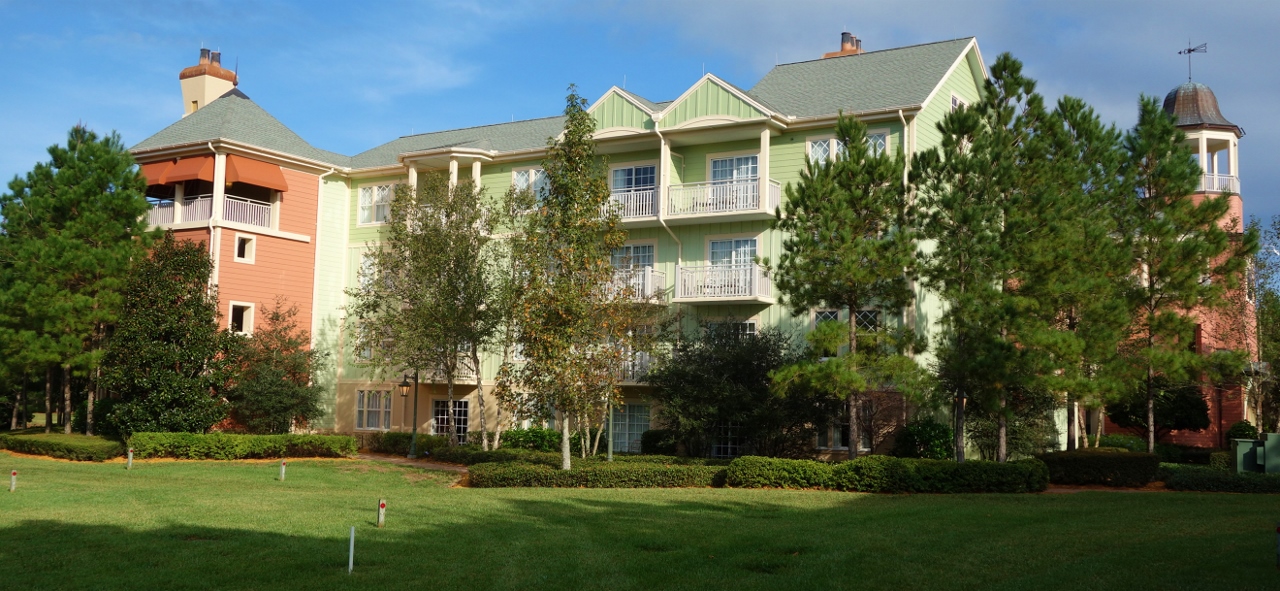 Disney's Saratoga Springs Resort is one of many Disney Vacation Club options at Walt Disney World. These resorts are available not only to DVC members, but also to everyone else, just like any other Disney World offering, through the regular Walt Disney World website or resort reservations phone number at 407-939-7675.
Kelly, the long-time travel agent partner of this site, can also book them for you. See the form near the bottom of this page for how to contact her.
They also are sometimes available to the general public at a discount through renting points from a Disney Vacation Club member or point broker.
Because the two sets of options at the Wilderness Lodge, Animal Kingdom Lodge and Saratoga Springs are so different, for review purposes I count thirteen options among the Disney Vacation Club resorts at Walt Disney World.
The overall ranking among them for first time family visitors is as follows:
The next DVC offering to open will be Reflections, located on grounds that were formerly part of Fort Wilderness.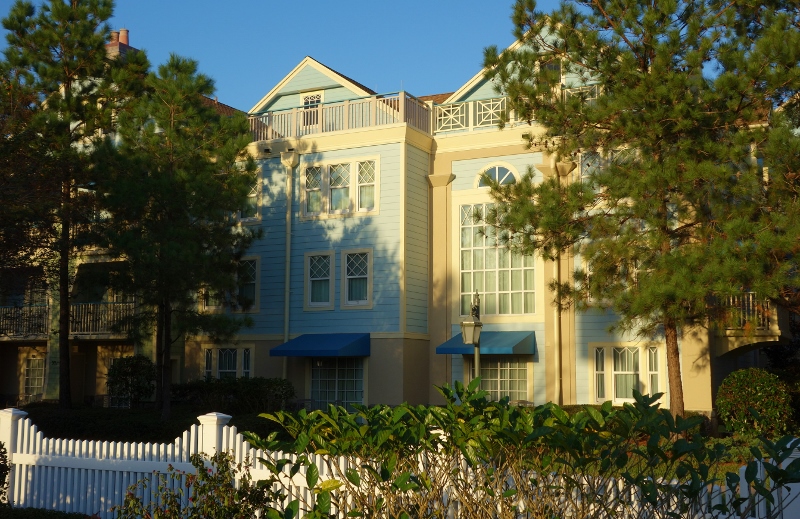 They also are available to the general public at great discounts through renting points from a Disney Vacation Club member.
Disney's Saratoga Springs Resort and Spa is described on Walt Disney World's website as follows:
"Inspired by historic Saratoga Springs—a late-1800s' New York retreat famous for its spas and horse racing—this charming, Victorian-style Resort hotel is nestled between rolling golf course greens and the shimmering Village Lake. Delight in stately Studios and multi-bedroom Villas, dazzling pools and a spa. You can also explore the fun activities and exciting dining options of the Disney Springs area, just a boat ride away."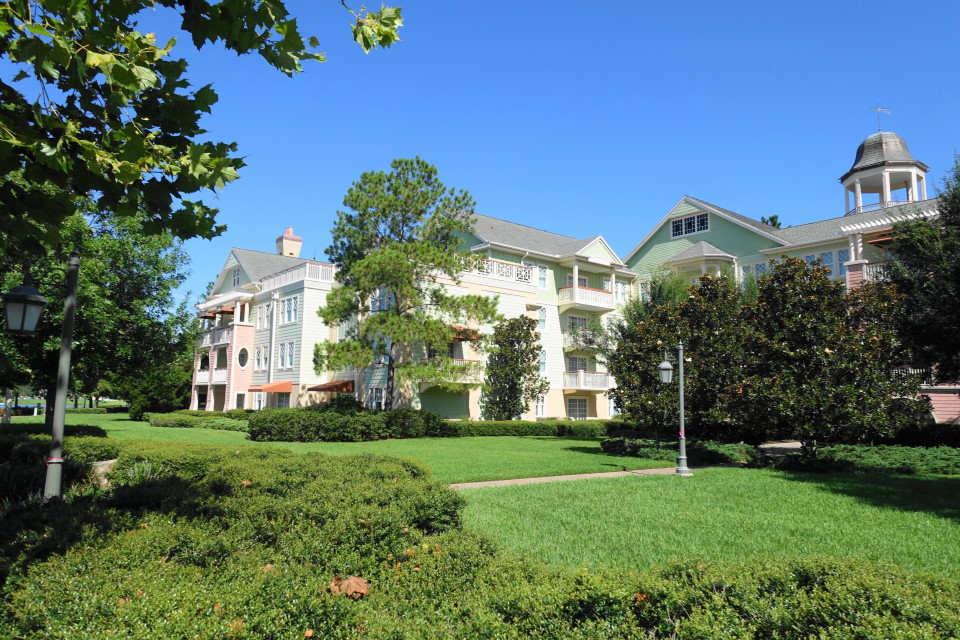 The resort was built on the grounds of the old Disney Institute–an ill-fated foray into consumer cognition, but which still exists as a training organization with both on and off-site programs–see this–and preserved several of the buildings from that enterprise.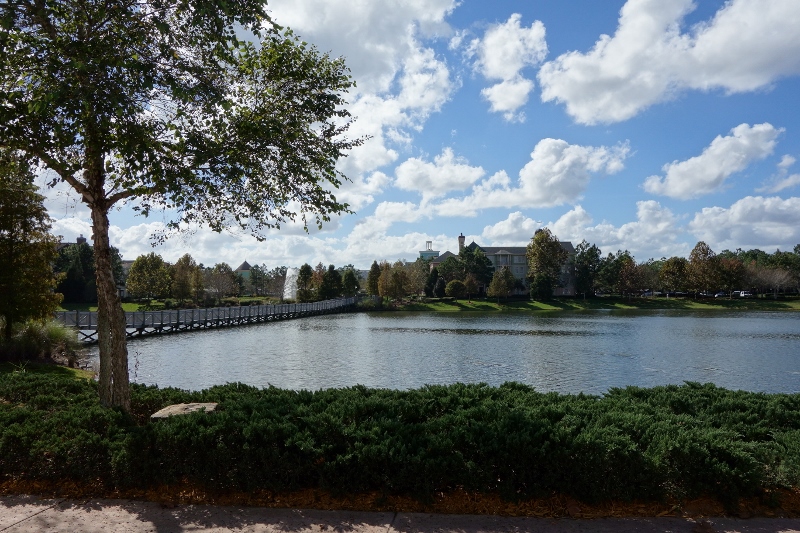 There are indeed water, greens, fairways and a great spa, but the horse-racing theme is fairly thin.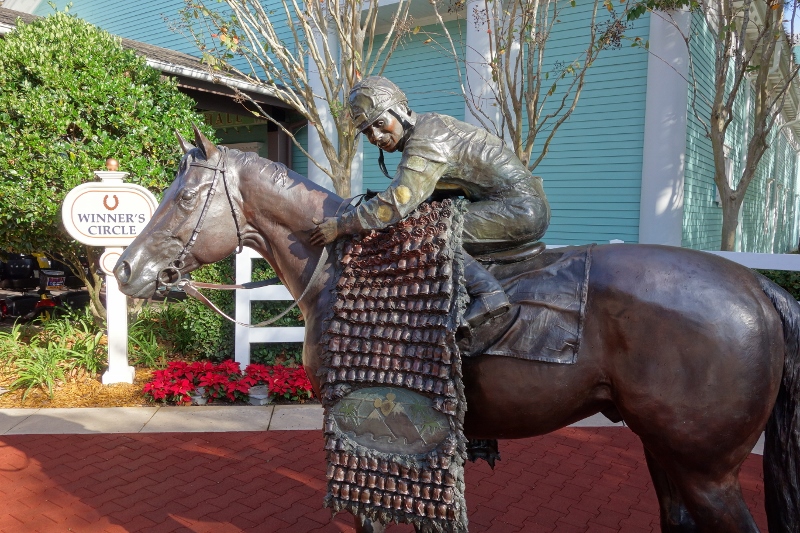 There are some words words on the maps, like Paddock, a statute or two…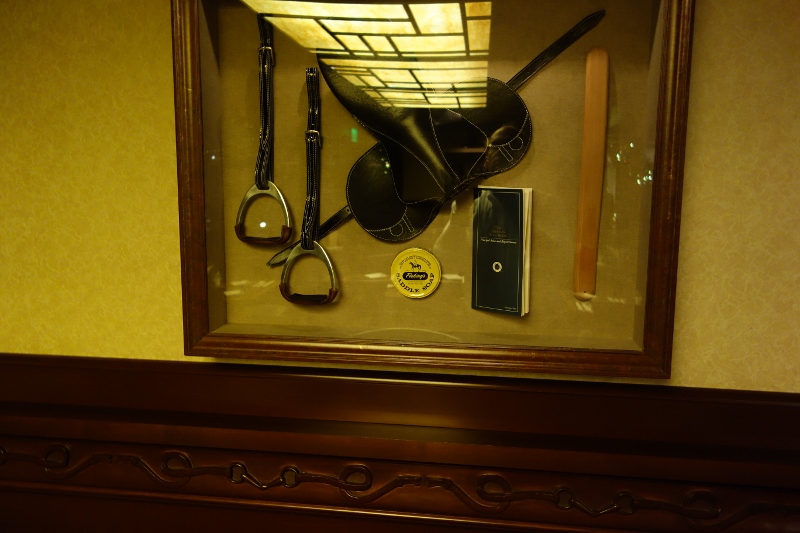 …tack in the table-service Turf Club…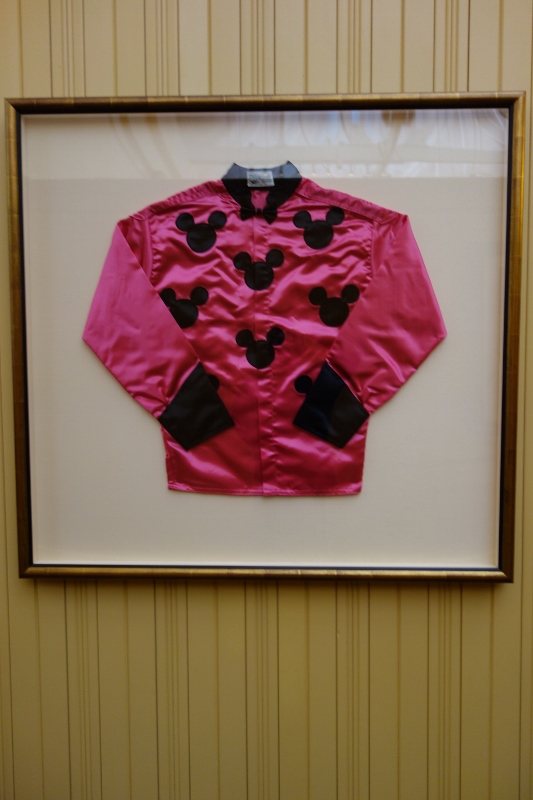 …silks in its bar…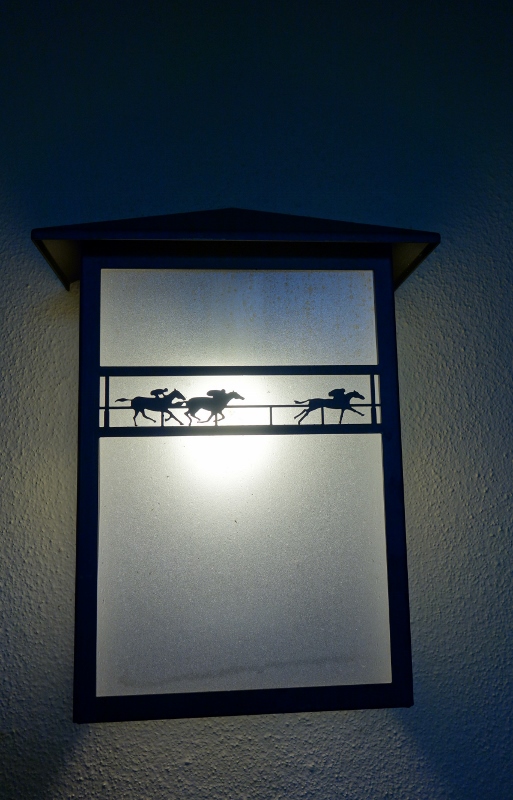 …and some fun lighting, but that's about it.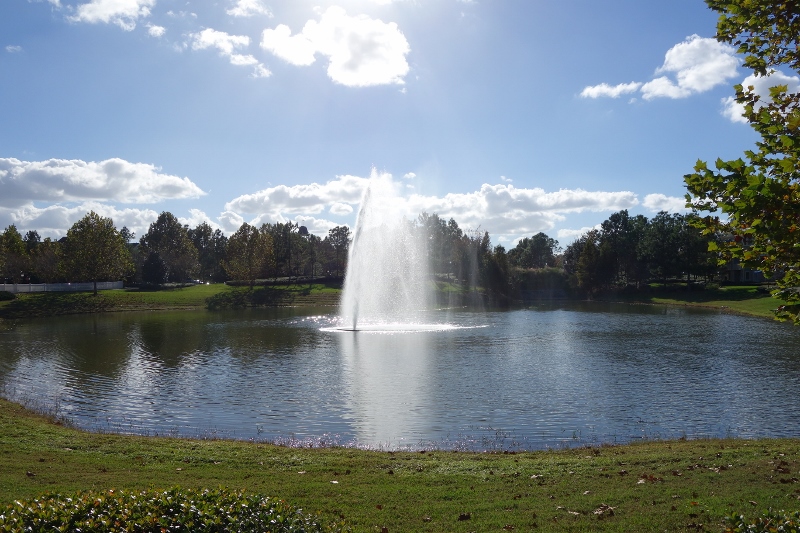 Saratoga Springs really is essentially unthemed–big, pretty buildings, lots of lovely water and fairway views, and some great pools, all of which could be almost anywhere.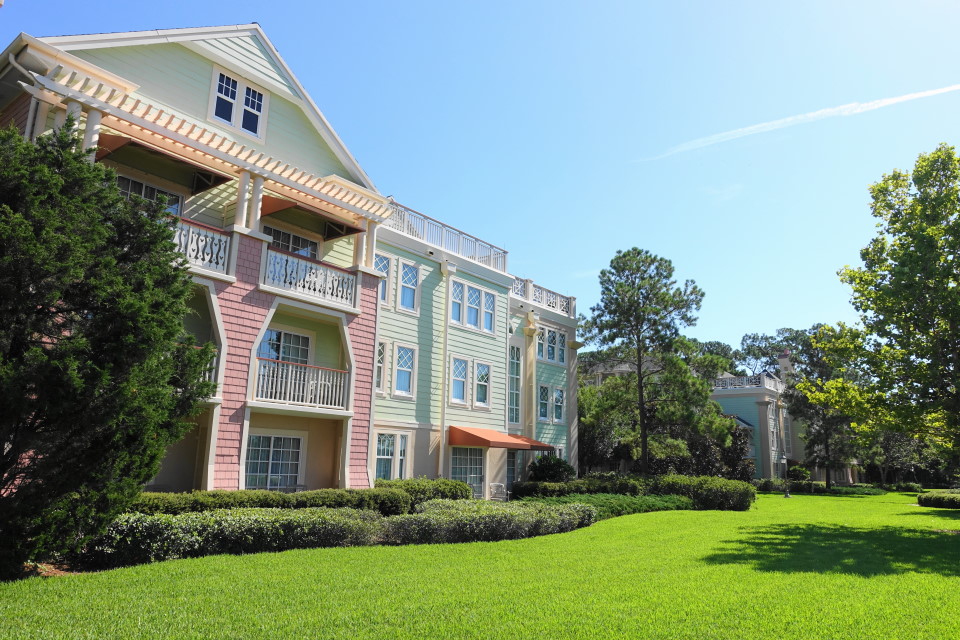 And by some measures they are. The resort is in the far southeast corner of Walt Disney World, and the accommodations buildings within it are remarkably spread out. Within them, room sizes are in general as small as Walt Disney World DVC rooms get, and have little to recommend them.
ACCOMMODATIONS AT DISNEY'S SARATOGA SPRINGS RESORT & SPA
All Disney Vacation Club resorts except the Polynesian Villas and Bungalows have studio rooms, One-Bedroom Villas, and Two-Bedroom Villas.
Most have Grand Villas as well.  Saratoga Springs has rooms of all four types. These spaces have begun a refurb–my discussion in this review is of not-yet-refurbed rooms.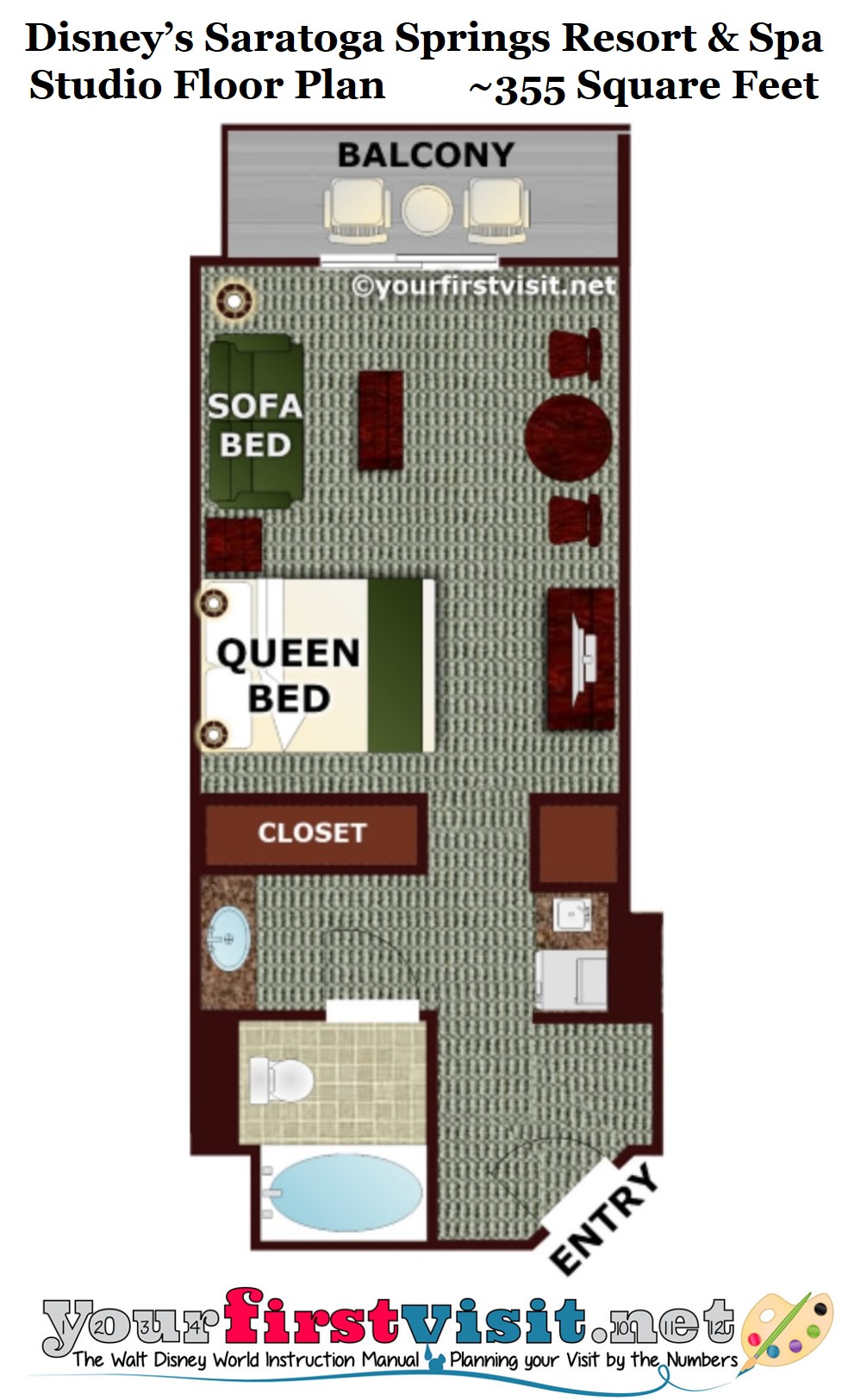 At Saratoga Springs, Studios sleep four, in a queen bed and a fold-out full couch, and have a microwave and mini fridge. The fold-out couch is best for shorter and lighter guests.
The sleeping area is small and the bath/kitchenette space relatively large.
This leads to somewhat cramped quarters, and Studios at Saratoga Springs can't be recommended for first-time family visitors. If you need a studio, almost any other DVC would be better. (Some others, like those at Bay Lake Tower, are more cramped, but have better convenience or kid appeal.)
A photo tour of a Studio begins here.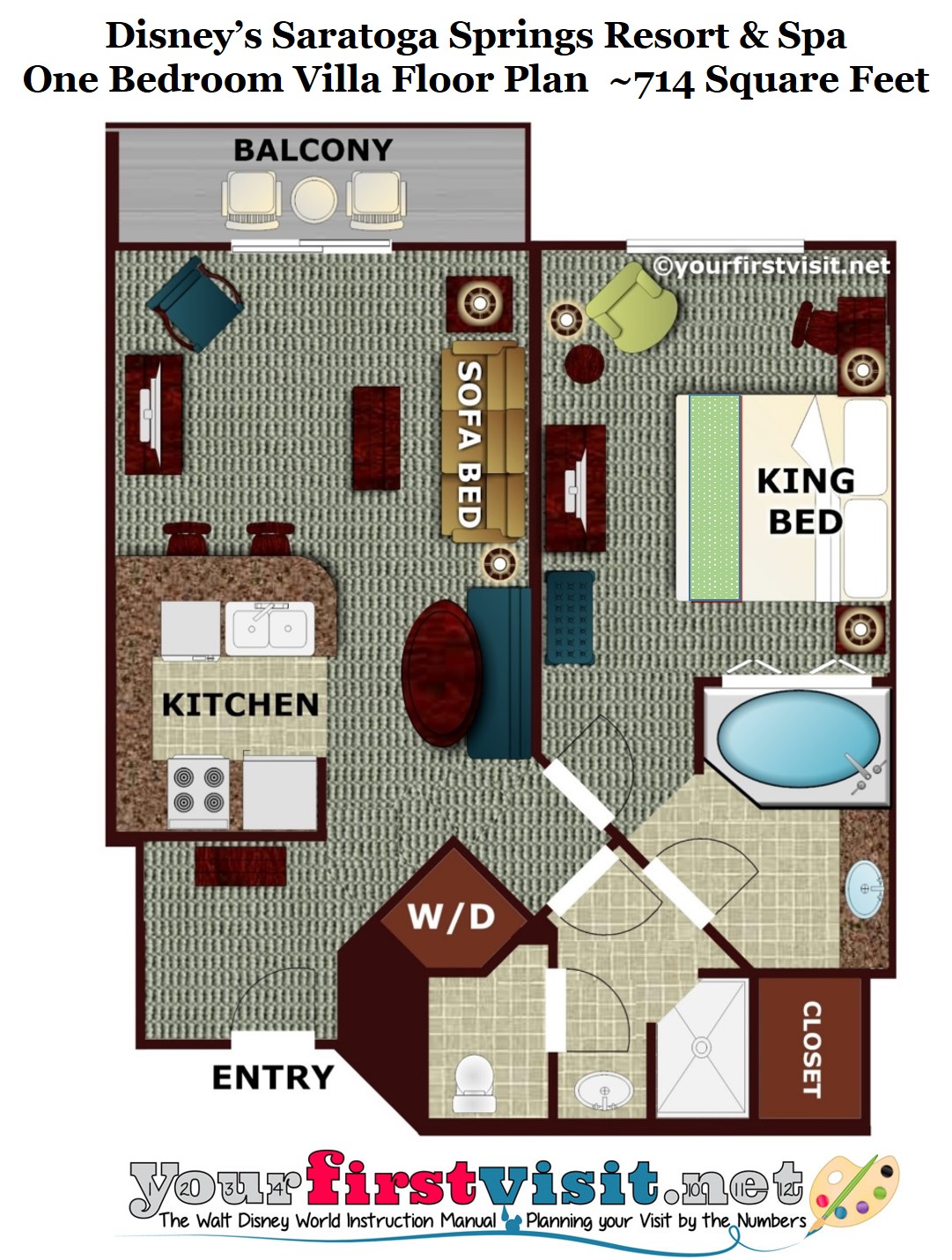 One-Bedroom Villas have a master bedroom with a king and a master bath, a small full kitchen/dining/living space with a second door to the master bath, and sleep 4. These rooms fit four-person families just fine.
A photo tour of a One-Bedroom Villa begins here.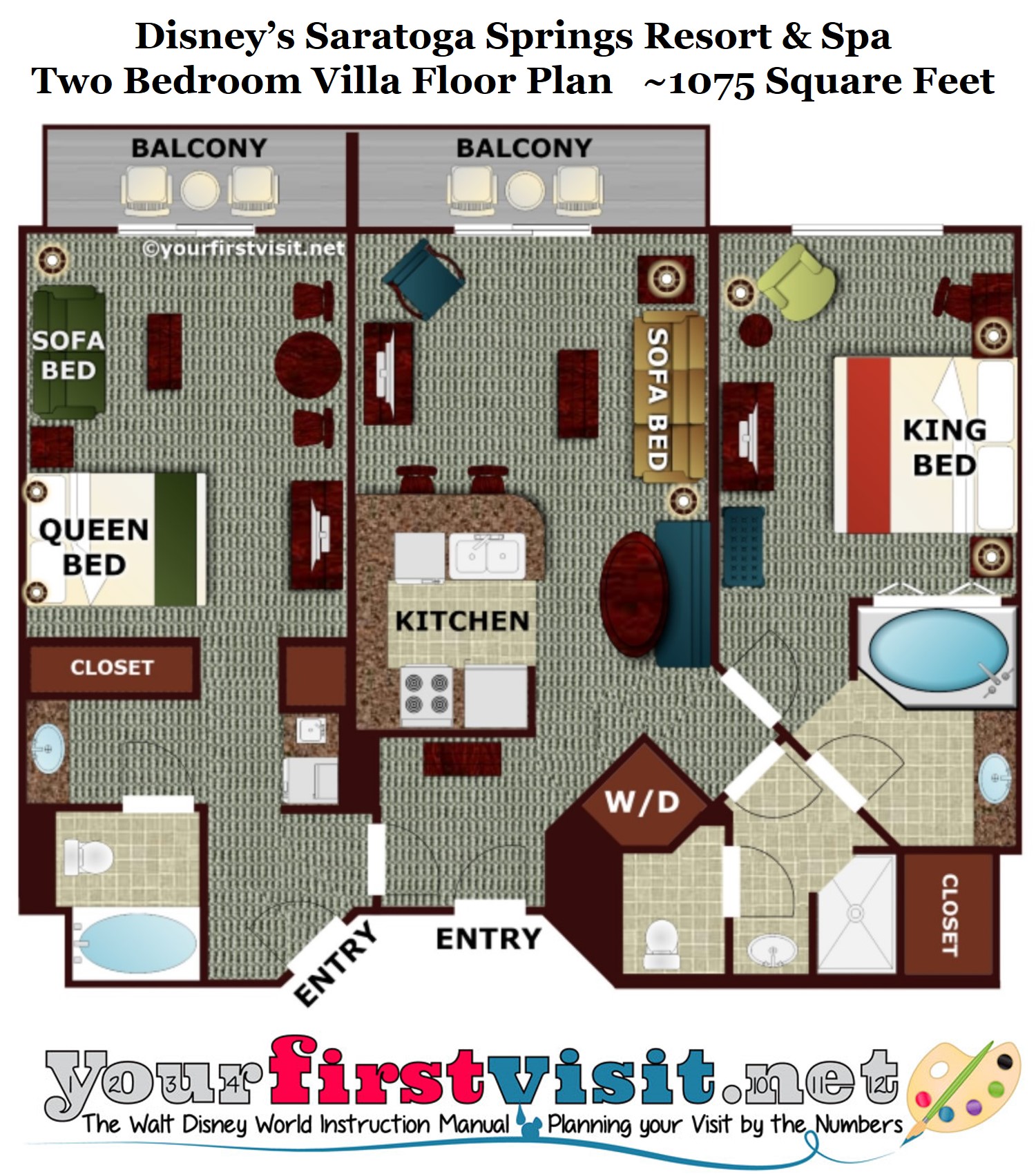 Two-Bedroom Villas add a second bedroom with a queen, a full sleeper sofa, and a second bath to the amenities of a One-Bedroom, and sleep 8.
Like other DVC resorts of this basic design, the combined living/dining/full kitchen area is too small for the eight people that the villa will sleep. If your family can fit into the two bedrooms (that is, with 6 or fewer people, in three beds) and not use the sleeper sofa, the layout becomes more livable. Otherwise many other DVC resorts would be a better choice.
Many larger  families committed to Saratoga Springs will find the three-bedroom layout of the Treehouses an interesting alternative at nearly the same price, so long as they have a car. See this for more on the Treehouses.
Photo tours are available of Studios and One-Bedroom Villas, which combine to make some Two Bedroom Villas, and are very similar to the components of others.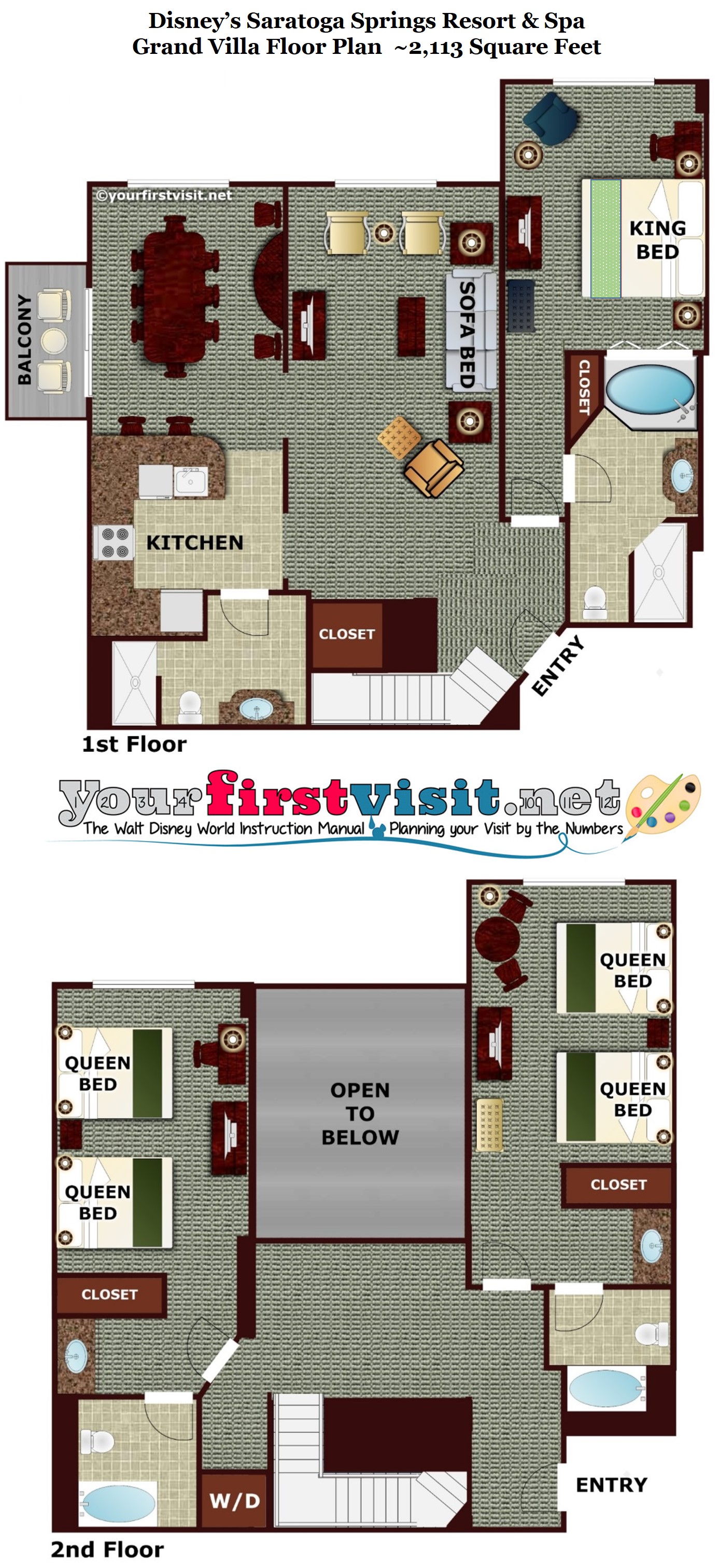 Grand Villas at Saratoga Springs sleep 12 in a little less than twice the space of a Two-Bedroom Villa, in three bedrooms (one with a king, and two with two queens) plus sleeper sofas.
At Saratoga Springs, Grand Villas are two-story spaces. The master bedroom, living room, dining room, and kitchen are on the first floor, and the two other bedrooms are on the second. Note that the second floor has another entry door.
Saratoga Springs Grand Villas have only one balcony–off of the dining room.
This is one fewer than many Saratoga Springs two-bedrooms have…Other Disney World grand villas have as many as 6 balconies…
See below for an example of a much more livable Grand Villa, at Bay Lake Tower. A grand villa at any other DVC resort would be a better choice for first-time family visitors.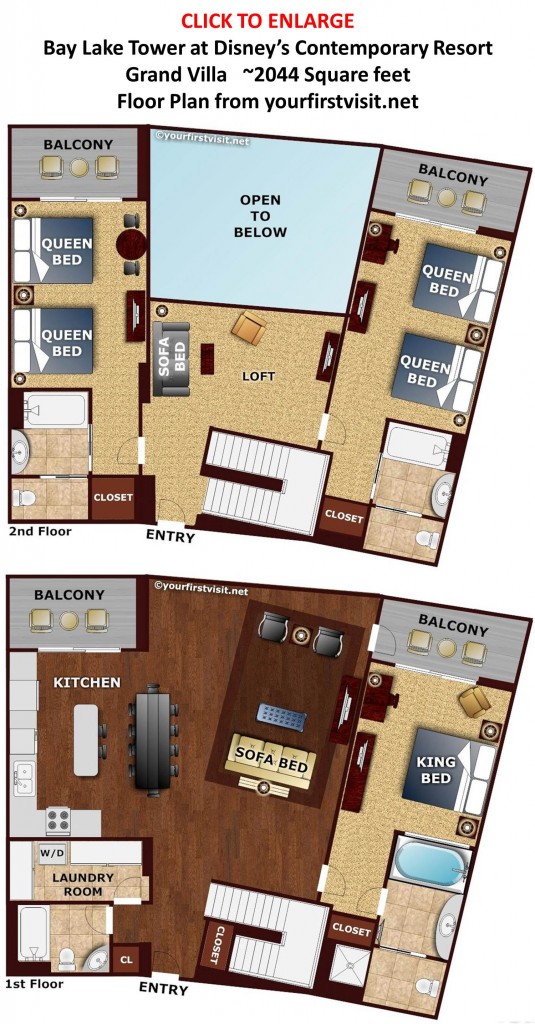 Below is the exterior of a Grand Villa at Saratoga Springs (the closest I am likely to come to one, given its price) showing the two story window in the living room–and absence of balconies…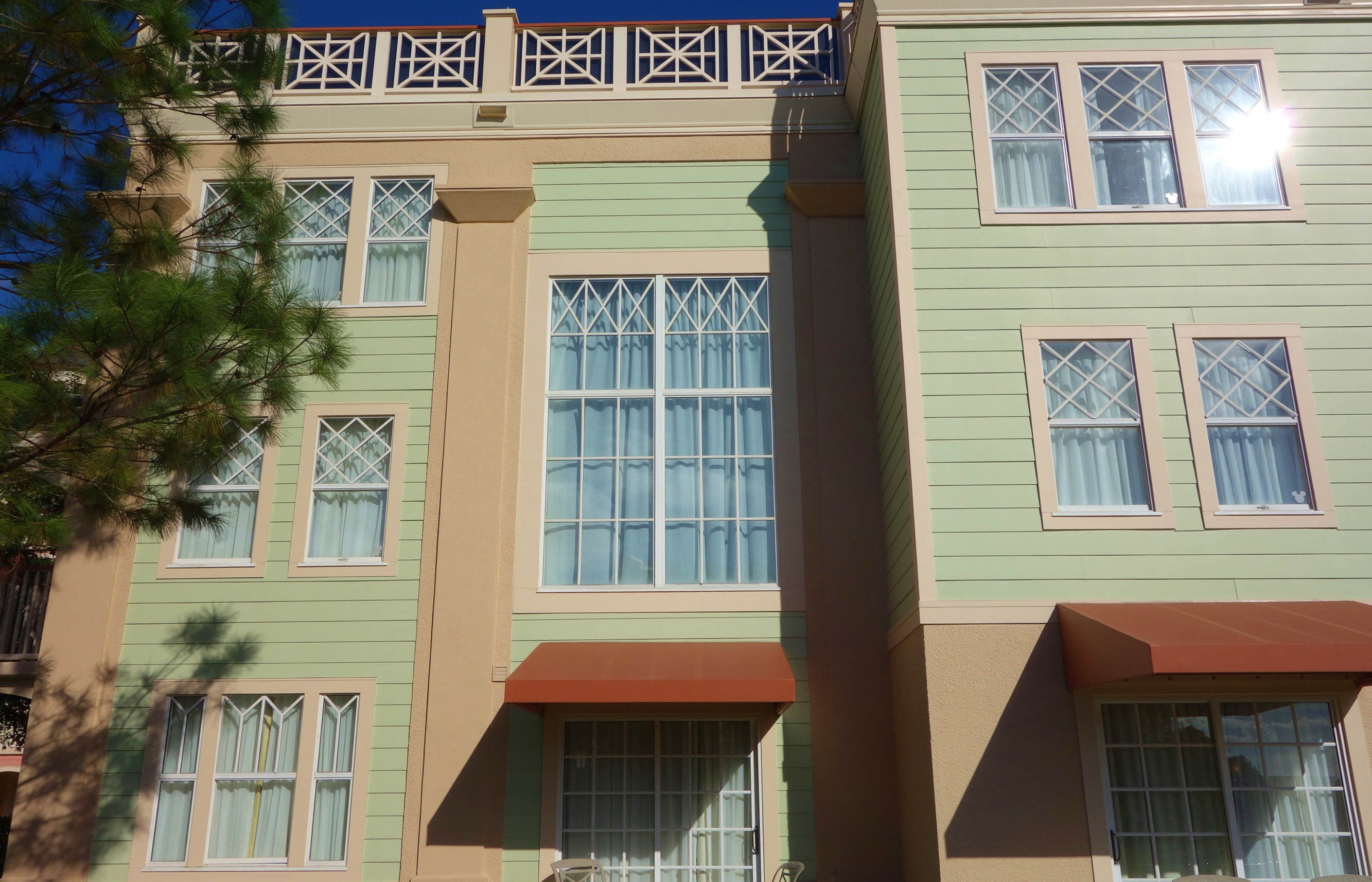 (To each of the capacity figures above, you can add one more kid under 3 at time of check in who sleeps in a crib.)
Among the DVC resorts, Saratoga Spring's strengths for first time visitors are its spa, its propinquity to Disney Springs, and its lower rates….and availability
Saratoga Springs's principal negatives are its distance from Walt Disney World theme parks, its lack of kid-appeal, its sprawl, and its cramped rooms.
This review continues here. 
The long-time travel agent partner of this site, Kelly, can book you at Disney's Saratoga Springs Resort or anywhere else at Disney World.  Contact her using the form below!


Follow yourfirstvisit.net on Facebook or Twitter or Pinterest!!</p
RELATED STUFF