Accommodations and Theming at Disney's BoardWalk Inn
By Dave Shute
(For the first page of this review of Disney's BoardWalk Inn, click here.)
ACCOMMODATIONS AT DISNEY'S BOARDWALK INN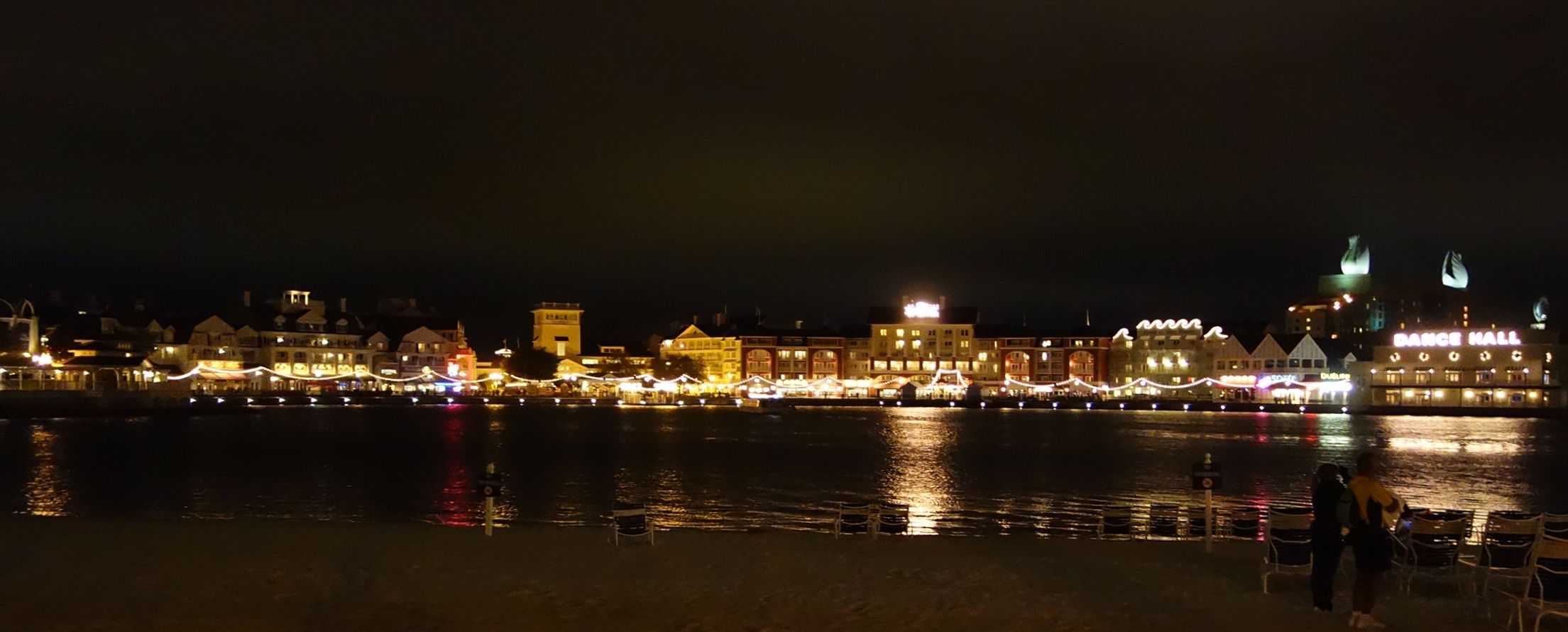 All Disney deluxe resorts have standard rooms; concierge rooms, which Disney calls "club" rooms; and suites. (See this for more on suites at Walt Disney World.)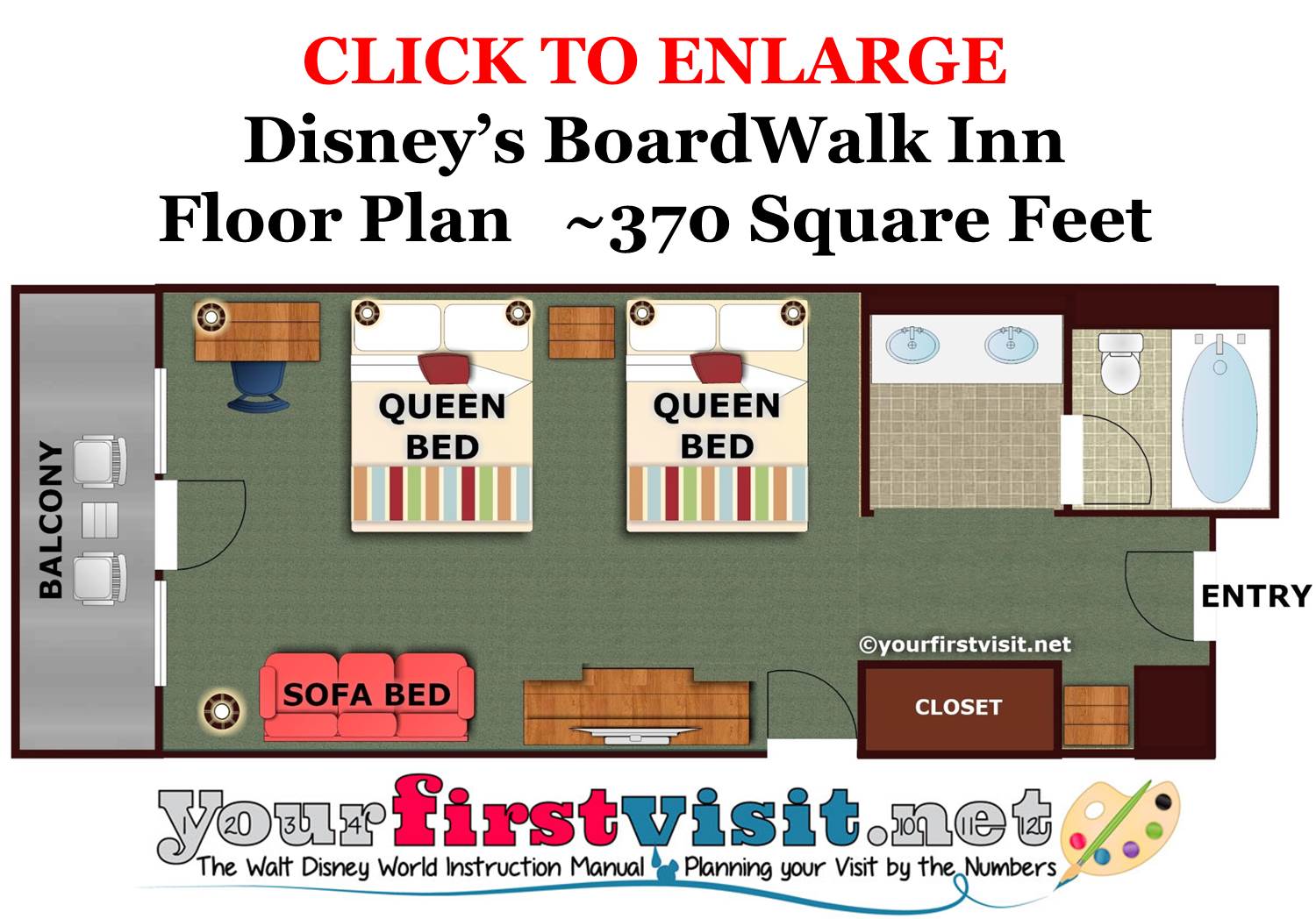 At Disney's BoardWalk Inn, standard and club/concierge rooms sleep either four or five, in two queen beds, or two queens and a convertible sofa. For a photo tour of a standard room, see this.
King bed rooms that sleep two or three (the third on the sofa) are also available.
The BoardWalk Inn also has deluxe rooms, Garden Cottage rooms, and suites. I generally advise against special room types for first-time visitors, as they won't be spending much time in their rooms. However, they may be well worth it for families intending to spend more time at the BoardWalk Inn than implied by this site's itineraries.
TikimanPages.com has a great discussion of the value of concierge rooms here. Though focused on the Polynesian, it applies to any deluxe resort.
Most BoardWalk Inn concierge rooms (Disney calls them "club" rooms) are the same size as the rest of the resort's rooms. However, there's also an option called a "Deluxe" rooms, a special room type called a Garden Cottage, and two-bedroom suites.

Deluxe rooms give you more space–more than 600 square feet–and sleep six, in two queens and a fold-out couch that sleeps two.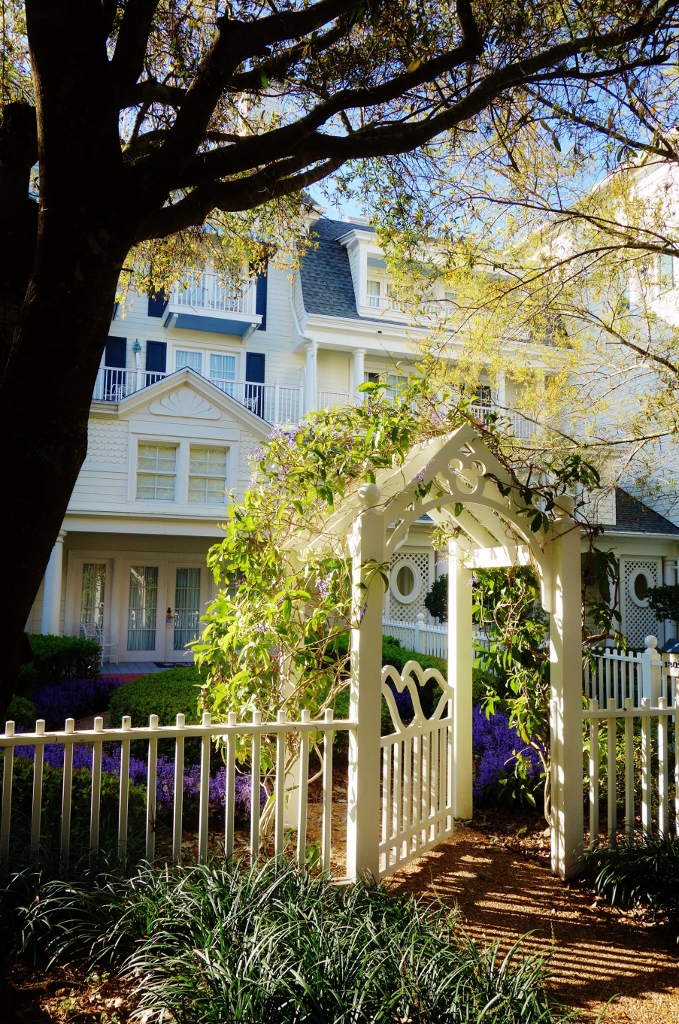 Garden Cottages are optimized for honeymooners.  While they sleep four, all but three of the cottages sleep two in an upstairs lofted space that is open to a downstairs living area that sleeps two more in a fold-out couch. (The three with a private upstairs bedroom are 1205, 1206, and 1207.) Size varies from around 900 to 1100 square feet. I haven't found any floor plans.
These rooms have separate entrances, cute little semi-private gardens, and are drop-dead charming. The image shows a garden–its cottage is the first two stories behind it.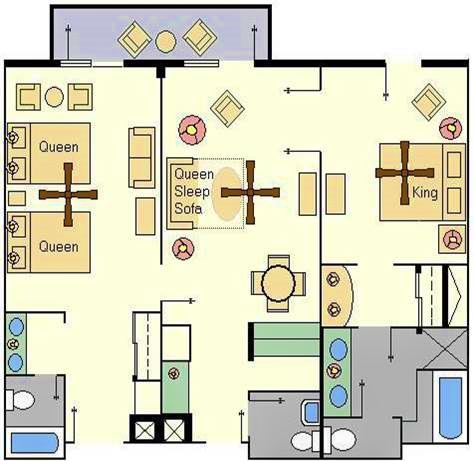 Most two-bedroom suites are three bays wide.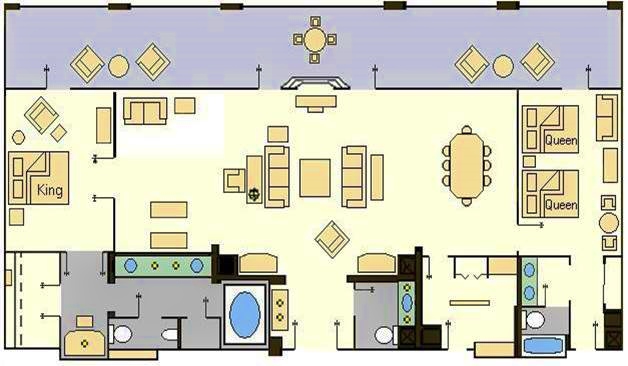 The exception is the two-bedroom Presidential Steeplechase Suite, five bays wide.
For more on suites, see this, and for more on larger families seeking deluxe options, see this.
Note that to all the capacity figures above you can add a child under three in a crib.
THE THEMING OF DISNEY'S BOARDWALK INN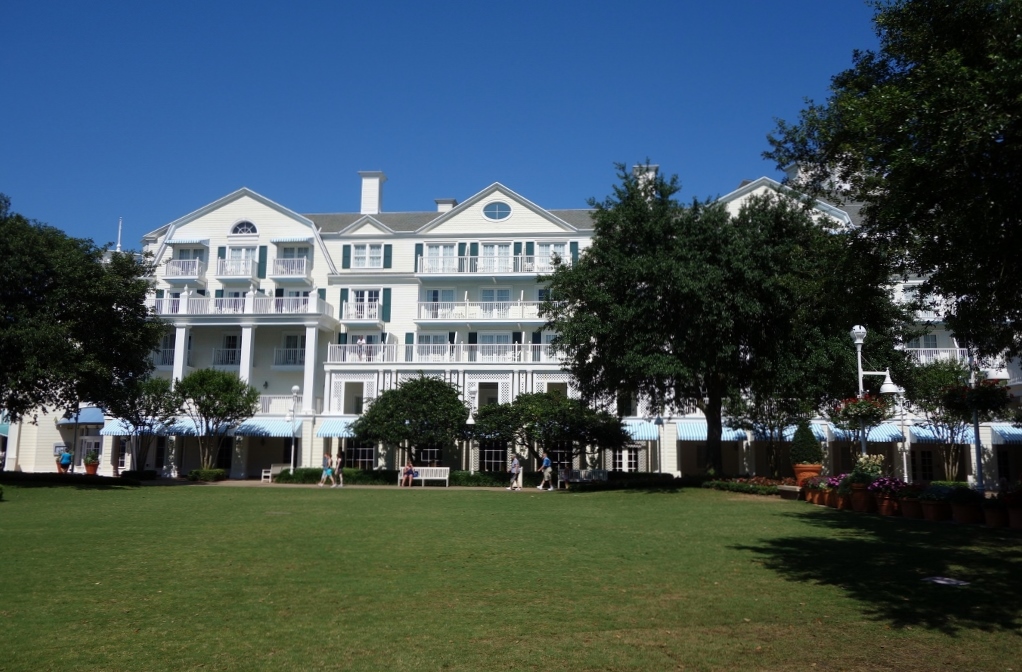 Disney's BoardWalk Inn opened in July 1996, and in 2014 completed a major renovation.
According to Disney World's website, the BoardWalk Inn
"…captures the charm, whimsy and elegance of 1940s Atlantic City. Sitting along a boardwalk packed with amusements, the Resort offers dynamic views of activity below and of the glittering waters of Crescent Lake.
Take in lively sights and sounds of midway games and performance artists all along the quarter-mile, Coney Island-style boardwalk. The striped awnings and saltwater taffy-colored facades lend themselves to a friendly carnival atmosphere."
Well, that's about half right.
The BoardWalk Inn has two very different sides.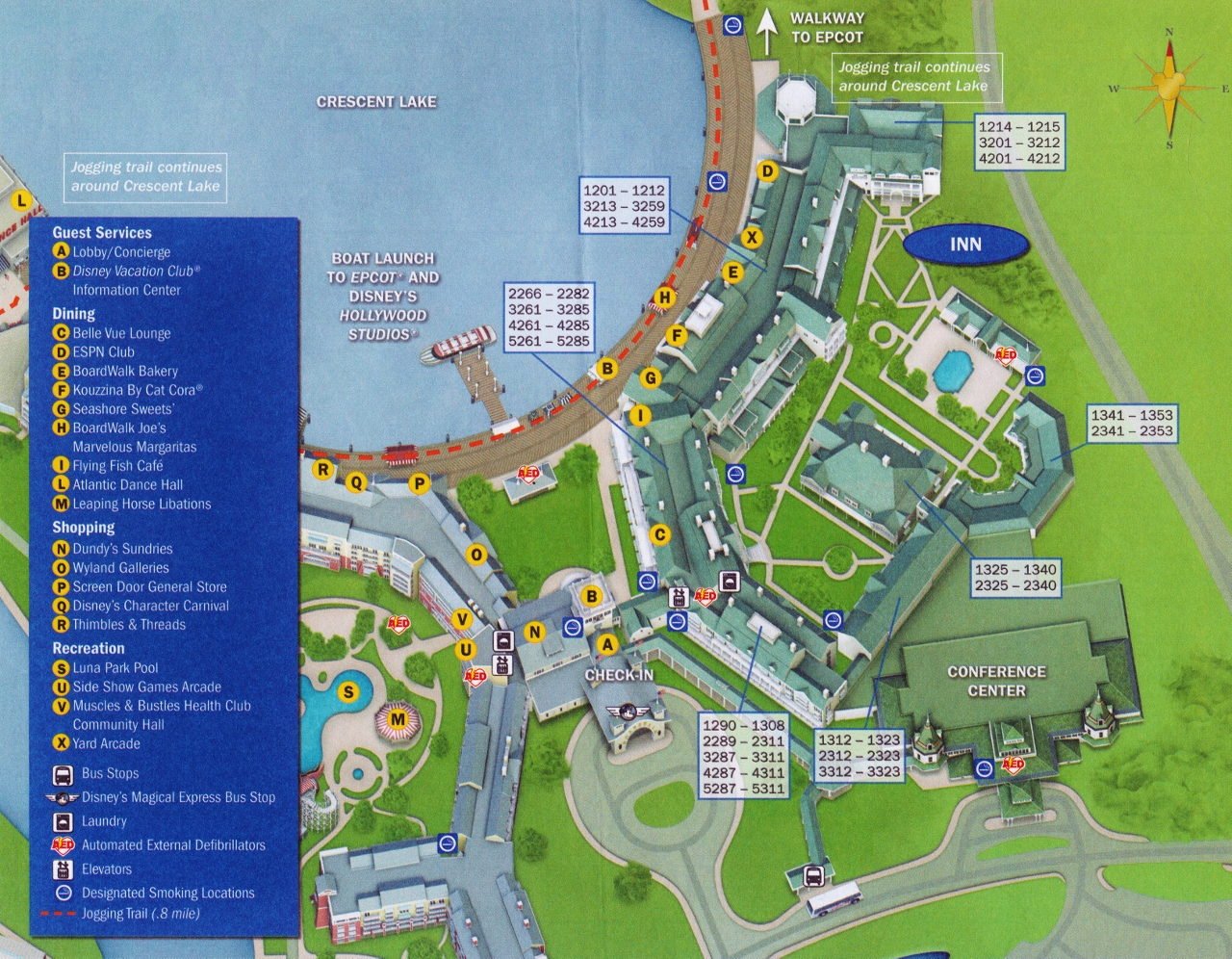 The overall Boardwalk complex includes the BoardWalk Villas, a Disney Vacation Club resort, the first part of which you can see on the left side of the map, and the BoardWalk Inn in the right center.
On the lake side of both facilities is Disney's Boardwalk (top left on the map. curving along Crescent Lake), a combination of restaurants, shops, entertainment venues, carts, and other stuff fun for adults and kids.  This area best matches Disney's "Atlantic City" description.
However, the architecture of the BoardWalk Inn itself, and especially the areas surrounded by the hotel wings–top center on the map–has a very different and much more peaceful heritage.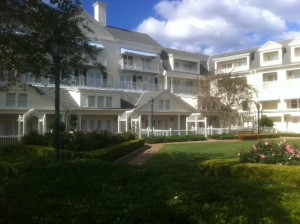 The BoardWalk Inn, and the nearby sister resorts Yacht Club and Beach Club, were all designed by Robert A. M. Stern, a noted architect who was deeply involved in multiple properties during the Michael Eisner years at Disney.
Stern's website notes that the BoardWalk Inn itself was designed based not on mid-Atlantic but rather on Northeastern models:
"Behind its waterfront facade, the hotel, which takes its architectural cue from rambling colonial revival-style hotels of New England, is arranged around a series of garden courts, each distinct, including quiet gardens and active settings for swimming and croquet."
(For more on Stern's role in Walt Disney World, see this.)
All the interior landscape of the BoardWalk Inn is enclosed by walls.  The result is a set of small lovely and quiet courtyards, perfect for relaxing.
I can't think of another Disney World deluxe hotel with this enclosed set of interior courtyards.
MORE ON DISNEY'S BOARDWALK INN
Disney's BoardWalk Inn is one of 5 (or 7, if you count the Disney Vacation Club resorts separately) resorts within walking distance of Epcot and Disney's Hollywood Studios.
(Boats also go to the both; most take the boat to the Studios–no faster than walking, but easier.)
These resorts–the Beach Club, Yacht Club, BoardWalk Inn, Swan, Dolphin, and the DVC Boardwalk Villas and Beach Club Villas–share a number of strengths thanks to their location.
The biggest strength for first time family visitors with kids is the ease of access to Epcot and (to a lesser extent) the Studios. The other theme parks are served by buses with multiple stops.
A strength they share for adults is their easy access to table-service dining options. These include the restaurants within the nearby resorts as well as those along the Boardwalk, and for those with tickets and/or park hoppers, the dining venues in Epcot itself.
Another strength for adults is a convenience store with normal, not Disney, prices within walking distance.
Dining options for kids, and counter service in particular, is more of a problem.
The three Disney resorts have exactly one real counter service location among them–a thin set of offerings in the Beach Club's gift shop.
Of the table-service restaurants, only Beaches and Cream, a soda, ice cream and burger shop near the Beach Club part of Stormalong Bay, has delightful kid appeal, but it is hard to reserve and commonly packed.
(Breakfast character dining is available at the Beach Club, but is uninteresting compared to other possible character meals.)
The BoardWalk Inn's strengths for first time family visitors are its peaceful loveliness, and its easy access to Epcot.
The BoardWalk Inn's principal negatives for first time family visitors are its relative lack of kid appeal and its poor access to counter-service dining options.
PAGES IN THIS REVIEW OF DISNEY'S BOARDWALK INN
OTHER KEY PAGES FOR WHERE TO STAY AT DISNEY WORLD


Follow yourfirstvisit.net on Facebook or Twitter or Pinterest!!
RELATED STUFF