Hollywood Studios Day 1: First Sunday FastPass+ Lower-Crowd Itinerary
By Dave Shute
HOLLYWOOD STUDIOS DAY 1: FIRST SUNDAY AGENDA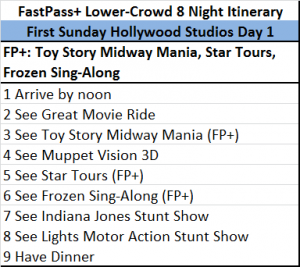 You will begin your visit to Disney's Hollywood Studios today, completing it Thursday afternoon and evening. Two days is way more than enough time, so, thanks to FastPass+, you get to sleep in each day. You have dinner at 50s Prime Time Cafe.
You should have FastPass+ for Toy Story Midway Mania, Star Tours, and the Frozen Sing-Along.
(Note: this is from the FastPass+ Lower Crowd Itinerary. The itinerary works only for certain weeks. See this to see if it works for your dates.)
FIRST THINGS
Arrive at Hollywood Studios by noon
AT THE PARK
At opening, pick up a guide map and "Times Guide" and head to Great Movie Ride and see it unless lines are too long.  If so, get a fourth FP+ for it after your first three
Have lunch at Backlot Express
See Toy Story Midway Mania (FP+)
Fold in the two stunt shows (Indiana Jones and Lights Motor Action) among Muppet Vision 3D, the Frozen Sing-Along (FP+) and Star Tours (FP+)
Have dinner at 50's Prime Time Cafe
PREVIEW OF TOMORROW
Tomorrow you will finish your visit to Epcot and can take the evening off.
RELATED STUFF