FastPass+ for Disney World Fireworks, Parades, and Character Greetings
By Dave Shute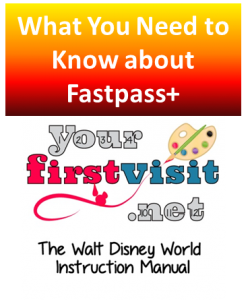 I did my second test of FastPass+ a week and a half ago, focusing on the value of FastPass+ for character greetings, parades, and fireworks.
(My first test, in September, focused on FastPass+ on rides; at my third test, next week, I'll be showing up with nothing booked, and testing how well day-of FastPass+ bookings go.)
The comments below about the value of FastPass+ assume that you will be able to book only one headliner a day, and that parades, the big character greetings, and fireworks shows are gonna be in the list where you can only "choose one from here."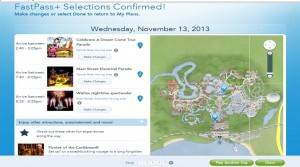 This is now true at Epcot and the Studios, and I expect it to become the case at the Magic Kingdom and Animal Kingdom soon…
FASTPASS+ FOR DISNEY WORLD CHARACTER GREETINGS
This site is aimed at kids 8 and older, for whom character greetings aren't such a high priority.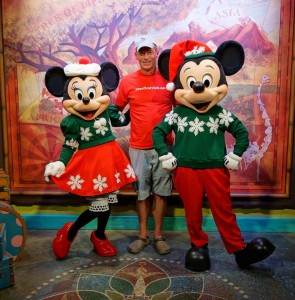 Its itineraries handle character greetings largely through dining—recommending meals at which kids will meet Mickey, Minnie, Donald, Pooh, Tigger and buckets of princesses.
Folks with younger kids, especially those for whom most of the other "headliners" offered in FastPass+ are not age-appropriate, may save some time in line by grabbing character greeting FastPass+, especially at the Magic Kingdom.
Some such lines in the other parks aren't long now, but they may become long as more families grab such sessions as part of FastPass+.
Folks with older kids booking FastPass+ at parks where people can pick only one headliner should skip FastPass+ at character greetings—there's better ways to use these.
(Note: I'm not counting Enchanted Tales with Belle or Turtle Talk with Crush as "character greetings"—these are much more, and much better, than that…)
FASTPASS+ FOR DISNEY WORLD PARADES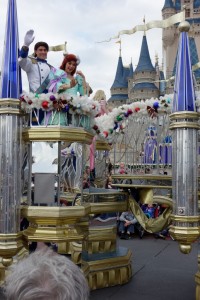 It's not hard to find a good viewing spot for parades most of the time, but for many families with little kids the key is locking a spot early enough so that the kids can see the parade—that is, their views aren't blocked out by older kids or adults.
(There's some etiquette to the parades— see this.)
The current FastPass+ location for the Magic Kingdom parades is right in front of the Castle.  This creates a wonderful photo backdrop (especially if the day is a lot sunnier than when I was there).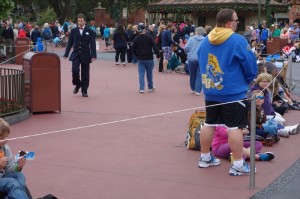 However, the spot is so deep—much deeper, for example, than the Main Street viewing areas– that little kids can still not have a good view.
This was not an issue on the cold and quiet November day that I tested the FastPass+ for the parades, but as FastPass+ becomes more predominant, it will be.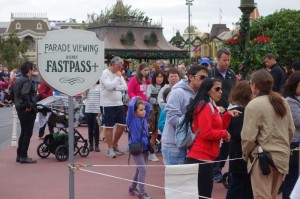 Arriving at the FastPass+ parade viewing area when it opens (that is, at the earliest time your FastPass+ lets you in) solves this problem, as you'll then be able to claim a viewing spot right on the curb.
My dates, FastPass+ let me in about 35 minutes before the parade was expected to pass by the FastPass+ viewing area…but most times of the year, you can find a front of the curb spot in Fantasyland at 35 minutes before…
So for the parades, too, for most families, I'm not seeing a lot of value to FastPass+…
FASTPASS+ FOR DISNEY WORLD FIREWORKS
There's a coupla things you might want out of FastPass+ for the Disney World fireworks shows—including
Being on the axis for which the show was designed to be seen without having to wait much
For the shows that often close the parks—almost always Illuminations at Epcot, except on evening Extra Magic Hours nights, and often Fantasmic at Hollywood Studios—being closer to the cars and buses than most other people, so that if you want to leave then, you can without so long a fuss in getting out of the park
Moreover, for Fantasmic in particular—the only evening fireworks show with limited capacity—you'd want guaranteed access as well.
By these criteria,
Illuminations is worth a FastPass+ if you have two days at Epcot
Fantasmic is nearly worth one if you have two days at the Studios
And Wishes is not worth a FastPass+, unless you have four or more days at the Magic Kingdom.
FastPass+ and Illuminations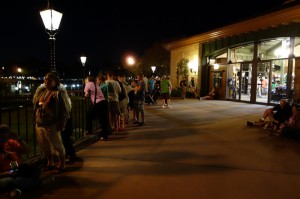 The Fastpass+ viewing area for Illuminations is at the intersection of the World Showcase Lagoon and Future World, between the two Tower gift shops.
This puts your family right on the axis from which Illuminations was designed to be viewed (although Illuminations is not so axis-dependent as the other two shows) and also pretty much as close to the exit to the transportation area as an Illuminations viewer can be.
This is not worth a FastPass+ if you are spending only a day at Epcot, but is worth one if you are spending more than a day.
FastPass+ and Fantasmic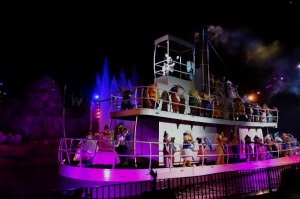 Fantasmic is a trickier call.  Your Fantasmic FastPass+ guarantees you access, but not—at least of my November test—a good seat.
In my September test, the Fantasmic FastPass+ seats were in the Pocahontas section, which are in the better middle third of the Fantasmic viewing area.
But on my November visit, there were no dedicated FastPass+ seats.  Your FastPass+ guaranteed access, but how good a seat you got was still a function of when you got in line.
Our FP+ kicked in at 35 minutes before show-time—I think we would have been fine getting there even a few minutes earlier than then–but I didn't roll in til 20 minutes before showtime, and by then, most of the good seats were taken.
Because I wanted to be close enough to finally take barely adequate photos of Fantasmic, I found good seats near the front, which those in the know avoid because they can be misted for pretty much the entire duration of the show, and greatly delay exit.
But it would have been rough to find "good" seats then.
The best way to see Fantasmic remains seeing it on a night with two shows, and hitting the second show.
Assuming that Disney sticks with the Fantasmic access model I saw in November, and not the one I saw in September–if you have more than a day at the Studios, and neither day has two shows, then the guaranteed access feature of FastPass+ makes it probably worth using one for Fantasmic.
But if you are able, still show up early in the FastPass+ window so that you can get good seats—in the center section, about halfway up.
FastPass+ and Wishes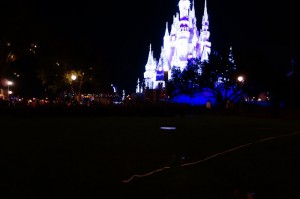 I'm not so keen on the Wishes FastPass+ location, which is near, but off-center to, the Castle, and somewhat obscured by trees—it's the area on the left side of the line in the lousy photo.
The best place to see Wishes is facing the castle with Main Street at your back, with no trees obstructing your view.  This lets you see both the great Celebrate the Magic castle show—typically 30 minutes before Wishes–and Wishes itself.  You'd be closer to the train station if you planned to leave right after, and closer to the castle if you didn't.
The Wishes FastPass+ location has a couple of problems
It's very close to the castle—good unless you plan to leave right after, when it will put you behind thousands
It's off center—not hugely so, but being off center matters more the closer you are to the castle
Parts of the viewing area are obscured by trees—not a big issue for Wishes, but a problem for Celebrate the Magic
So I'm not too keen on spending what at the Magic Kingdom are particularly valuable headliner FastPass+ on Wishes…
Follow yourfirstvisit.net on Facebook or Google+ or Twitter or Pinterest!!
RELATED STUFF