Review: Turtle Talk with Crush at Epcot
By Dave Shute
FAVORITE COMIC ATTRACTIONS AT WALT DISNEY WORLD
Welcome to those coming from Capturing Magical Memories and those of you just hopping aboard.
I am the 2nd stop on our Magical Blogorail. Enjoy the ride as this month Magical Blogorail Teal discusses April Foolishness–our favorite comic shows, attractions and such at Walt Disney World!
TURTLE TALK WITH CRUSH AT EPCOT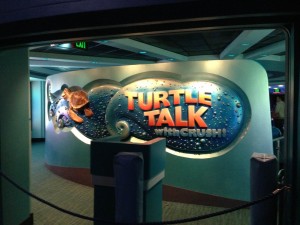 There's lots of places I could have gone with this, but for comedy and drop-dead cuteness, nothing else at Walt Disney World can hold a candle to Turtle Talk with Crush.
This site's Comprehensive Guide to Rides rates all the rides from the point of view of both little kids and older kids and adults.  There's one group of around twenty rides ranked both as "Best-Loved" for little kids, and "Favorites" for older kids and adults.
Turtle Talk with Crush is one of the rides that's top ranked for all age groups. 
And it's both quite funny and quite cute–with much of the comedy coming from reacting to the cuteness…
REVIEW: TURTLE TALK WITH CRUSH AT EPCOT
Turtle Talk with Crush is a fifteen-ish minute show at Epcot's The Seas with Nemo and Friends Pavilion in Epcot's Future World.
Starring the 153-year old turtle Crush from Finding Nemo, Turtle Talk With Crush is…well, it's a question and answer session with Crush.
Once you are settled into the theater the show takes place in, the cast member host notes that Crush will answer questions from the audience about his life, and that he'll likely ask questions of them as well.
The cast member will then invite little kids to sit in the front.  Have your kids do this–and have them wear distinctive hats as well.  Believe me, it may pay off.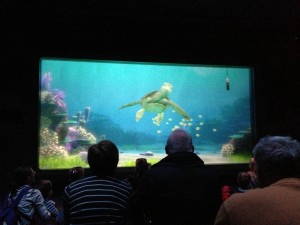 Then the show starts–and what seems at first like just a movie–and not even 3-D!–swiftly turns into something remarkable.
While, as always, I'm not gonna give away the fun, a combination of technology and cast member skills turns what starts as a movie into a hilarious, darling, and magical set of conversations.
The comedy comes from many sources, but funniest is the mutual misunderstanding between the kids and Crush as each ineptly interprets the others' world through their own experiences.
And it's drop dead cute to see the kids and Crush engage…even for jaded teenagers!
Turtle Talk with Crush is near the top of almost anyone's list of Epcot attractions, and is great for all ages.
The theater is not large, so crowds build by mid-day.  It's best seen in the morning as soon as you've knocked off the E-Ticket rides at Epcot.
MORE APRIL FOOLISHNESS FROM MAGICAL BLOGORAIL TEAL
Thank you for joining me today. Your next stop on the Magical Blogorail Loop is Disney on Wheels.
Here is the map of our Magical Blogorail Teal loop should you happen to have to make a stop along the way and want to reboard: Mom
Follow yourfirstvisit.net on Facebook!
RELATED STUFF