Don't Give Up Yet on Free Dining
By Dave Shute
DESPITE THURSDAY'S DEBACLE, PEOPLE ARE STILL GETTING FREE DINING AND ROOM RATE DEALS AT DISNEY WORLD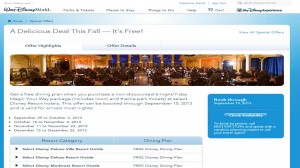 Despite all the unavailability on Thursday, people have been finding since then that the same dates and rooms that were unavailable then have been bookable Friday and today.
Start with the links to these deals on Disney's website, and if that doesn't work, call. Disney's page on the free dining at Disney World is here, and its page on the room-only discount is here.  The number is 407-939-7729.
And if that doesn't work, ask if you have, or beg for, a pin code!!  Word is that another round of pin codes is out!
WHAT MAY HAVE HAPPENED
Disney was inundated with calls on Thursday (you can only change a reservation by talking directly to Disney) –6 hours spent on hold were reported as common, especially for travel agents who have special lines that couldn't take the demand.
As a result, many people on hold–and others with travel agent bookings waiting to hear–double-booked deals while waiting to change their old bookings.
Eventually they canceled one of their bookings, and eventually, it seems, these rooms went back into the free dining pool.
There's a thread with examples of the kinds of rooms that are being cancelled here.
Now all Disney deals are subject to availability. Some resorts aren't offered at all, and many of the more popular among the rest have a very small number of rooms allocated to a deal.  This is particularly true for free dining, which is a very expensive and complicated promotion.
Word is from at least one cast member that Disney had initially not planned to make this offer at all (which is what I'd been predicting), and when it did, both dates and room allocations were much tighter than in the past.  That, combined with system failures, is what presumably led to Thursday's zoo.
But all is not lost!  Keep trying! And if you have no luck this weekend–try again daily on the website, and call again every now and then.
Follow yourfirstvisit.net on Facebook!
RELATED STUFF