More on Disney World Free Dining After September
By Dave Shute
MORE FREE DINING FOOLISHNESS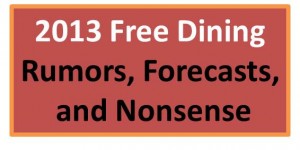 My post last week where, inspired by my conversations with the Mysterious "B" about the recent flood of free dining pin codes, I inched back a bit from my prediction that we won't see general public free dining in 2013 after September, has gotten a lot of reaction.

See for example this disboards thread starting at the bottom of the page on post number 2055, and of course the comments on the page itself, most fascinating, a few foolish.
I still don't think we'll see general public free dining after September, but I am not so firm on it as I had been, thanks to the delay in MyMagic+ and the resulting shortage of anything interesting for Disney World marketing to talk about to engender bookings in the non-holiday weeks of the fourth quarter of 2013.
What we are seeing, though, is a spate of pin codes, with word of more rounds of pin codes to come, a lot of hints dropped by Disney World cast members about upcoming deals (these hints could be referring to room rate deals, or free dining, or both), and some really interesting ways that people are getting pin codes.
HOW TO GET A WALT DISNEY WORLD PIN CODE
Traditionally Disney has mailed, or emailed, pin codes, offering them to "households."
We had reports a bit ago of people learning they had pin codes by calling and asking if they had them.
And last week, we had multiple comments that people had, after calling and finding out that they had no pin code, somehow talked Disney into giving them a pin code—my first heads up to this came from the Mysterious "B."
See for example this, this and this.
So if you don't have one in the mail, and call and still don't have one, then don't give up!
I don't have any secrets for this.  But common sense tells me that your odds of getting such are better if on the phone you act like the kind of family that Disney World wants in the parks, and the kind of person that the cast member wants to help.  Put another way, follow the Scout Law—be trustworthy, loyal, helpful, friendly, courteous, kind, and cheerful.
Plus put a really cute-voiced kid on the phone asking to talk to Mickey…
Now, to have a pin-code pre-assigned to your household, Disney needs to know who you are, and how to contact you by mail or email.
So one obvious point is that if Disney doesn't have your email or mailing address, you are fighting an uphill battle.  The most straightforward way to do this is to register on Disney World's website (if you haven't already), fill in all your contact info, and order to be mailed to you a Disney World planning DVD.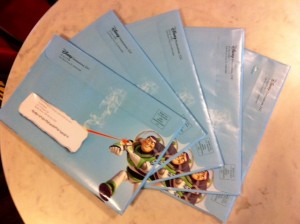 Now Disney knows where I live—here's what came in the mail to me on just one delivery last week…
But not a pin code among them…
DISNEY WORLD DEALS IN CONTEXT
Before the recession of 2008-2009, Disney World's approach to discounts was largely a combination of annual passholder deals, general public room rate deals for narrow time periods, and general public free dining offered annually from later August well into September.
When the recession hit, these traditional offerings were supplemented by a whole host of other deals, with the main one being an astonishing three free ticket days and hotel nights in a seven day stay.
In 2010, Disney shifted away from the 3 days and nights free deal, and instead moved to a combination of room rate and free dining deals, with free dining available in 2010, 2011 and 2012 most dates from mid-August until well into March, and in some of these years for other spring and summer dates as well.
As the economy continued to improve, Disney began talking about cutting back, and then actually cutting back, on discounts.  I've listened to every quarterly earnings call for years now, and this cutting back of discounts has been a constant promise to the analyst community for years. (See this for the earliest such conversation that I wrote about, from more than 2 years ago.)
The early evidence of these cutbacks in discounting was less a diminution of the programs than it was a limitation in scope and deal levels.  For example, free dining at the value resorts was shifted to "Quick Service," and some resorts previously in the free dining deal were cut out.  Room rate discounts were lower, the number of resorts on offer diminished, and within price classes we started seeing lower discounts at the more popular (and hence easier to book) among the remaining resorts on offer.
Meanwhile every subsequent earnings call reinforced that Disney was both cutting back discounts and increasing profitability, including increases in realized room rates and in guest spending per day.  In some of these quarters, hotel occupancy was down compared to prior years, but with the reduced discounts, profitability was still higher.
Then 2013 rolled around…and for the first time in years, we saw not a single free dining offer up until the traditional hurricane season offer—and even that is weeks shorter than in prior years.  And we also see astonishing earnings being reported even without these offers.
So one doesn't have to have a lot of business judgment to understand why 1. Disney has been cutting back on discounts for a while and that 2. Free Dining obviously has been the target of cutbacks in 2013.
Because the post-September Free Dining packages are an artifact of the recession, it also takes only a bit of business judgment to see why they are threatened in 2013.  That's why I made the call almost a year ago warning people not to expect much general public free dining in 2013.
I would be ever so happy to be wrong.   But I won't be wrong "because Disney offered it last year and the year before." That's almost comic in its ignorance of Disney's strategy and actions coming out of the recession.
If we see general public free dining after September 2013, it'll be because, thanks to the delay of MyMagic+, Disney is short on marketing messages to get people to book the non-holiday dates of the final quarter of the year, and isn't getting enough traction from pin codes.
Follow yourfirstvisit.net on Facebook!
RELATED STUFF