Review: Mickey's PhilharMagic at the Magic Kingdom
By Dave Shute
TAKING A BREAK AND STILL HAVING A BALL AT WALT DISNEY WORLD
Welcome to those coming from Capturing Magical Memories and those of you just hopping aboard.
I am the 2nd stop on our Magical Blogorail. Enjoy the ride as this month Magical Blogorail Teal discusses our favorite "take a break and just sit there" Disney World attractions!
MICKEY'S PHILHARMAGIC AT THE MAGIC KINGDOM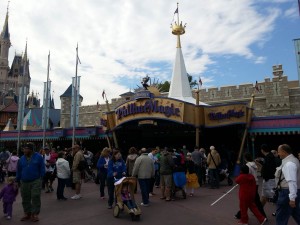 This site advises first time visitors to Walt Disney World who may never return to try every attraction, and leaves out of its itineraries just some character meet-and-greets aimed at younger ones (covered instead by character meals), and some minor entertainments.
It also provides tools for families on shorter trips, and/or with younger kids, to help thin down the list of things to see–especially the Comprehensive Guide to Rides.
The Comprehensive Guide to Rides rates all the rides from the point of view of both little kids and older kids and adults.  There's one group of around twenty rides ranked both as "Best-Loved" for little kids, and "Favorites" for older kids and adults.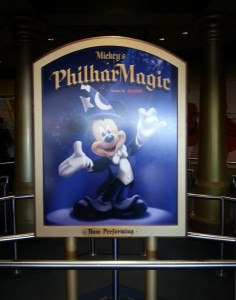 Mickey's PhilharMagic is one of the rides that's top ranked for all age groups. 
And it's also an attraction where–at least for the 12 minutes of the show–you can just plop your self down and not do a darn thing except watch.
REVIEW: MICKEY'S PHILHARMAGIC AT THE MAGIC KINGDOM
Mickey's PhilharMagic is a show in Fantasyland (between Cinderella's Castle and Peter Pan) that shows the broadest sweep of Disney animation of any attraction at Walt Disney World besides Fantasmic.
In the setting, or the show itself, you'll see Mickey, Ariel, Aladdin, Lumiere, Tinkerbell, and a dozen more Disney characters, most reprising roles and scenes from classic Disney animated films.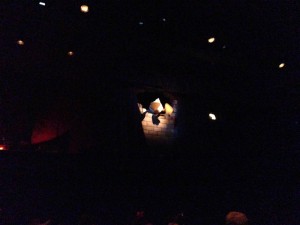 And you'll see a lot of Donald Duck.  This is his star–or villain–turn at Walt Disney World.
The story of the show is that Donald interrupts Mickey's preparations for a concert, and chaos–and many references to classic Disney films–ensues.
You begin in a pre-show area meant to mimic the lobby of a grand opera house or concert hall, with many posters about Disney characters.  When the show space is ready, you'll be invited to grab your "opera glasses" (3-D glasses) and enter the main theater.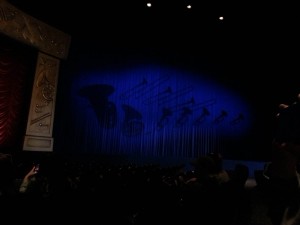 Seat yourself–slide all the way down if there's a crowd, grab some space near the middle of there's not–relax, and get ready for the show!
As usual, I'm not going to give away the turns of the plot or the surprises that accompany it, but there's a reason this is commonly called a "4-D" show!
Mickey's PhilharMagic is one of the three best attractions in Fantasyland for the entire family (the others are Peter Pan and  Enchanted Tales with Belle.)
And unlike the other two, lines usually aren't bad, as the large theater means it has the capacity for several thousand people to see the 12 minute show every hour.
FASTPASSES are often available but typically aren't needed–you usually won't need to wait more than a show or two before your own show starts.
So be sure to see Mickey's PhilharMagic–and sit down and rest for a spell!
 MORE JUST SITTIN' FROM MAGICAL BLOGORAIL TEAL
Thank you for joining me today. Your next stop on the Magical Blogorail Loop is The Many Adventures of a Disney Lovin' Spectrum Mom.
Here is the map of our Magical Blogorail Teal loop should you happen to have to make a stop along the way and want to reboard:
Follow yourfirstvisit.net on Facebook!
RELATED STUFF