Review: Deluxe Rooms at Disney's Wilderness Lodge
By Dave Shute
DELUXE ROOMS AT DISNEY'S WILDERNESS LODGE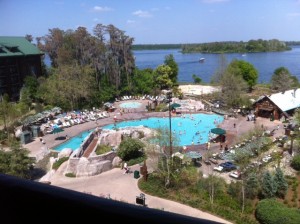 I've already published reviews of Disney's Wilderness Lodge here and of its sister resort the Villas at Disney's Wilderness Lodge here.
This review is of a particular room type at the Wilderness Lodge: Deluxe Rooms.
(These rooms are sometimes called "Junior Suites.")
Standard rooms at the Wilderness Lodge hold 4 people in 340 square feet, for about $285 a night (pre-tax, during the Fall price season—which is when this site recommends that first time family visitors go).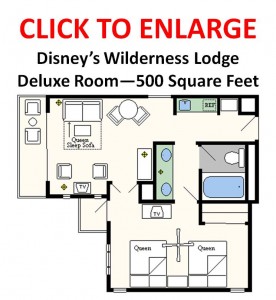 In contrast, Wilderness Lodge Deluxe Rooms hold 6 people in 500 square feet, for around $600 a night during that same season.
That's 50% more people, and about 50% more square feet, for a little more than twice the cost.
Part of the cost difference comes from the fact that all the Deluxe Rooms are also "club rooms."
("Club room" is what Disney calls what the rest of the world calls concierge rooms.)
Regular club rooms at the Wilderness Lodge—which offer no more space and no more capacity than standard rooms—are about 60% more expensive than standard rooms. 
Deluxe rooms offer 50% more capacity and about 50% more space than standard club rooms, but only cost about a third more than standard club rooms.
The upshot?
Larger families of 6 committed to Disney's Wilderness Lodge and who would have stayed in club rooms anyway will find the Deluxe Rooms a bargain.
Families of 6 looking for deluxe lodging will find these rooms their most cost effective option.  Almost all other deluxe options that hold 6 (and don't rely on getting connecting rooms, which Disney will not guarantee) are designed—and priced—to a capacity of 8 or 9.
(For more on large families at Walt Disney World, see this.)
Families of 4 who are simply looking for a more comfortable Wilderness Lodge option than a standard club room will find these rooms OK if concierge level service is what they really want.
Personally, I think such families would have even more comfort in a one-bedroom villa at the Villas at Disney's Wilderness Lodge. 
While concierge service is not available in these villas, the one-bedroom villas are almost 50% larger, better laid out for a two parent, two kid family, have much more luxurious baths and master bedroom spaces, and have a full kitchen. 
The one bedroom villa is also about $100 a night less expensive during the fall season.
For more on the trade-offs between club rooms and villas, see The Most Comfortable Place to Stay at Walt Disney World.
WHAT YOU GET IN A DELUXE ROOM AT DISNEY'S WILDERNESS LODGE
The Wilderness Lodge is laid out like a U.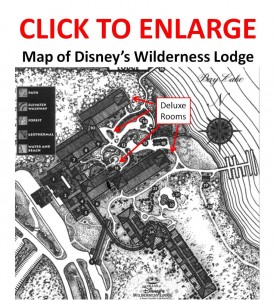 At the ends of the U, and also at the points where the U bumps out into a wider space, you can find Deluxe Rooms.
(See the red arrows on the map–click the map to enlarge it.)
These rooms are on the corners of these spaces, and have views both out to Bay Lake and also to the sides—in most rooms, of the inner pool area, but in a few, of the outer woods.
(See the top of the page for the view from my balcony.)
They fit across the short end of the long side of the room block—which constrained the total width available to the architects. 
At the far ends of the building, there's standard rooms in the middle of the short stretch, and a Deluxe Room on each corner.  (The layout in the bump out in the middle of the U is similar, but there's no Deluxe Room on the outer corner, since there is no outer corner.)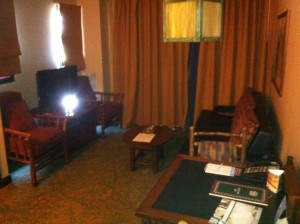 That's about half a room more than the space nicely fits. 
As a result, the Deluxe Rooms are too narrow for pleasing proportions, by about 3 feet (2 feet in the hallway/sitting room bay, and one foot in the bedroom bay).
You get used to this.
However, because of it, the space feels wrong when you first enter the room, and continues to feel wrong until you get used to it…not a strong first impression. 
My room also seemed a little tired…a few more scuff marks, scrapes, and scratches than the price suggested maybe it should have had…although it may be one Disney has not gotten to renovating, and the others may be sparkling and fresh.
You get used to this as well…and once we were used to it, we LOVED our Deluxe Room…but it would be much better if wider and fresher.
This review continues here.
PAGES: 1  |  

2  | 3  |  Next
RELATED STUFF