Review: Deluxe Rooms at the Wilderness Lodge, p3
By Dave Shute
This is the third page of this review. For the first page, click here. For the second page, click here.
TO WHOM ARE THE DELUXE ROOMS AT THE WILDERNESS LODGE MOST SUITED?
These expensive, spacious, but somewhat awkwardly laid-out rooms are best suited to three types of families:
Larger families of 6 committed to Disney's Wilderness Lodge and who would have stayed in club rooms anyway will find the Deluxe Rooms a bargain.
Families of 6 looking for deluxe lodging will find these rooms their most cost effective option. Almost all other deluxe options that hold 6 (and don't rely on getting connecting rooms, which Disney will not guarantee) are designed—and priced—to a capacity of 8 or 9.
Families of 4 who are simply looking for a more comfortable Wilderness Lodge option than a standard club room will find these rooms OK if concierge level service is what they really want, though personally I think such families would have even more comfort in a one-bedroom villa, or even a two-bedroom, at the Villas at Disney's Wilderness Lodge.
DELUXE ROOMS AT THE WILDERNESS LODGE FOR LARGER FAMILIES
This site ranks the Wilderness Lodge as the second-best of the deluxe resorts for first time family visitors, bested only by the Polynesian.
The Wilderness Lodge comes in so high because of its spectacular kid appeal. Among its negatives are small, low-capacity (four person) rooms.
Club rooms at the Wilderness Lodge are also hold 4 in small rooms.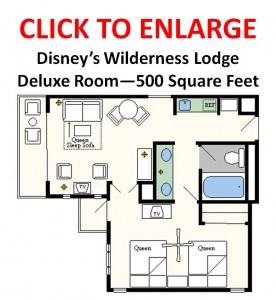 Families of 5 to 6 who are committed to both the Wilderness Lodge and club level rooms will find Deluxe Rooms a bargain.
They hold 6 in 50% more square feet, but at only about 33% more expense.
Taking two club rooms instead would increase your square footage, sleeping flexibility, and number of baths–though at a higher price. However, Disney won't guarantee that two such rooms will be nearby, adjacent, or connecting.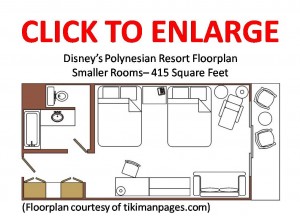 Families of 5 who are not committed to the Wilderness Lodge, and don't care about club service, should rent a standard room in Disney's Polynesian Resort.
Standard rooms at the Polynesian, this site's highest ranked deluxe resort, hold five in two queens and a daybed, and are between 75 and 150 square feet larger than Wilderness Lodge standard rooms.
The larger of the two Polynesian resort standard room floor plans is only 25 square feet smaller than a Wilderness Lodge Deluxe Room, but costs $180 a night less.
Families of six who are looking for a reasonably priced option at a high-ranking deluxe resort should pick Wilderness Lodge Deluxe Rooms.
Almost all of the other deluxe options that sleep 6 are designed and priced for families of 8 or 9.
For more on large families at Walt Disney World, see this.
DELUXE ROOMS AT THE WILDERNESS LODGE FOR FAMILIES SEEKING MORE COMFORTABLE ROOMS
The Deluxe Rooms also present a more spacious and comfortable option for families of four than standard Wilderness Lodge rooms.
This makes them a good choice for such families who are also committed to club-level service.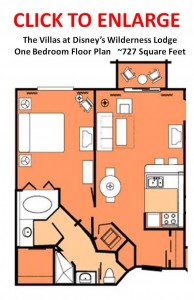 Personally, I find one bedroom villas at the Villas at Disney's Wilderness Lodge more comfortable–and two bedroom villas are positively luxurious for a family of 4, or even 6.
One bedroom villas have almost 50% more floor space than Deluxe Rooms, a full kitchen, but cost $100 a night less.
Their layout–with a king in one room, and a fold-out couch in the second–works better for most families as well.
Moreover, their baths and master bedroom are equipped and decorated to a higher standard than that of the Deluxe Rooms.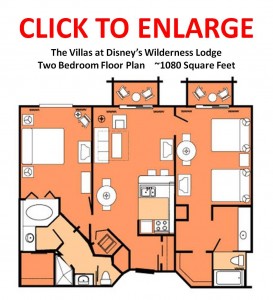 Two bedroom villas are distinctly luxurious for small families.
They add a second sleeping bedroom with two queens or a queen and a fold-out couch, and another bathroom.
They contain more than twice the square footage of a deluxe room, but cost only 30% more.
You can't get concierge service in either of these villa types, but to me the increase in space more than makes up for this lack.
For more on the trade-offs between club rooms and villas, see The Most Comfortable Place to Stay at Walt Disney World.
MORE ON WHERE TO STAY AT DISNEY WORLD
blank
blank
blank
blank
blank
blank
RELATED STUFF