Review: The Afternoon Pixar Pals Countdown to Fun Parade at Disney's Hollywood Studios
By Dave Shute
THE PIXAR PALS COUNTDOWN TO FUN PARADE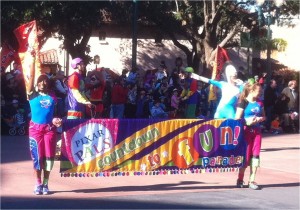 Update April 2013:  This parade had its last scheduled run on April 6.  For more, see this.
The afternoon Pixar Pals Countdown to Fun Parade replaced the much-missed Block Party Bash in January 2011.
The Pixar-themed parade includes tributes to Toy Story, Monsters, Inc, A Bugs Life, Ratatouille, Up, and The Incredibles.
Three principles guided its design–very tall, very slow, and very brief.
Because the floats are so tall, your kids don't need to be in the front to see them. Because the parade is so slow, they'll be assured of a smile and a wave–not just the back of a character as it waves to kids across the parade route.  And because it is brief, the slowness of the parade won't lead to boredom and fidgets.
HOW OFTEN THE PARADE HAPPENS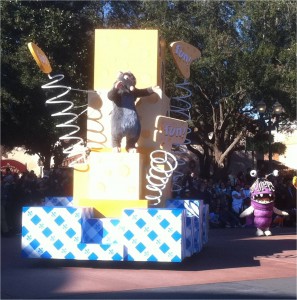 The afternoon parade shows every day at 3p, typically beginning near the Hollywood Studios entrance.
From there, it makes its way down Hollywood Boulevard, past Mickey's Hat, between the American Idol Experience and Echo Lake, ending at Star Tours.
Check the Hollywood Studios Calendar (find your month, then click on the days of your visit) to double check when it is being shown during the time you will be at Walt Disney World.
(Disney's calendars are harder to use than they should be–see this if you need help.)
WHERE TO PERCH YOURSELF TO SEE THE PIXAR PALS COUNTDOWN TO FUN
The height of the floats makes it easy for your kids to see them, so there's not as much value to getting them a position right in front, as there is in other Disney parades.
The easiest place to find a good spot is in the area near the American Idol Experience and Echo Lake.
You'll find here a number of benches and tables where some family members can sit while others reserve a spot.
You should be able to find good spots here up to just a little before 3p.
IS THE PIXAR PALS COUNTDOWN TO FUN PARADE WORTH WATCHING?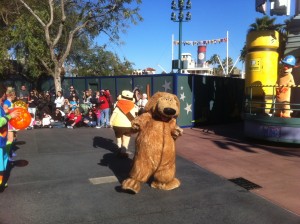 For first time family visitors to Walt Disney World, the parade is a hoot.
Returning visitors who have seen Block Party Bash should skip the new parade, unless they are huge fans of Up or Ratatouille.
Put bluntly, it can't hold a candle to Block Party Bash.  Widely criticized for being both duller and shorter than Block Party Bash (that's kinda like the old restaurant criticism of "such lousy food, and such small servings") it's not a bad parade–it's just not remotely as good as the one it replaced.
On the "too short" front–published reviews have put it as short as 5 minutes.  I've timed it several times, and it averaged 9 minutes.
Nine minutes, for me, is not a huge problem–I wouldn't mind if the Animal Kingdom shortened its parade to about that length.
But I do miss the energy and fun of Block Party Bash…
Home Donate Sitemap FAQ Travel Agents
RELATED STUFF