Goodbye, Pixar Pals Countdown to Fun–and Hello to Cars Land at Disney's Hollywood Studios?
By Dave Shute
GOODBYE TO THE AFTERNOON PARADE AT DISNEY'S HOLLYWOOD STUDIOS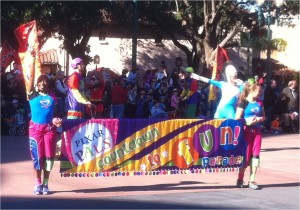 The Afternoon Parade at Disney's Hollywood Studios, Pixar Pals Countdown to Fun, had—so far as anyone knows—its last run on Saturday April 6. No explanation has been given, nor any replacement announced.
There's not much of a loss here—this was a lame parade, especially in comparison to its immediate predecessor, the great Block Party Bash.
But it's been a while since Disney World has closed a parade with no replacement—the last I can think of is Epcot's Tapestry of Dreams parade, which I think was the last parade to run at Epcot, and closed in 2003.
So it's interesting to speculate about why and about what, perhaps, is next.
WHY DISNEY WORLD MAY HAVE SHUT THIS PARADE DOWN
Disney Word shuts stuff down all the time—sometimes, because a new offering just isn't that good, but most commonly for one of two reasons:
To create budget or space capacity for something to be fixed or to be created new, or
To just save money
I've written extensively elsewhere about the somewhat perverse characteristics of park operating economics that, to the grave annoyance of fans, can lead Disney to simply cut stuff to save money.
If saving money is the goal, a parade is a great target for elimination.
A parade at a Disney World park involves a ton of labor costs—not just the obvious ones like the wages of the parade performers, but also all the time that other park cast members have to put into tasks ranging from taping out the viewing areas, to crowd control during the parade, to putting everything away and cleaning it up, and even to running extra buses right after it ends—as many guests leave the park right after they see the parade.
Now the complexity on figuring out what come next—that is, a new parade or not– is that even when Disney adds something new, it often does something to cut costs well in advance, so that the portion of the extra development costs that can't be capitalized are somewhat offset by the cost reductions. This lets budgets be met…but you don't know if the goal was just to cut costs, or to create space and budget for something new, until the something new is announced…
WHAT MIGHT BE NEXT AT DISNEY'S HOLLYWOOD STUDIOS: CARS LAND?
There's been some speculation that the Pixar Pals Countdown to Fun parade—and also the Disney Channels Rocks show, also with a lot of staff, also closed—have been shut down so that the road they stage on (Prospect Road) or begin the show on (Hollywood Boulevard) could be repaired, or puffed up with something new. Could be—I don't know nothing one way or the other.
But my suspicion is that the afternoon parade at the Studios is gone for the foreseeable future.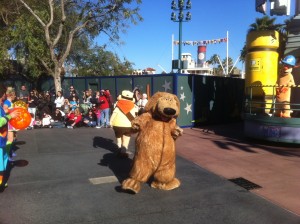 I get there by noting that the massive change in 2011 from the wonderful Block Party Bash to the lame Pixar Pals Parade only made sense at the time as a cost cutting move.
The result was a lame and widely dissed offering (though I loved seeing Doug), which makes me think that what came out in 2011 was a compromise between those who wanted the parade shut for cost-saving and operational complexity reasons, and those who wanted to salvage any afternoon parade, even one that was a shadow of its predecessor.
But why then close it for good now? And what's next? Well, a version of Disney California Adventure's Cars Land at Hollywood Studios has been much rumored, and much wished for, especially after the move of its lead designer, Kathy Mangum, to Disney World last summer.
Given everything Disney has been saying for a couple of years now about smashing down capital spend to "routine" levels after the multi-billion investments in the Disney Cruise Line, Disney California Adventure, Art of Animation, New Fantasyland, and MyMagic+ wind down this year, it's hard to see where the cash comes from Cars Land at the Studios…
…but there's a couple of things that have happened since Disney first started talking about ramping down capex that makes me willing to fan the speculation.
One is that Disney has re-learned the lesson at Disney California Adventure that great new rides, if they bring in more visits and/or relieve congestion at another park, can have a fine payback.
Second is that Harry Potter has had a second installment announced since then…
I don't see Avatarland being canceled to pay for Cars Land, if for no other reasons that the Animal Kingdom according to everybody's math really needs some new "E" Ticket rides for MyMagic+ to work well there.
But in response to what it has learned about the cash flow of Cars Land and to the threat of Harry Potter 2, I can see Disney World working pretty hard to generate extra cash and to deploy more capital than it had already been planning on something like Cars Land at the Hollywood Studios, so long as it can still make the claim to the analyst community that the funds are coming from "routine capital."
Cars Land at the Studio would likely go into the area now occupied by Lights Motors Action and the Backlot Tour.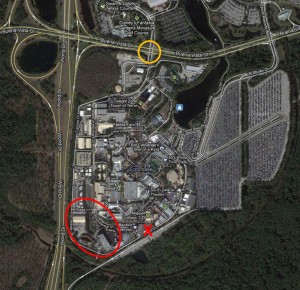 See the aerial photo. (Click it to enlarge it.) The bruited-about possible area for Cars Land at Disney's Hollywood Studios is within the large red circle.
Now note how landlocked this is, because of the way World Drive, the guest entrance road from World Drive, and Buena Vista Drive hem in the park.
The only sensible point right now for construction access is from the cast entrance on Buena Vista (small orange circle). But that's not an area of Buena Vista that can take much more traffic, and the road from there to the red circle has some turns that construction cranes and such would find awkward.
So maybe Disney's thinking about generating a construction access point and staging area from the World Drive entrance to the Studios, somewhere around the red X. And maybe that's the rumored "road that needs to be re-built."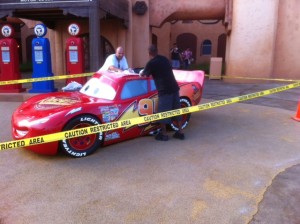 And maybe that's why Pixar Pals Countdown to Fun and Disney Channels Rocks are gone—not only to save cash for reinvestment, but also to free up their staging and storage areas for Cars Land construction!
Just speculation…probably wrong…but still fun to dream about!
Follow yourfirstvisit.net on Facebook!
RELATED STUFF