Review: The Afternoon Mickey's Jammin' Jungle Parade at Disney's Animal Kingdom
By Dave Shute
MICKEY'S JAMMIN' JUNGLE PARADE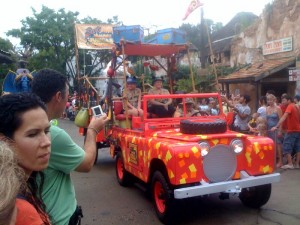 This parade had its final run on 5/31/2014.  No word on any possible replacement.
The afternoon parade at Disney's Animal Kingdom, Mickey's Jammin' Jungle Parade, opened in 2001.
The animal-themed parade includes Mickey, Minnie, and Donald, animal puppets, stilt walkers, and strolling Disney characters.
The strolling characters, in keeping with the theme, are all animals, ranging from Chip and Dale to more bears than you remember Disney having.
A distinctive approach to float and costume design makes this the most visually unique of the Disney afternoon parades.
The parade vehicles are mostly not very high, so getting your kids close to the front pays off.
HOW OFTEN THE PARADE HAPPENS
The afternoon parade shows every day at 3.45p.
Check the Animal Kingdom Calendar (find your month, then click on the days of your visit) to double check when it is being shown during the time you will be at Walt Disney World.
(Disney's calendars are harder to use than they should be–see this if you need help.)
WHERE TO PERCH YOURSELF TO SEE MICKEY'S JAMMIN' JUNGLE PARADE
In late 2011, the parade route changed, and it no longer goes through Africa twice.
See the image for the route–which is the dotted red line.  The parade now starts between Pizzafari and Creature Comforts,  on Discovery Island near the bridge to Africa.
It follows the dotted red line and finishes where it began.
The best spot to see the parade is along the path between Asia and Africa.
The path, though narrow, presents the best shade and is often not crowded.
Position yourself on the path no later than about 10 minutes after the scheduled start.
RELATED STUFF