How to use the Online Park Calendars at Walt Disney World
By Dave Shute
OVERVIEW: DISNEY WORLD PARK CALENDARS
I've noted elsewhere–for example, here, here, and here–that the best way to find out Disney World operating hours, Extra Magic Hours, fireworks and Fantasmic times, and such, is to work from the individual official Walt Disney World park calendars.
These calendars can be found by clicking the following links:
However, these calendars aren't too user friendly, so I thought I'd give some advice on how to use them and about some of their odder aspects.
HOW TO USE WALT DISNEY WORLD'S THEME PARK CALENDARS
Once the calendar has loaded, here's the key points: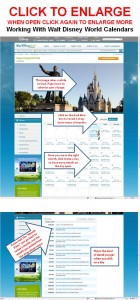 To find the month you are interested in, scroll down to the calendar itself, and find the blue box on the right side that has the month in it.
(Click the image for exactly where.)
Click the blue box, and from the drop down menu, select the month you want to learn more about.
If a month is not offered, it's because Disney World typically provides data for only the next 5-7 months.
Disney updates the calendars towards the end of each month–try again later.
The month will open. If it is five or more months away, data may not be available yet. 
For example, the days may be blank, or if you click on a day, you may not be able to find any details.  Just come back later.
If the month is available, and the daily detail is filled in, then
From the monthly page you can find operating hours and Extra Magic Hours, and
By clicking on a date in the monthly page, you can find the details of offerings at the park that day–parade and fireworks times, etc.
Note that in a date view, a navigation menu at the top left gives you the option to see the next or previous days, or to return to the month view.
The next and previous day buttons work just as you would think. However, if you click the month view in this menu, you go back to the current month–not the month you picked from the drop-down menu. In a welcome change, clicking the month button returns you to the month of the day you had been looking at–not to the current month, as previously happened!
Disney typically does a general update  of the park calendars about two weeks before the beginning of the affected month, and will at times change (that is, add) stuff even the day before.  So if certain items are sensitive -for example, a second showing of Fantasmic or of the evening parade–keep checking! They may show up.
RELATED STUFF