Review: Disney's Wilderness Lodge, Continued 3
By Dave Shute
This is third page of this review. For the first page of this review, click here.
POOLS, DINING, SHOPS AND SUCH AT DISNEY'S WILDERNESS LODGE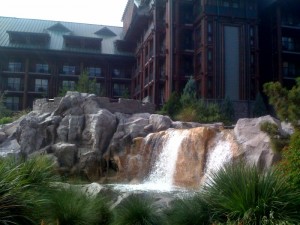 You enter the Lodge into the stunning main lobby.
Check in and guest services are to the right.
Further on the right is the gift shop, and around the corner to the right is a pathway to the Disney Vacation Club villas and the bus stops.
To the left is Whispering Canyon Cafe, one of two table service dining options at the resort, and a terrific place for kids.
Further down on the left is the second table service restaurant, Artist Point, a much more sophisticated space that specializes in the food and wine of the Pacific Northwest. (There's also a great little bar, Territory Lounge, between these two.)
The third dining option is further down on the left. Called Roaring Forks, it provides counter service options, and gets remarkably crowded around meal times.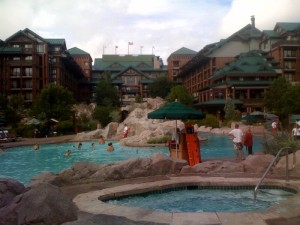 In the center of the two wings (click here for the first page of this review, which has a map) is a wonderful stylized mountain landscape, and after it the main pool, Silver Creek Springs pool.
Beyond the pool is Fire Rock Geyser, an imitation of Old Faithful which goes off every hour on the hour.
To the left of the geyser are the boat docks where boat transportation to the Magic Kingdom, Fort Wilderness, and the Contemporary resort can be found.
To the right of the geyser you'll find a beach (no swimming), boat and bike rentals, and a walking/jogging nature trail that leads to Disney's Fort Wilderness resort.
A second, simpler pool can be found by the villas. Both pools have hot tubs.  The workout and spa facility is within the villas, but is open to all Wilderness Lodge guests.
FINAL THOUGHTS ON DISNEY'S WILDERNESS LODGE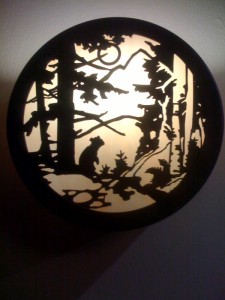 The Wilderness Lodge inspires devotion among its fans–of which I am one.
Families who have stayed at it once will have difficulty understanding why they should ever go to a different Walt Disney World resort hotel.
The Wilderness Lodge's strengths for first time visitors are its unsurpassed kid appeal and its reasonable prices.
The Wilderness Lodge's principal negatives compared to other deluxes are its small rooms and relative inconvenience.
EXTERNAL LINKS FOR DISNEY'S WILDERNESS LODGE:
PAGES:  First |  1 |  2 | 3 | Last
MORE ON WHERE TO STAY AT DISNEY WORLD
RELATED STUFF