Personal Favorites: The Deluxe Resorts
By Dave Shute
THE PERSONAL FAVORITES SERIES
This post is one in a series about personal favorites. See lower on the page for more about this series.
FAVORITE DELUXE RESORT: DISNEY'S WILDERNESS LODGE
This site's ranking of the deluxe resorts at Walt Disney World for first time visitors puts Disney's Polynesian Resort first, Disney's Wilderness Lodge second, and Disney's Animal Kingdom Lodge third.
However, my personal favorite is far and away the Wilderness Lodge, with the Animal Kingdom Lodge my second favorite.
Why?
WHY THE WILDERNESS LODGE IS MY FAVORITE DELUXE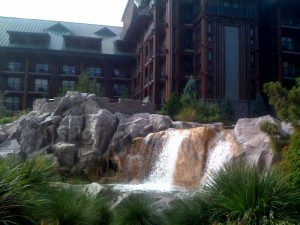 It's been a few weeks shy of a decade since my first stay at the Wilderness Lodge.  I most recently stayed there two months ago.
I've never been as stunned by a hotel as I was on that first visit, and I'll never forget the dropped jaws of my boys–8 and 11 at the time.
My jaw still dropped a few months ago. (For a review of the Wilderness Lodge based on that visit, see this.)
The Wilderness Lodge has the most kid appeal of any Walt Disney World resort hotel…and its kid appeal extends to any adult with even a spark of childhood still left in them.
My motto is that it's never too late to have a happy childhood…and so the Wilderness Lodge is my favorite!
Plus, I'm cheap, and the Wilderness Lodge is always the lowest priced of the deluxe resorts!
The negatives of the Wilderness lodge–smaller rooms, inconvenience, and too little serving and dining capacity in its counter service establishment, Roaring Forks–don't bug me.
The rooms, though small, are livable, and only an issue for those expecting much larger ones.
I always rent a car, so the multiple bus stops of the Wilderness Lodge don't matter to me, and I get a kick out of the boat to the Magic Kingdom. 
And the way to handle Roaring Forks is simple: avoid eating at the times other people eat.
When I first conceptualized this website, I fully expected that Disney's Wilderness Lodge would be my recommended hotel for first time family visitors.
Based on the analytics, the Polynesian Resort ended up beating it out.  Yet as well-loved as the Polynesian is…I love the Wilderness Lodge even more!
NEAR FAVORITES AMONG THE DELUXE RESORTS
My second favorite is Disney's Animal Kingdom Lodge.  It shares the positives of the Wilderness Lodge–stunning kid appeal–as well as the negatives of small rooms and inconvenience.
The main distinction for me is that I wore a coonskin cap as a kid…and the memory of the looks on my children's faces…
MORE ON THE PERSONAL FAVORITES SERIES
The advice on this site—when to go, where to stay, what to do, etc.–is aimed at the typical family visiting Walt Disney World for the first time, unsure if they will ever return.
It is based not on personal favorites or my own taste, but rather on a combination of facts, analysis, inference and judgment about what would be best for such a family.
My personal favorites can be quite different from my advice for these families–particularly because I'm older and hence traveling with twenty-year-olds, not little kids; have been to Disney World more than thirty times; and know I'll be coming back!
I thought at least some might be interested to hear about some favorites…if for no other reason than so that they can argue, using the comment form below!
MORE ON WHERE TO STAY AT DISNEY WORLD
blank
blank
blank
Home Donate Sitemap FAQ Travel Agents
RELATED STUFF