iDisney: The NextGen Project at Walt Disney World
By Dave Shute
SPECULATIONS ON DISNEY'S "NEXTGEN" PROJECT
Disney's "next generation experience," or "NextGen," project is reportedly a billion dollar plus technology project meant, according to the Orlando Sentinel (see this) to "radically transform the theme-park experience."
Or maybe not…as the Sentinel also reports, this project has had an unprecedented level of "strict silence."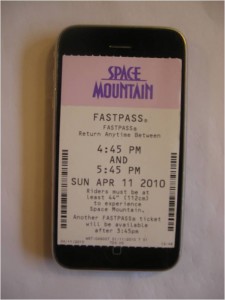 Based on
Patent filings, 
Recent Disney tests, and what I view as
Components of NextGen hiding in plain sight,
in what follows I speculate on what NextGen will be, and what this might mean for first time visitors.
Note that in February 2011, Disney provided a little more information–see this.
THE "QUEUELESS QUEUE"
(Note: "queue" is pronounced "LINE.")
The "queueless queue" concept is included in Disney World's Fantasyland expansion plans, and has been recently tested in other areas of Walt Disney World, ranging from the Haunted Mansion to Rock N' Roller Coaster.
The heart of the queueless queue is that guests who in the olden days would be using the standby line for a ride will not have to do so any more.  They will be able to wander about in a defined space, play games, buy food, and generally do something other than stand and shuffle.
If done well–for example, to the standard of Expedition Everest's queue theming–this may well be value-creating. Almost anything is better than standing in line. 
However, it's not worth a billion dollars.
To me, the real value of the queueless queue comes in the cover it provides for other options. Most importantly, because it provides more value to the standby line….more value can be added to FASTPASSES as well.
For example, in such a queue, no one knows much anymore about who is ahead of them in line.  This incidental ambiguity means that arrival time to the queueless queue can be disconnected from when people get to go on the rides.  This has implications for a new kind of FASTPASS…More on this below. 
Second, in a related point, the waiting area of the queueless queue can mask how many people are accessing a ride via the FASTPASS line, creating flexibility in the proportion of a ride's capacity dedicated to FASTPASSES–typically 50% today.
This, to me, is why the new Dumbo area in the Fantasyland expansion has two Dumbos. 
Its purpose is not doubling the capacity of this well-loved but tiny-capacity ride.  After all, doubling next-to-no-capacity still yields next-to-no-capacity. 
Rather, it's a means of enabling two different entrances to Dumbo–one for FASTPASS users, and one, the queueless queue,  for both FASTPASS and regular users, from which the FASTPASS entrance can't be seen…
NEXTGEN IS HIDING IN PLAIN SIGHT
Patent filings–ranging from ones Jim Hill reported on years ago to one noted by Disney and More just a week or so ago–give some clues to how much more NextGen can be than a "queueless queue." 
Also illuminating are recent tests Disney has been doing with adding attractions that have not traditionally been part of FASTPASS to the service–such as Flights of Wonder at the Animal Kingdom–and testing centralized FASTPASS availability.
Moreover, some other Disney practices that have been standard operating procedure for some time add up to elements of NextGen that are hiding in plain sight. 
These include 
The ability to reserve restaurants (and check in to your hotel) online
Your hotel texting you with your room number when your room is ready
Discount coupons for visiting park eateries before or after peak dining times
The use of Disney-provided cell phones as "kimmunicators" as part of the Kim Possible mash-up at Epcot
The right of Walt Disney World resort hotel guests to reserve dining venues ten days before the general public can, and to access the theme parks during "Extra Magic Hours" that are not available to those staying in other, non-Disney hotels.
THE TICKETLESS, PRE-SCHEDULED FASTPASS
Click here to continue reading this article.
RELATED STUFF