iDisney: The NextGen Project at Walt Disney World, continued
By Dave Shute
THE TICKETLESS, PRE-SCHEDULED FASTPASS
I expect that the core of NextGen will be
Addition of many more rides to the "FASTPASS"–that is, pre-scheduling–concept
Pre-scheduling of ride visits months in advance for Walt Disney World hotel guests–just like a restaurant reservation
Different levels of access to this pre-scheduling, depending on the price of one's hotel room
Increases in Walt Disney World resort hotel prices, as the way of capturing the value of these new options
The use of a Disney-provided mobile device to that will enable Disney resort hotel guests to prove their ride reservations, get offers– including offers of additional FASTPASSES–and get hints on where to go next, in real time
I suspect that as NextGen unfolds Disney will provide Walt Disney World resort hotel guests the opportunity to "schedule" their FASTPASSES months in advance of their visits–e.g., as soon as their reservation is paid for in full.
I expect it to expand the number of rides that can be scheduled well beyond what is currently usually available as FASTPASS rides, adding for example at the Animal Kingdom, Flights of Wonder, Festival of the Lion King, and Finding Nemo, the Musical.
I also would expect Disney to limit the amount of pre-scheduled NEXTGEN FASTPASSES available per day, not just by ride, but also by resort class and by room price.
Given the combination of park and hotel capacities, it could be something like 2-3 pre-scheduled fastpasses per occupant per day at Value resorts, twice that many for deluxe resort occupants, and something in the middle for the moderate resorts.
This approach would not necessarily reduce the amount of same-day FASTPASSES available to the general public, given the opening of additional rides to the NextGen scheduling process, and that resort hotel guests already use many, many FASTPASSES.
It would, however, add uncertainty to the availability of such same-day FASTPASSES, and possibly stretch out the return times. Flexibility in FASTPASS's proportion of a ride's capacity–which can come from the queueless queue–will help with this.
This approach would also increase the value of staying in a Walt Disney World resort compared to staying off site. I would expect this increased value to be accompanied with higher prices.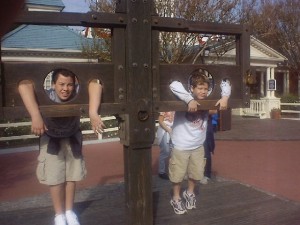 Walt Disney World will provide each resort hotel guest with something like an iPhone, which will serve simultaneously as their room key, charge card, geo-locator, park ticket, FASTPASS, and offer and hint-communicator. 
No more paper tickets for resort hotel guests–tickets, and other privileges, will be in the communicator, and either communicate directly with readers in the parks, or show as scan-able bar codes on the communicator screens.
This process, if it does unfold as I predict, will also result in many more no-shows than the current FASTPASS system has.
The beauty of the geo-locator feature of the NextGen FASTPASS will be that the system will know that, for example, that holders of Space Mountain 3.20p reservations are, at 3.05p, actually still in their hotel rooms, or at Blizzard Beach.
The system can then send this NextGen FASTPASS to another family already in Space Mountain's queueless queue. Moreover, it can look for such families in the queueless queue by price class–first looking for a family occupying a suite, then one in a concierge room, then in a pricier Disney Vacation Club room, then a regular deluxe room, etc.
The communicator can be used for many other purposes–to suggest rides with short waits, to offer discounts on off-peak dining, etc.
But the core of the value created will be decreasing the misery of waiting in line, in such a way that Disney can charge for the increased value by up selling people to more expensive rooms, raising room rates in general, adding a surcharge to room rates, or some combination of these.
IMPLICATIONS FOR FIRST TIME VISITORS
Most importantly, whether or not things unfold this way or in some different way, it will be quite a while before NextGen has general implications for first time family visits to the Walt Disney World–2014 or later. Expect continuing experiments, especially as the Fantasyland expansion opening nears.
If in the future NextGen does look something like the above, then people who can plan ahead, stay at a Walt Disney World resort, pay in full, and afford whatever up-charges may be involved will benefit the most.
Daily approaches to the parks likely will change for those who can use NextGen. Being at the parks before they open may reduce in importance for them, and concerns about FASTPASSES being out, or having too late a return time, will be diminished.
SOME MORE RANDOM THOUGHTS ON DISNEY'S NEXTGEN
Why am I saying Disney will provide the communicators, rather than use already existing guest cell-phones? 
…So that Disney will  have full control over the software and the two way communications used for guest interactions, and so that they can be assured that all key components–including the geo-locator–are available.  Moreover, this assures that all members of a family have their own individual ticket/hotel key/communicator system.
Why am I saying that Disney will restrict many of the benefits of NextGen to Walt Disney World resort guests? 
…Two reasons.  One is that Disney makes the most money when guests stay in its hotels, rather than at off-site hotels.
More importantly, by building the value of NextGen into what I expect to be raised hotel prices, rather than raised theme park ticket prices, Disney makes it harder for competitors to match its investment. 
Most of Disney's theme park competitors either do not have hotels, or have much lower hotel capacity than it does.  Disney's park competitors will be challenged to add their own competing programs paid for through ticket price increases–harder to pull off, if Disney keeps its ticket prices similar to those today.
Why am I saying the communicator will be an iPhone?
…It may be something other than an iPhone, so long as it has similar capabilities. ..but Steve Jobs is on the board of the company, and its biggest individual shareholder…
What happens next?
…More ad hoc and small area testing; major testing as part of the 2012-13 Fantasyland expansion; widespread beta testing–perhaps focused on evening Extra Magic Hours, as a well-defined but circumscribed way to test  scheduling and such…more interactive queueless queues in and around older rides…broad launch in 2015 or 2016…
Well, that's what I'm speculating about Disney's NextGen project–what do you think??
RELATED STUFF