Tom Staggs on Disney's NextGen Project
By Dave Shute
THE LATEST ON WALT DISNEY WORLD'S NEXTGEN PROJECT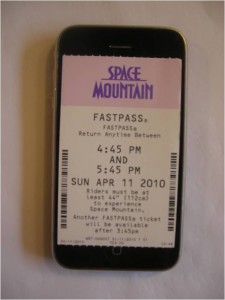 In Disney's February 2011 investor conference, Parks and Resorts head Tom Staggs gave a little more detail about the initiatives that have become known as Disney's NextGen Project.
(See this for prior thoughts on NextGen.)
He described what he called "a version of FASTPASS for the entire vacation."
It would include being able to handle from home before even leaving for Walt Disney World reserving times to see attractions, setting times for character interactions, and reserving seats and times for theater-style shows.
Moreover, hotel keys would be in your hands before you left as well.
The upshot of all this would be less time spent waiting in line, less uncertainty about whether or not you'll be able to see an attraction, less fuss checking in to hotels, and an overall better and more personalized experience.
Staggs noted that it will be some time before these features become available, and did not hint as to when that time would be…
Stagg's presentation was largely consistent with this site's previous speculation about Disney's NextGen Project, without confirming any specific thoughts other than those noted above.
RELATED STUFF