The Fantasyland Expansion at Walt Disney World
By Dave Shute
DISNEY WORLD'S FANTASYLAND EXPANSION
(See this for an
update

on the material below, which is now out of date!)

Walt Disney World is expanding Fantasyland in two phases, scheduled for opening in 2012 and 2013.

Most notably in the first phase, a new major attraction, themed around The Little Mermaid, is expected to open in 2012. 

The highlight of the 2013 expansion will be Pixie Hollow, an opportunity to have fun with Tinker Bell and her friends.

These will be major enhancements to the Magic Kingdom–the largest additions for more than 20 years.  They will be particularly attractive to girls fascinated by Disney's princesses, fairies, Ariel, or all of these!

Families of such daughters planning a visit, and not sure if this will be their only visit to Disney World, might wish to delay their trip until these attractions open, if they think their kids will continue this fascination. 

That said, opening dates are estimates, and Disney World will be a wonderful visit even without these new items.  Rather than delay, some families might be better off thinking about two shorter trips–one focused on the current Walt Disney World, and Harry Potter, and a second later trip to enjoy the Fantasyland additions.
DETAILS ON DISNEY'S FANTASYLAND EXPANSION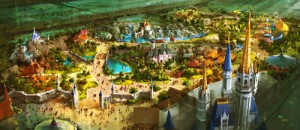 Think of the expansion as having five major components.  Two have been noted above–the new Little Mermaid ride, and Pixie Hollow.  The other three are
Belle's Castle, including a new restaurant–Be Our Guest restaurant, which will be counter service at lunch but table service at dinner
New opportunities to meet the other princesses–e.g. Sleeping Beauty and Cinderella–in a new, more playful setting
All but Pixie Hollow are currently aimed at a 2012 opening.
These new experiences will be built in spaces north and west of the current Fantasyland, including where Toontown Fair is currently located.
MORE ON WHEN TO GO TO WALT DISNEY WORLD
RELATED STUFF