Average Walt Disney World Rainfall By Arrival Date
By Dave Shute
RAIN AT WALT DISNEY WORLD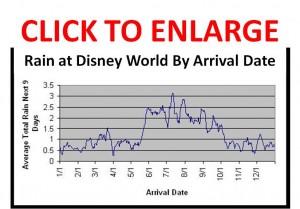 The image (click it to open) illuminates the rainy season at Walt Disney World.
It shows average total inches of rain over the next 9 days by arrival date, based on 20 years of weather data though 2006.
It shows that the rainy season gets into gear in mid-May and that substantial rain is possible through the end of September.
Click on the thumbnail to open it.
DATA SOURCES
All this site's weather pages except for the material on cyclonic storms and on tornadoes are based on 20 years of data from the National Weather Service ending in December 2006. The cyclonic storm material is based on 30 years of data from Wikipedia. The tornado material is from NOAA/NCDC and goes from 1950 through October 2009.
ORLANDO WEATHER LINKS


Follow yourfirstvisit.net on Facebook or Twitter or Pinterest!!