Update on Disney's Old Key West Resort
By Dave Shute
RENOVATIONS AT DISNEY'S OLD KEY WEST RESORT
As noted multiple places—see this for the entry in the Disney Parks blog—Disney's Old Key West Resort has been undergoing room renovations since the spring of 2010.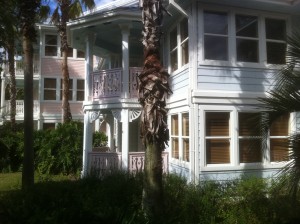 This follows an exterior rehab that was completed just the year before.
I had a chance to stay in one of the newly-renovated one-bedrooms in mid-November, and what follows are my thoughts.
In short, the changes are welcome and wonderful, especially for returning visitors, but don't change its ranking for first-time visitors.
DETAILS AND PERSPECTIVES ON THE OLD KEY WEST RENOVATIONS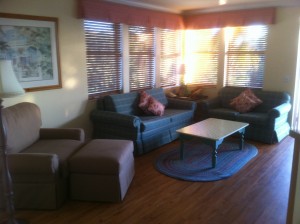 With one major exception, the room renovations at Old Key West are principally refreshenings* of surfaces and replacements of furniture.
These include re-done hardwood floors, new paint, new upholstery, new countertops, and new cabinetry.
The updates are very well done, and one common complaint about Old Key West—that the rooms are shabby and dated (which I had thought a little harsh)—has now lost its basis, at least for the rooms rehabbed to date.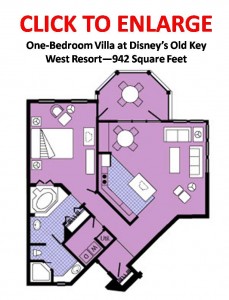 (The concierge told me that about 70% of the rooms had been rehabbed as of mid-November; published reports suggest all should be complete in the spring of 2011.)
The major change is that one of the upholstered living room chairs has been replaced with a chair bed that folds out into a twin bed.
This means that Old Key West joins Kidani Village and Bay Lake Tower among the Disney Vacation Club resorts that can hold five in a one-bedroom and nine in a two-bedroom.
Old Key West has always been far and away the most spacious of the DVC resorts in these room types, so the chair and its bed fit easily into the square footage.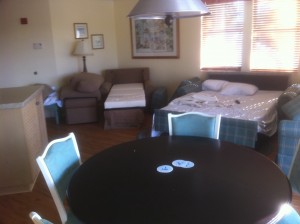 Even when both this chair and the sleeper sofa next to it are unfolded, the rest of the room—the kitchen, dining, and porch areas—remain quite usable.
I rank Old Key West low for first time visitors–see this review for why—but it has great appeal for returning visitors, and is one of my personal favorites.
The rehab and refreshing don't affect any of the reasons why other resorts are better choices for first time visitors, but for returning visitors, the refreshed look and added sleeping flexibility make it an even better choice than it was before.
(Note: I have updated my Old Key West review, and changed my stuff on large families and on beds and sleeping spaces, to reflect the rehab and new room capacities.)
*Spell-check tells me I made this word up, but I like it and am sticking with it…
RELATED STUFF