Fireworks at Walt Disney World
By Dave Shute
(This page is one of a series explicating Walt Disney World lingo, abbreviations, and FAQ for first time family visitors to Walt Disney World.)
FIREWORKS AT WALT DISNEY WORLD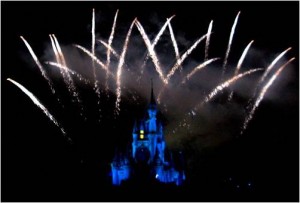 There are currently three routinely-scheduled fireworks shows at Walt Disney World:
Wishes at the Magic Kingdom, which shows at varying evening times, from a few times a week in the slower seasons to every night during the most crowded times of the year.
Illuminations at Epcot, which shows every night, most of the time at 9p.
Fantasmic at Disney's Hollywood Studios, which shows multiple times a week but not always every night.
Each of these is a great show, and a don't miss.
Some or all of these three theme parks also commonly have additional fireworks during the two nights of the year where fireworks are an essential part of American life–New Year's Eve and the Fourth of July!
To check what days and times these shows are scheduled during your trip, see Walt Disney World's calendars:
(Disney's calendars are harder to use than they should be–see this if you need help with them.)
Home   Donate   Sitemap   FAQ   Travel Agents
RELATED STUFF