Disney World Room Rate Deal For Most Dates from October 2 through December 25, 2023
By Dave Shute
NEW DISNEY WORLD DEAL FOR FALL 2023
Walt Disney World has released a set of discounts on its hotel rooms for the general public that go from early October 2023 through Christmas.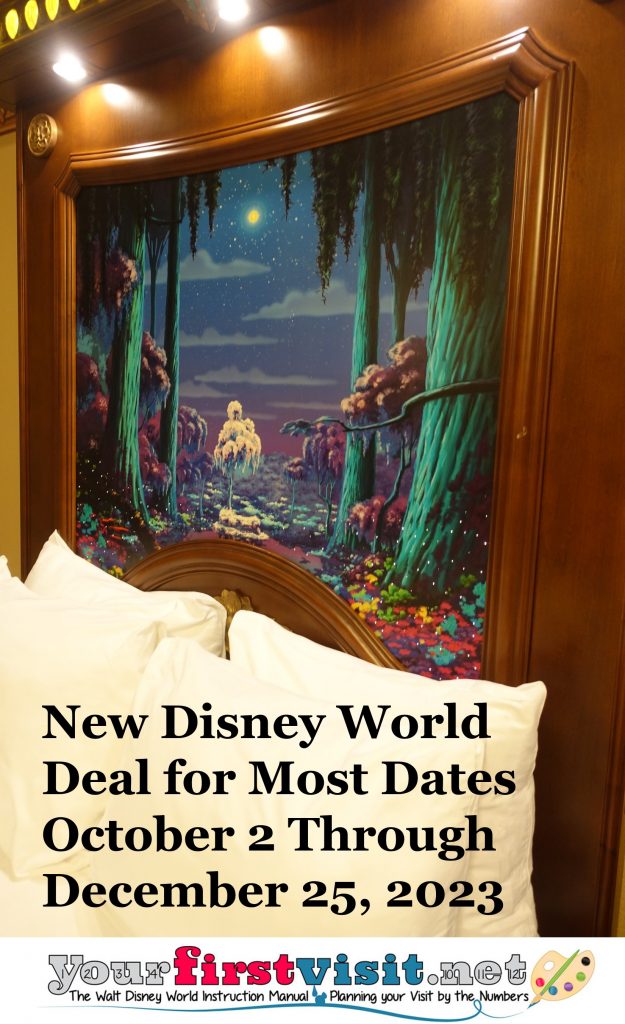 These discounts, some with very attractive savings, further break down into three periods:
From October 2 through November 18: a 10% to 25% off deal applies only to most Sunday, Monday, Tuesday, Wednesday or Thursday nights—not Friday or Saturday nights
From November 19 through December 9: a 10% to 25% off deal includes all days of the week–that is, Fridays and Saturdays as well, for "most nights"
From December 9 through December 25: the deal increases to 15% to 30% off, and includes all days of the week for "most nights"
In general, higher discounts are available at properties where capacity is high compared to demand, especially those with higher prices, and lower discounts are available where capacity and demand better match up.
At the same time Disney released similar but potentially even better deals for those who are Disney+ members and for Annual Passholders. Click the links for more on those specific deals, and for Disney's page on the deal available to the general public, see this.
DISNEY WORLD RESORT HOTELS WITH DISCOUNTS OF 25% TO 30%
The highest discounts are at a group of hotels largely in the deluxe and Disney Vacation Club groups, but also in this group are Family Suites at the value resort Art of Animation: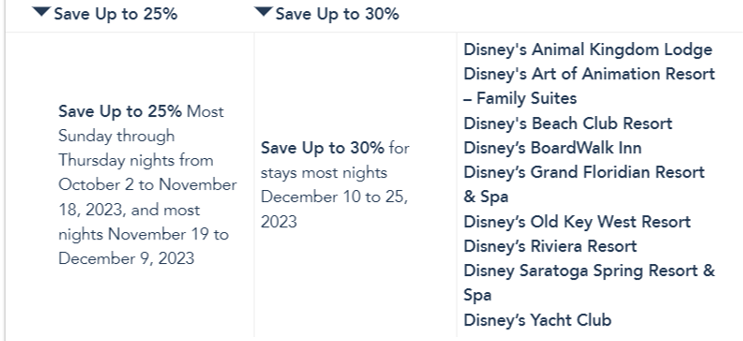 DISNEY WORLD RESORT HOTELS WITH DISCOUNTS OF 20% TO 25%
Three of Disney World's five moderate resorts are in this group with the next highest savings:

DISNEY WORLD RESORT HOTELS WITH DISCOUNTS OF 15% TO 20%
This group of resorts with smaller percentage savings included most remaining value resort rooms, and a mix of deluxe, moderates, and DVC properties:

DISNEY WORLD RESORT HOTELS WITH DISCOUNTS OF 10% TO 15%
The lowest savings are mostly at Magic Kingdom area DVC properties, but also include other high demand deluxe, moderate and value options: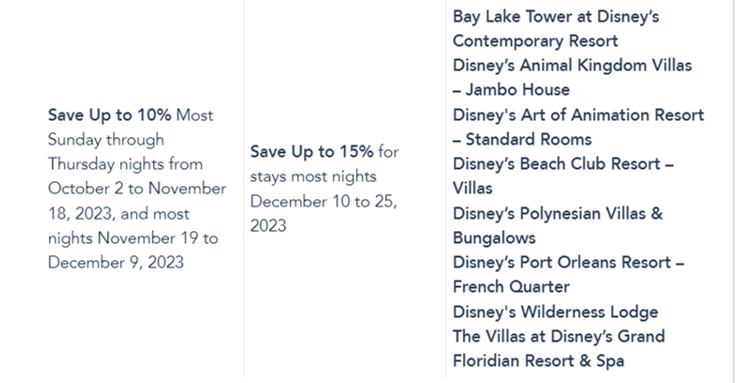 My friends at Destinations in Florida, the long-term travel agent partner of this site, can help you sort out which deal is best for you. Contact them using the form below.
Follow yourfirstvisit.net on Facebook or Twitter or Pinterest!!
RELATED STUFF