Animal Kingdom Day 1 Disney World Genie+ Itinerary
By Dave Shute
(Note: this is from the Disney World Genie+ Itinerary.)
SUGGESTED APPROACH TO DISNEY'S ANIMAL KINGDOM
Disney's Animal Kingdom combines the all-ages appeal of the Magic Kingdom with the repayment to intellectual curiosity that once was a key value of Epcot.
Its rides and shows appeal to almost everyone, but the park best showcases itself to those who also bring an interest in animals—real, imagined, and/or blue–and to those who can linger in and explore its themed environments and animal displays.
The best attractions at Disney's Animal Kingdom are Flight of Passage in Pandora, Kilimanjaro Safaris in Africa, Expedition Everest in Asia, and DINOSAUR in Dinoland USA. In the next group are Festival of the Lion King in Africa, in Dinoland Finding Nemo: The Big Blue… and Beyond and, on especially hot days, Kali River Rapids in Asia.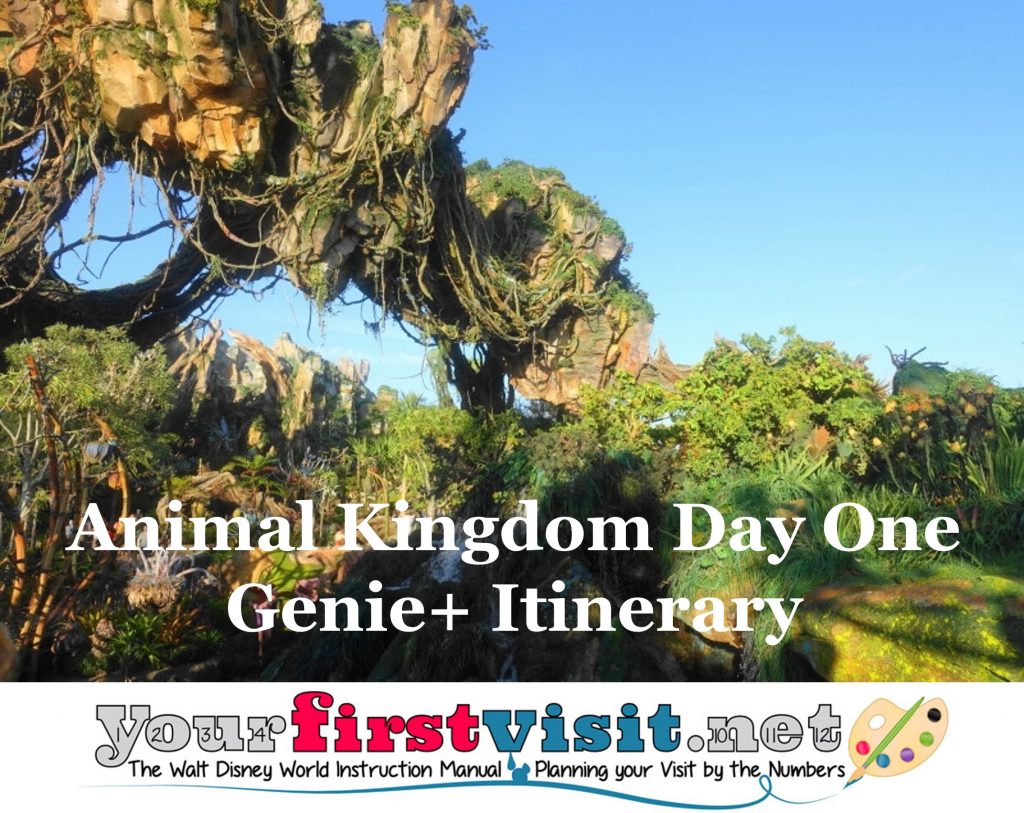 All of these rides are accessible via Disney's new paid systems, "Individual Lightning Lane" (currently Flight of Passage) or Genie+ (the rest). Among the other rides available in Genie+, most notable is Na'vi River Journey—a more minor ride, but one whose lines can quickly build due to its location close to the wildly-popular Flight of Passage.
A smaller group of these rides is available to those eligible for Early Entry. Not on the Early Entry list are Kilimanjaro, Kali, Lion King, and Nemo.
Given current guest preferences and wait patterns, the most time-efficient way to visit Disney's Animal Kingdom is to see Flight of Passage via Individual Lightning Lane, Na'vi River Journey during Early Entry, and to use Genie+ for a few other rides, with your highest priorities for Genie+ being Kilimanjaro Safaris, Expedition Everest, Festival of the Lion King, and Finding Nemo: The Big Blue… and Beyond.
While you can successfully do all of Disney's Animal Kingdom in one long day, a more relaxing (and forgiving) approach divides it over two days. In my suggested itinerary, with one exception you see the three central and eastern lands—Discovery Island, Asia, and Dinoland USA–on Day One, and the western lands Pandora and Africa on Day Two. The exception is Flight of Passage in Pandora, which I have you seeing via Individual Lightning Lane on Day One—because as sequenced, Day One has much more flexibility for fitting Flight of Passage into the flow of your visit, and if you really wish to, Day Two is designed so you can visit Flight of Passage again via Early Entry or Individual Lightning Lane.
DISNEY'S ANIMAL KINGDOM DAY 1: TUESDAY AGENDA
Your visit to Disney's Animal Kingdom begins today. After you have done the logistics tasks in the early morning, the rest of your morning is free to sleep in and goof off, after which you will go to the park and see its Discovery Island, Dinoland USA, and Asia sections, interrupted by a trek to Pandora to see Flight of Passage.
LOGISTICS
At 7a, book a time via Individual Lightning Lane for Flight of Passage. Aim for your window to begin 5p or later, and no earlier than noon.
Today you do not need to use either Genie+ or Early Entry.
AT THE PARK
Arrive at the tapstiles at Disney's Animal Kingdom by noon. Your plan today is to see all the attractions in the center and on the east side of Disney's Animal Kingdom, and in addition Flight of Passage in Pandora via Individual Lightning Lane. You will complete your visit to Disney's Animal Kingdom on another day.
Today's itinerary has a fixed beginning and end, but is otherwise not much structured, as much will depend on both the timing of your Flight of Passage window, and also how well the times of the shows you will be seeing line up against your general progress.
Disney's Animal Kingdom is generally open until either 7p or 8p. Regardless, an arrival at the turnstiles of around noon will set you up for a relaxing day, with plenty of time to both see the attractions and explore the various trails.
You wish to see this afternoon and evening several shows that operate at fixed times, and also another seasonal minor show that, if available,  does not begin until after sunset. For the schedule for each, before your trip click the links below, or see your My Disney Experience app. Note when they show, and the last shows for each.
(At the links, click the calendar icon to get to your date, and then click "View All Times.")
Fit these shows and Flight of Passage into the general steps below
Begin your visit by wandering in through the Oasis, checking out anything that interest you.
Make your way to the Tree of Life, and see It's Tough to be a Bug.
Sample the nature trails around the Tree of Life, and view as many as you wish.
Have lunch at Flame Tree Barbecue
Move to Dinoland USA and see DINOSAUR
Ride Triceratops Spin
(You are near Nemo, so double check the next show for Nemo.)
Make your way to Asia
Double check the time for Feathered Friends in Flight, which you are now near, and fit it in with the below
See the Maharajah Express Jungle Trail
Ride Kali River Rapids
If wait times are low, ride Expedition Everest.
If you've seen all the shows, consider dinner. In Asia, Yak & Yeti Local Food Cafes is a good choice. If it's time for you to start making your way to Pandora, Harambe Market in Africa and Satu'li Canteen in Pandora are also popular options.
Explore Pandora
Ride Flight of Passage using your Individual Lightning Lane
If you still have plenty of time before sunset, and the wait time is comparable with the time until sunset, get in line for and see Na'vi River Journey. Na'vi River Journey is on your itinerary for your second day at Animal Kingdom, but seeing it now will simplify that day.
Return to the Tree of Life and see Tree of Life Awakenings
If you did not see it earlier, or if you did and you wish to re-ride, see Expedition Everest (you can enter the line up until a minute or two before the posted park close).
PREVIEW OF TOMORROW
You will sleep in, and then spend the first of two days at Magic Kingdom.
Follow yourfirstvisit.net on Facebook or Twitter or Pinterest!!
RELATED STUFF