New Disney World Deal for March 6 through July 7
By Dave Shute
DISNEY WORLD DEAL FOR MOST DATES MARCH 6 THROUGH JULY 7, 2022
Walt Disney World has announced a room rate deal for some of its resort hotels covering "most nights" March 6 through July 7, 2022.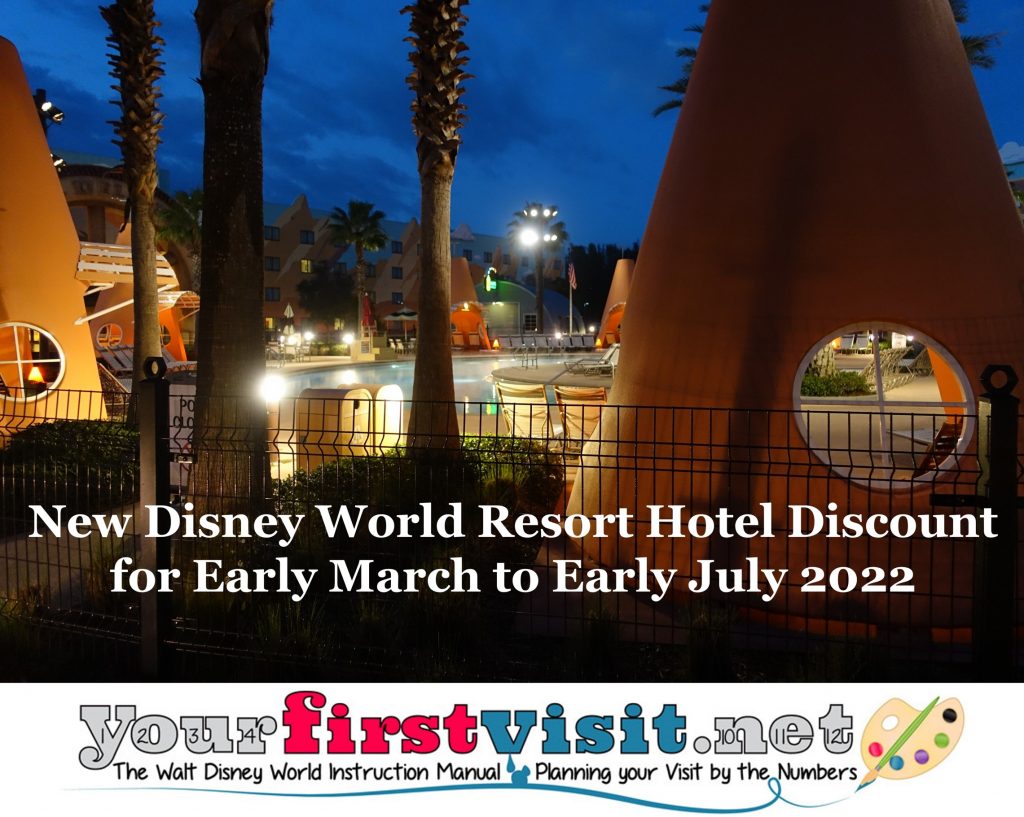 In a departure from how such deals used to work, savings are a flat amount per night. The minimum stay is one night, the maximum is 14. Even if a hotel is listed in the deal, not all room types or lengths of stay will be available under the deal, availability will be limited, and if things go the way they used to, the least expensive rooms at a listed hotel will be the hardest to find deals for.
There are three levels of discounts–$100 a night off, $40 a night off, and $20 a night off. Compared to the lowest cost rooms in the hotels listed as being in the deals, savings are about 17-23% in the $100/night off deals, 12-16% in the $40/night deals, and 9-14% in the $20/night deals. The other listed hotels will generally show lower savings, as will higher-priced rooms in the lowest-cost hotels.
The Disney World hotels eligible for $100 off a night are a mix of Disney Vacation Club offerings and deluxes: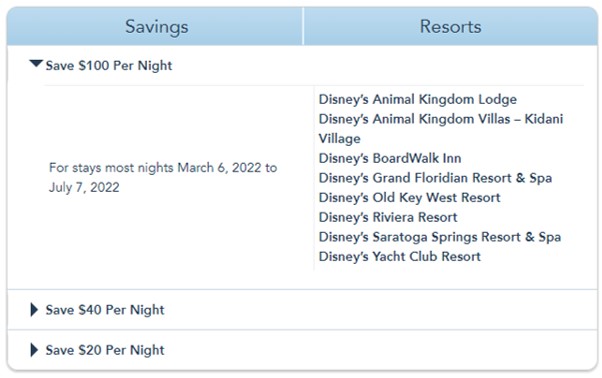 The Disney World hotels eligible for $40 a night off are the moderates except Caribbean Beach, and Family Suites at Art of Animation (regular Little Mermaid rooms at Art of Animation are not in the deal at all):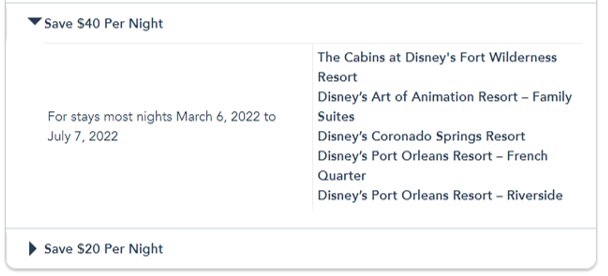 The Disney World hotels eligible for $20 a night off are the value resorts except for Art of Animation:

For more on this deal, see Disney's website here. My friends at Destinations in Florida can also book this deal for you—and if any other deal for your dates comes out as well, they will also help figure out the best option for your travel. Contact them using the form below.

Follow yourfirstvisit.net on Facebook or Twitter or Pinterest!!
RELATED STUFF