Fridays with Jim Korkis: Disney by the Numbers
By Dave Shute
Welcome back to Fridays with Jim Korkis! Jim, the dean of Disney historians, writes about Walt Disney World history every Friday on yourfirstvisit.net.
YOUR PERSONAL DISNEY LIBRARY (47)
By Jim Korkis
Disney by the Numbers: Facts and Figures About the Walt Disney World Theme Parks and Resorts is an offshoot of the internet site disneybythenumbers.com.
This 141 page book, released in 2015 and never updated, is devoted entirely to Walt Disney World, with individual chapters on each theme park, the water parks, resorts, dining, recreation (golf courses and Disney's Wide World of Sports), transportation (railroad and monorail) and "mousecellaneous."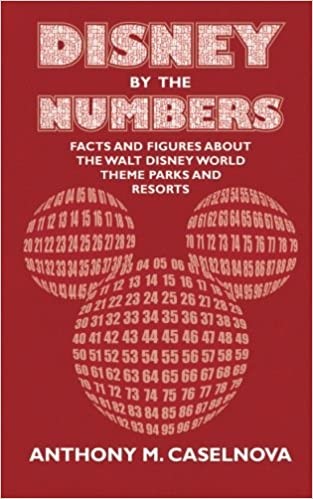 Disney by the Numbers is not a book of stories. It is a listing of numbers. The content within each chapter is not necessarily presented in any particular order. It is more the type of book to just flip open and casually read a page or two and be fascinated by the numbers. Each page is filled with facts and figures about a particular aspect of the property.
Author Caselnova worked at Walt Disney World as a security guard, and like many cast members in the 1990s was given a copy of the "That's A Fact" pocket-sized reference booklet with the subtitle "The Official Facts About the Walt Disney World Resort."
Primarily it had opening and closing times of the parks, admission prices, names of the resorts, etc. but it also included some numerical facts to help in answering guest questions. Walt Disney's personal philosophy was that cast members should know the answers or know where to get the answers.
These books were given free to cast members with a new edition coming out each quarter printed in a different color so that cast members could recognize the latest edition to give accurate information since things were constantly changing at Walt Disney World. These books are sometimes offered for sale on eBay, sometimes at outrageous prices.
Caselnova took the facts from his collection of different editions and organized them all in a spreadsheet and then started his website. He supplemented the information from other sources as well.
So the challenge was that while some facts never change like the length of Main Street U.S.A. or the number of Alucobond panels on Spaceship Earth or the date construction began on the Wedding Pavilion, other things are always changing like the number of topiaries at the International Flower and Garden Festival and how many Mickey-shaped waffles are served at Chef Mickey's each day.
The reviews on Amazon point out that sometimes a fact will appear in Disney by the Numbers and it will be contradicted later. That probably occurred from the author grabbing a fact from different places or a different time period. The other complaint is about misspellings.
Perhaps because I am familiar with Walt Disney World and familiar with the "That's A Fact" booklet that I used many times as a cast member, it was easy for me to determine what facts were "set in stone" and which ones were current when the book was compiled but have changed.
The facts that are "set in stone" are as accurate as any other official information from Walt Disney World, like the height of Cinderella Castle, the approximate cost of the construction of Epcot, how many secondary limbs are on the Tree of Life and similar things.
While working at Walt Disney World, one of my roles was to occasionally help out with the "Fun Facts" sheets given to the media for events. I can share that sometimes those facts were best estimates.
However, since Disney by the Numbers was released in 2015, there are facts about extinct attractions like the Great Movie Ride, Horizons, and Mickey's Toontown Fair in the book to jog some memories but that also means that newer additions to the property since then are obviously missing.
Keep in mind the caveat in the publicity from the publisher: "This is not a book of words. It is a book of numbers."
*  *  *  *  *
Thanks, Jim! Keep in mind that this is very different than a similarly titled, but much more important book—Buzz Price's Walt's Revolution: By the Numbers, and come back next Friday for more from Jim Korkis!
In the meantime, check out his books, including his new books Vault of Walt: Volume 10: Final Edition,   Kungaloosh! The Mythic Jungles of Walt Disney World and Hidden Treasures of Walt Disney World Resorts: Histories, Mysteries, and Theming, much of which was first published on this site.

Follow yourfirstvisit.net on Facebook or Twitter or Pinterest!!
RELATED STUFF