Fridays with Jim Korkis: Star Wars: Galaxy's Edge Symphonic Overture Suite
By Dave Shute
Welcome back to Fridays with Jim Korkis! Jim, the dean of Disney historians, writes about Walt Disney World history every Friday on yourfirstvisit.net.
STAR WARS: GALAXY'S EDGE SYMPHONIC OVERTURE SUITE
By Jim Korkis
When it comes to a Star Wars experience, one common thread defines it, and that thread is the celestial, swashbuckling music of John Williams.
So when it came to the fourteen-acre Star Wars: Galaxy's Edge land, the Imagineers knew they had to incorporate that John Williams music into that location, but as Matt Walker, head of music for WDI said, "We wanted to create something that was new and unique, but we wanted something that belonged in 'Star Wars'. There is no other composer, as far as we were concerned, that could come in and create and truly support a sense of place than John Williams."
Williams composed the scores for nine of the main Star Wars films as well as an original theme for Solo: A Star Wars Story. In addition, Williams announced he was now finished with the franchise and wouldn't write any more music for it but turn the work over to other composers.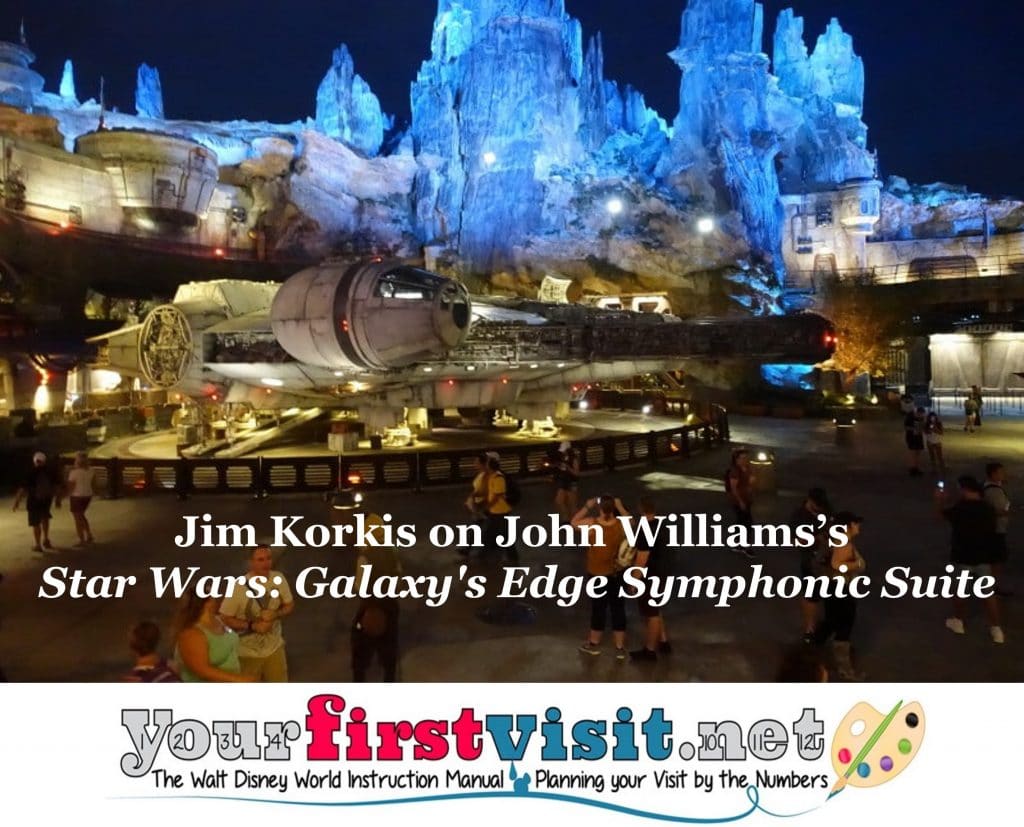 When the eighty-seven year old composer was initially approached by Disney to write something new for the land, his reaction was that there was plenty of his existing work to choose from and adapt. In fact, he had written more than sixteen hours of Star Wars music over the years.
"Williams has always assigned themes and leitmotifs to new characters and planets," argued John Dennis, executive creative director of music at Imagineering. "You wouldn't go to Mos Eisley spaceport without hearing that theme. Those are the things we talked to John about, saying … Batuu needs its own identity to give people the emotion that you gave them in all those great cinematic experiences."
Williams was invited to Walt Disney Imagineering in Glendale for "an in-depth series of meetings," Walker says. The composer was shown elaborate models, given detailed descriptions, saw artists' drawings, and was generally introduced to the Black Spire Outpost and its two planned rides, Smugglers Run and Rise of the Resistance.
"We wanted to enhance the immersive-theater quality of the land with a new composition, and that seemed to intrigue him," says Walker. "It didn't have anything to do with money or legacy or anything. It was about: Oh, there's some unfinished business there."
He went off and composed, in Walker's words, "a five-minute symphonic tone poem" filled with brand-new themes and motifs. William Ross recorded that suite with the London Symphony Orchestra, who were the original interpreters of "Star Wars" music at Abbey Road Studios from 1977 to 2005.
(Among Ross's other credits including conducting parts of The Force Awakens and The Last Jedi, Ross was responsible for adapting Williams' music from the "Star Wars" films for the Star Tours attraction, fireworks shows and other Disney projects.)
In July 2018, John Williams delivered "this five-minute symphonic suite with multiple themes, development of those themes, counter-melodies, even a fugal moment," Walker said. "The suite just fit the land perfectly. It was mysterious and kind of haunting, but parts of it were powerful and noble."
Williams, who was in Tanglewood, Massachusetts, at the time of the recording, was linked to Abbey Road, enabling him to hear the sessions and offer specific notes about the performance. Williams said he hoped "listening to the music will take us out of the corporeal world for five minutes…just as these films have done."
Williams won the 2020 Grammy Award for Best Instrumental Composition for the five-minute Star Wars: Galaxy's Edge Symphonic Suite that is used in short excerpts throughout the land. Conductor Ross recorded the five-minute suite, a two-minute reduction of the main theme, and various shorter pieces based on Williams' original composition, all totaling about an hour of music.
*  *  *  *  *
Thanks, Jim! And come back next Friday for more from Jim Korkis!
In the meantime, check out his books, including his new books Kungaloosh! The Mythic Jungles of Walt Disney World and Hidden Treasures of Walt Disney World Resorts: Histories, Mysteries, and Theming, much of which was first published on this site.

Follow yourfirstvisit.net on Facebook or Twitter or Pinterest!!
RELATED STUFF