A Friday Visit with Jim Korkis: Holiday Magic at the Disney Parks
By Dave Shute
Welcome back to Fridays with Jim Korkis! Jim, the dean of Disney historians, writes about Walt Disney World history every Friday on yourfirstvisit.net.
YOUR PERSONAL DISNEY LIBRARY (41)
By Jim Korkis
Holiday Magic at the Disney Parks, a nearly seven pound, nearly 400 page book, is the very definition of a "coffee table" whose purpose is for display on a table that can be used to occasionally browse and also inspire conversation.
Some of you may already have a copy because when it was first published in October, it sold out its entire print run in the first month resulting in the secondary market charging three times the already hefty price for a copy. So it was hugely popular and remains so to this day. Thankfully, Disney Editions released a second printing in February, but it is still a chunk of change to purchase.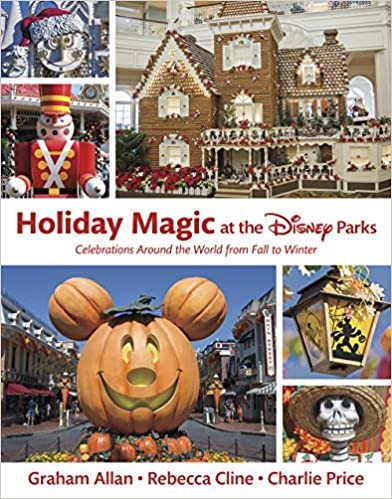 Like many Disney Editions books, Holiday Magic at the Disney Parks focuses primarily on illustrations that are absolutely stunning in color. In fact it has close to 2,000 large photographs (two-thirds of them taken just for this book), and that probably helped add to its final cost.
Like most Disney Editions there are more photos than words but while the accompanying text is concise, it is well written and researched. It is obvious that the stars of the book are the pictures, and you hear more people who purchased it exult over the beautiful photos than the accurate text.
When I first heard of the book, I was hoping it would also cover Easter (still celebrated elaborately at Tokyo Disneyland), Thanksgiving, July 4th and perhaps a few of the other holidays that the Disney parks have celebrated in the past.
As apparent by the book jacket, Holiday Magic at the Disney Parks focuses on Halloween and Christmas, but the bonus is that the large amount of space is used to showcase all the Disney parks, some parades, some Disney resorts and the Disney cruise ships celebrating those two holidays, so it is hard to grumble.
As a historian, I was especially appreciative of the black-and-white photos of vintage celebrations, most of which I had never seen before in my years of research. Too often, these books have slighted early Disney park history. I was also appreciative of the pointing out of some decorating details that I have missed in the past.
"After 10 years of research and more than 180,000 miles visiting every Disney park and resort around the world, we're so excited to share the thrills, chills, fun, and breathtaking beauty of Disney Parks at the most festive times of the year," said Becky Cline, current Director of the Disney Archives and a co-author of the book.
"We worked very hard to include new historical information about how the holidays were celebrated in the earliest days at Disneyland, along with many rare photos from the Walt Disney Archives. We also showed how Disney has developed over the years from those early homegrown type of events into some of the most wonderful holiday magic in the world."
While my book arrived in perfect condition, please be warned that because of its size and weight, some people have received copies that had covers with varying degrees of damage, including corner dings and inside tearing. Part of the problem may be because the book is glued to the cover, probably to lower cost, rather than the traditional stitching. I have not heard of anyone receiving a copy with damage to the interior.
These large books are always more of a challenge to maneuver and I wonder if anyone is also buying book stands sometimes found in a library to support and read such a book.
Having written my own books with chapters about Disney's celebrations of Christmas and Halloween (Vault of Walt Volume 7: Christmas Edition and Vault of Walt Volume 9: Halloween Edition), I willingly spent part of my recent stimulus check to add this book to my collection and I was not disappointed.
*  *  *  *  *
Thanks, Jim! and come back next Friday for more from Jim Korkis!
In the meantime, check out his books, including his new books Kungaloosh! The Mythic Jungles of Walt Disney World and Hidden Treasures of Walt Disney World Resorts: Histories, Mysteries, and Theming, much of which was first published on this site.

Follow yourfirstvisit.net on Facebook or Twitter or Pinterest!!
RELATED STUFF