Walt Disney World in 2021
By Dave Shute
"We took the opportunity to revisit … our [theme park] operations to improve the [pricing] yield because [the parks are] the ultimate in a capacity-constrained environment, but also to improve our guest experience… That really gave us the opportunity to say… how do we want to emerge, and how does that fit our yielding strategy and our guest experience strategy?"
–Bob Chapek, CEO, Walt Disney Company, at the JP Morgan Global Technology, Media and Communications Conference, May 24, 2021
With the elimination or reduction of many restrictions related to the pandemic, a Disney World visit can be better now than at any time since it re-opened in the summer of 2020.
That said, Disney World it is still quite diminished compared to what it like was before the changes due to the pandemic, and summer crowding and long waits are likely to soon be an issue. I still don't particularly recommend a visit now for first-timers who may never return, but all other guests can have a great time—so long as they know what they are getting into.
WHAT'S STILL MISSING (OR VERY LIMITED) AT DISNEY WORLD
At the Disney World theme parks, nighttime shows will return at Epcot and Magic Kingdom on July 1, there are as yet no parades, and no in-person character meet and greets.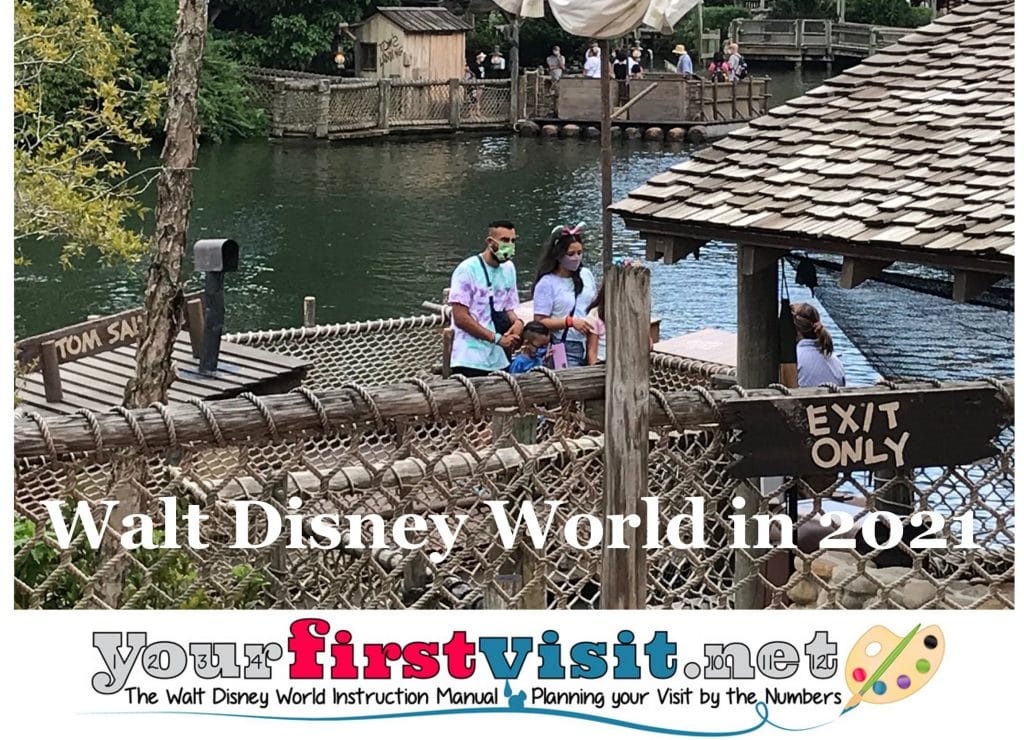 Stage-type shows in the parks are also very limited. At Disney's Hollywood Studios, the Frozen Sing-Along is open, and a narrowed version of Festival of the Lion King is open at Disney's Animal Kingdom, but a half dozen other shows remain shuttered.
Disney World theme park capacity is expanding quickly, as six feet distancing is no longer in place either in lines, or on most rides, or at most shows. But it remains limited, and to enforce this, guests must have not only a ticket, but also a park reservation.
Many table and quick-service dining venues are open in the parks, but not all. Capacity in table service venues is still somewhat limited, and reservations are available only beginning 60 days before a visit—not the 180 days of pre-pandemic planning. At quick service venues, mobile ordering (via My Disney Experience on your phone) is highly recommended. Updates on what's open and what's not can be found here.
FastPass+ continues to be on pause. As a result, even with reduced numbers of guests allowed in the parks, waits during park visits can be longer—particularly at Disney's Hollywood Studios. The "olden days" touring approach of showing up at a park well before opening, and picking key rides to see as soon as you are allowed in, is the best way to avoid unnecessary waits. The parks right now typically open to guests 30-45 minutes before their advertised opening times, with several of the popular rides open then.
Josh covers the best approaches to the parks on his site easyWDW.com.  Josh also notes that in general midweek days are better than weekend days at all parks except the Studios. Disney's Hollywood Studios is bad every day–and Josh reminds us that because of this, it makes sense to target the Studios on a weekend—since it won't be any worse than a weekday, which is not true at the other parks.
Note that the payoff from early arrival will likely shift in important ways after Disney World moves to its new "Early Theme Park Entry" program—see below.
Park Hopping is available, but only beginning at 2p, and only after you first enter whatever park you had reserved that day. (The 2nd park does not need a reservation—nor can you even get one—but you need both a reservation for the first park and to have actually entered it.)
Annual passes may be renewed, but no entirely new Annual Passes are available right now.
At the Disney World resort hotels, many have not yet re-opened. All the DVC and Fort Wilderness offerings are open, and among the deluxes, all either are open or will be open by mid-summer. About half of the values and moderates are open, with no word on future re-openings. Interestingly, all of this site's highest-recommended values and moderates are open…
That said, the perks for staying in a Disney World resort are quite diminished. For example, since FastPass+ is still on hold, there's no extra booking window available to resort guests.
Extra Magic Hours—which I never particularly recommended—are gone, and will be replaced by a very different program, the Early Theme Park Entry Program. This program—when it kicks off, date uncertain—will allow "at least" half an hour's early access to the parks for eligible resort guests, every day at every park.
With one exception, this new program will be much better for eligible guests, and much worse for those not staying in an eligible hotel, than Extra Magic Hours. The exception will be for those otherwise eligible who particularly loved Evening Extra Magic Hours—as no evening replacement has been announced (and likely one will not be, with evenings that might have home to the program being reserved for separately-ticketed thingies). Because Early Theme Park Entry Program will be available every day at every park, planning will be much simpler for those eligible for it. However, for those not eligible, there will be no days when they can access the parks on the same basis as everyone else—they will always be at least half an hour behind.
In the meantime, until the new program starts up, there are no particular park access perks for Disney World resort hotel guests.
Also gone is a minor perk—free MagicBands. MagicBands still work and are still honored, and you can order paid Magic Bands, but the free ones are gone.
Beyond this, some resort dining venues remain closed, and character meals have a different character. Current details are here. In particular, the dinner shows Hoop Dee Doo and the Luau remain closed. Here's hoping the Luau is profoundly re-conceptualized—and the Hoop Dee Doo Revue re-opens exactly the same as it was.
The Disney Dining plans are not available, and are unlikely to come back until much more table service/traditional character meals/dinner show capacity is available.
Also at the resorts, airline check in and bag drop is not available, and neither is package delivery from the theme parks. Disney's Magical Express service from MCO continues in 2021, but will be gone in 2022.
The upshot is that a Disney World Visit is still diminished compared to what it was before the changes due to the pandemic. I still don't particularly recommend a visit now for first-timers who may never return, but all other guests can have a great time—if they know what they are getting into.
WHAT MAY BE NEXT AT DISNEY WORLD: CROWDS IN 2021
Willingness to travel has returned more quickly than I'd forecast, so the summer through August will likely be more crowded than I'd forecast a couple of months ago. Longer waits will still be somewhat narrowed by how many folks Disney is willing to let into each park each day. That in turn is affected by several factors:
The pace at which attractions, shows, and other buckets of capacity re-open or expand their capacity
The ability of Disney World to staff up for this additional capacity
The willingness of Disney to live with its guests facing long waits
Somewhat relevant to this is Disney's fiscal calendar, with fiscal quarters ending around June 30 and September 30. Perhaps even more relevant is the fact that Disney World's 50th anniversary begins on October 1.
So I'd expect in particular Disney World to try to ramp everything up during Q4 (~July 1 through ~September 30) so that the 50th anniversary begins on October 1 as close to "normal" as Disney can—and as it defines normal… Given the usual lull related to back-to-school in September, September thus becomes a particularly good time to target for a visit, holding the promise of lower crowds but a better experience than early summer. There is of course still that hurricane thing…
There's no word yet on a return of FastPass+, nor of when Disney's new Early Theme Park Entry Program might begin. Either of these will yield lower-wait visits for those who can take wise advantage of them. There is, as always, much controversy about FastPass+, with many, as always, expecting it to be replaced with a paid program. FastPass+ in its prior form in particular advantaged those staying in a Disney (or other eligible) hotel who can plan their trips more than 60 days ahead. This group of people is particularly profitable for Disney…which is a pretty good hint…
WHAT MAY BE NEXT AT DISNEY WORLD: WHAT'S STILL COMING TO DISNEY WORLD IN 2021
Several hotels are seeing announced or widely rumored re-themings—in particular, the Polynesian Village, to a Moana theme, the Contemporary, expected to be to an Incredibles theme, and the Wilderness Lodge.
Still being worked on and likely not opening in 2021 are the Star Wars themed hotel outside of Disney's Hollywood Studios, the Tron ride in Magic Kingdom, and the Guardians of the Galaxy ride in Epcot.
WHAT MAY BE NEXT AT DISNEY WORLD: PRICES AND DEALS AT DISNEY WORLD IN 2021
Various Disney World deals have been available for 2021. Currently, none except for those reserved for members of the US military go beyond September 29. With the 50th anniversary beginning October 1, I'd not expect to see a ton of deals for after September.
I'd expect to see some shifting in regular ticket prices—and by shifting, I mean increases—perhaps even later this year, and especially for new annual passes if/when they return.
Disney World seems likely to be shifting to a place where the maximum number of guests admitted to a park is lower than it might have been in the past, and this lower number of spots is rationed by price.
Moreover, Disney is thinking of the total value a specific guest/party brings to the company—that is, the incremental profitability across all of tickets, hotels, dining, other purchases, etc. Given that, I'd expect substantial increases in Annual Pass prices since on average many pass holders (especially those who live nearby) would have the lowest value as defined above.
Disney World's theme parks have long been the awkward position that the days of the year most profitable to the company are the most miserable to guests—that is, days of great overcrowding. It shifted several years ago to date-based ticket pricing as a partial way of addressing this, without, frankly, a huge difference between lower and higher-cost periods. A bigger difference, perhaps starting in some form with Annual Passes, seems quite likely to me.
Now that I've warned you…to book your visit with the help of my friends at Destinations in Florida, fill out and submit the form below!
Follow yourfirstvisit.net on Facebook or Twitter or Pinterest!!
RELATED STUFF