2022 Weeks to Visit Walt Disney World, Ranked in Order
By Dave Shute
OVERVIEW: THE BEST TIMES IN 2022 TO VISIT WALT DISNEY WORLD
The rankings that follow are designed for first time visitors who do not know whether or not they will return.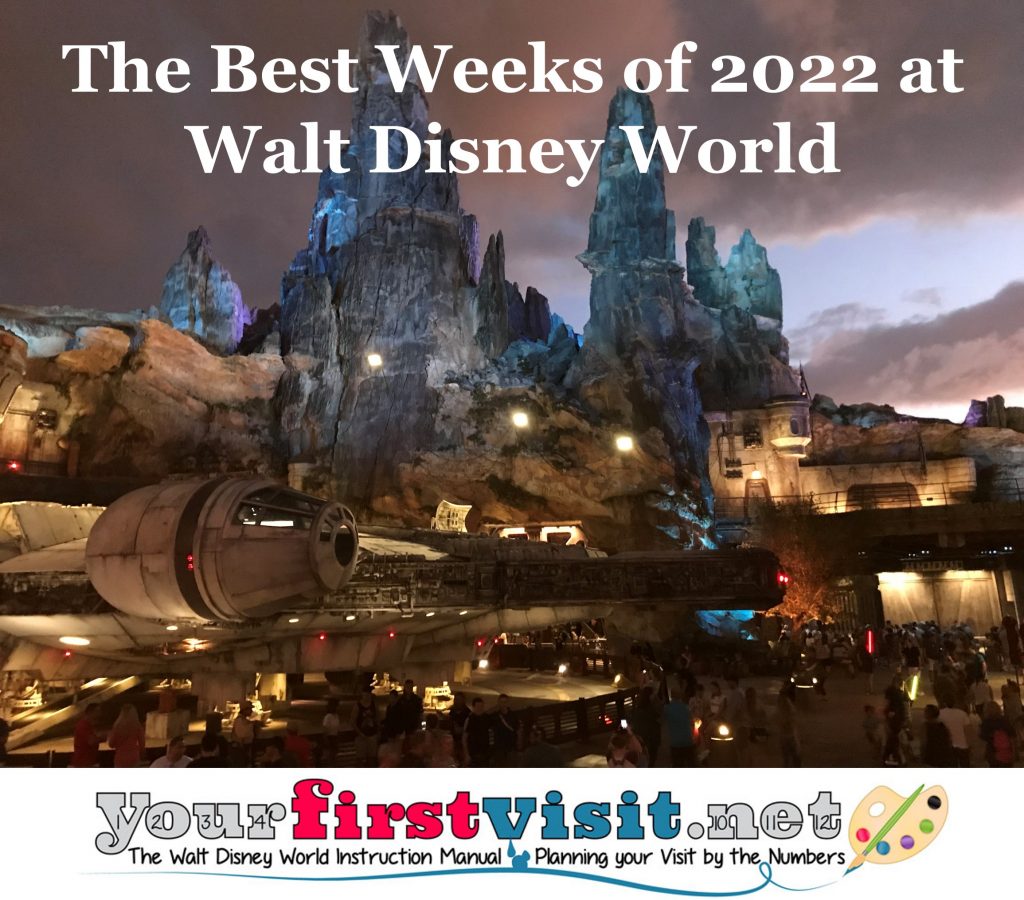 For visitors on a return trip, less concerned about ride closures or the peak of the hurricane season, the later January, early February, later August, and September weeks would be ranked much higher. All weeks good for returning visitors are marked in green at the far right of the image below.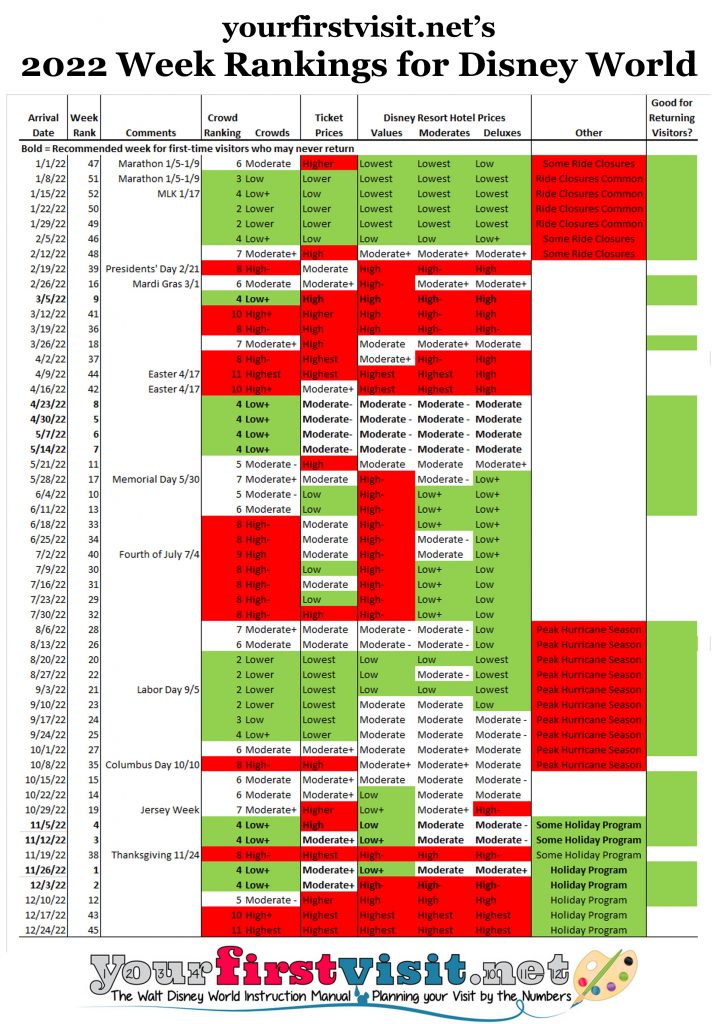 The rankings are in calendar order in the image above. In the discussion below, for each category, they are in rank order within that category.
These week rankings are based on my 2022 Disney World Crowd Calendar, on Disney World's 2022 resort hotel price seasons, and on Disney World's 2022 ticket price calendar.
Other factors are key as well–the Christmas season, ride closure season and hurricane season in particular.
(For more on how I build these rankings–although it's old, it still is how I do it–see this.)
RECOMMENDED 2022 WEEKS AT DISNEY WORLD, RANKED IN ORDER

The nine recommended weeks that follow are the best weeks to visit Walt Disney World in 2022 for first tie visitors who may never return. They are lower-crowd weeks that are not in the peak hurricane or ride closure seasons.
I divide them into two groups–the first group is weeks during the holiday season, and the second group weeks the rest of the year.
Among the four holiday season weeks, the first two have the full holiday program, and the second two some of the holiday program.
1: 11/26/22
2: 12/3/22
3: 11/12/22
4: 11/5/22
Weeks 5 through 8 are mostly in the same 2022 post-Easter stretch, and share lower crowds, moderate prices, and (especially in weeks 5 and 6) nice spring weather. The first three are  in calendar order, as the weather is better earlier in this period, with humidity and rain arriving sometime in mid- to later May. Week 8 is the week that begins just after the last spring break crowds, and may see some crowding over its first weekend.
5: 4/30/22
6: 5/7/22
7: 5/14/22
8: 4/23/22 
Week 9 is the last good week before spring break, is more expensive than weeks 5-8, and may be substantially cooler than them
This completes the weeks in 2022 that are recommended for first-time visitors to Disney World who may never return.
2022 WEEKS I'M NOT SO KEEN ON
Weeks 1o-19 all have moderate crowd levels, with different prices and weather. I don't particularly recommend moderate-crowd weeks for first time visitors, but if you have to pick one, with good plans they are quite manageable. They are also fine for returning visitors.

As always I rank these weeks first by crowd levels, then by resort hotel prices, then by ticket prices.
However, the levels I use for "resort hotel prices" is based on the simple average across all three resort types, so a week with high prices at the values, low at the moderates, and moderate at the deluxes would be evaluated the same as a week with low prices at the values, moderate at the moderates, and high at the deluxes.
So you might want to dig into the specifics (presented on the chart) to pick the best week for you based on where you are staying.
Weeks 10-12 are the lowest crowd of this moderate crowd group, with varying prices
10: 6/4/22
11: 5/21/22
12: 12/10/22
Weeks 13-16 will be a bit busier than weeks 10-12
13: 6/11/22
14: 10/22/22
15: 10/15/22
16: 2/26/22 
Last in this group are its highest-cr0wd weeks
17: 5/28/22
18: 3/26/22
19: 10/29/22
Weeks 20-28 have one thing in common: while low or moderate crowd weeks, they all occur during the peak of the hurricane season. Hurricanes are rare and even more rarely affect a Disney World vacation, but for first-timers who may never return, why not just avoid the risk? For returning visitors, though, the low-crowd weeks that can be found among this group can be wonderful times to visit.

These peak hurricane season weeks are ranked in order of first crowd levels, and within the same crowd level by resort hotel prices, then ticket prices.
Weeks 20-23 have some of the lowest crowds and lowest ticket prices of the year, and weeks 20 and 21 also have low hotel prices.
20: 8/20/22
21: 9/3/22
22: 8/27/22
23: 9/10/22
Week 24 has slightly higher crowds (but still low), moderate hotel prices, but very low ticket prices
…and Week 25 is similar but with slightly higher crowds and slightly higher ticket prices
Weeks 26 to 27 are the moderate-crowd weeks in this hurricane group.
26: 8/13/22
27: 10/1/22
28: 8/6/22
2022 WEEKS TO AVOID AT WALT DISNEY WORLD
There's two groups of weeks to avoid in 2022: high crowd weeks and weeks when some rides are often closed.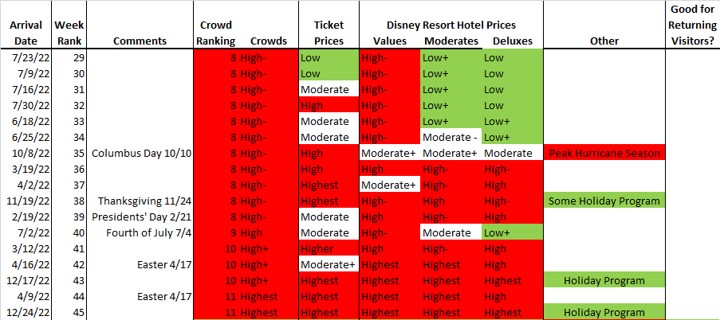 The first group, ranked 29-45, should be avoided because of crowds that traditionally range from high to unbelievable.
This group includes much of the summer–later June into early August. It also includes the busy March and April spring break weeks beginning 3/12/2022, and the holiday weeks—President's Day week, the weeks before and after Easter, Columbus Day week, Thanksgiving week, and the weeks around Christmas.
See the table above for exact rankings within these lousy weeks.
The next group includes the January and early February 2022 weeks when rides are often closed for repair or refurbishment—weeks 46-52.

Some of these weeks have among the lowest crowds and lowest prices of the year. However, this is the peak time for ride closures at Walt Disney World, especially the January weeks.
If this may be your only family visit, why go when you know likely a few of the best of Disney World will probably be closed?

Follow yourfirstvisit.net on Facebook or Twitter or Pinterest!!
RELATED STUFF