Photo Tour of A Standard Room at the Hilton Orlando Bonnet Creek
By Dave Shute
(For the first page of this review of the Hilton Orlando Bonnet Creek, click here.)
PHOTO TOUR OF A TWO QUEEN STANDARD ROOM AT THE HILTON ORLANDO BONNET CREEK
The Hilton Orlando Bonnet Creek has several room types in its mid-rise tower, including rooms with two queens, room with one king, and multiple suite types. Bookable categories include "Disney View," "Disney Fireworks View," and "High Floor" rooms.
The Disney view rooms look towards Disney's Hollywood Studios and Epcot; rooms without specified views look out over a nature preserve; I'm not sure what "High Floor"  precisely means, but recreational marijuana is not yet legal in Florida.
This photo tour is of an upper floor, perhaps high, two queen room with a Disney view.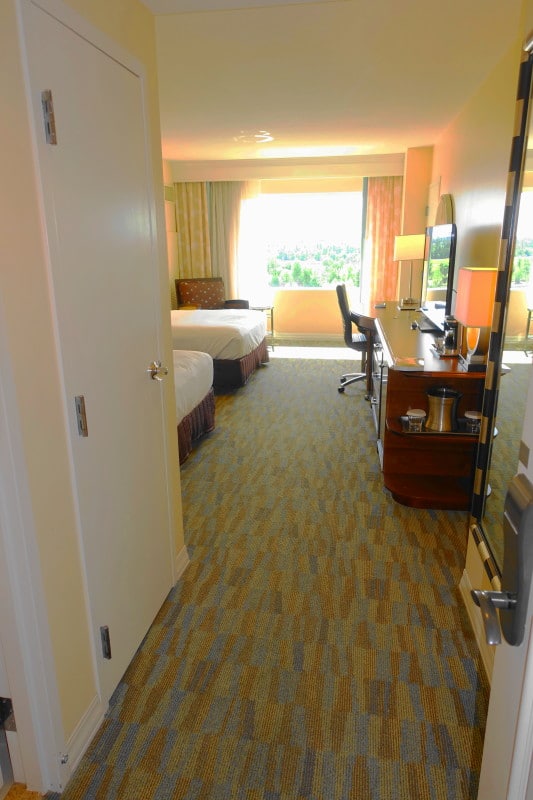 At the entry, the bath and closet are on one side.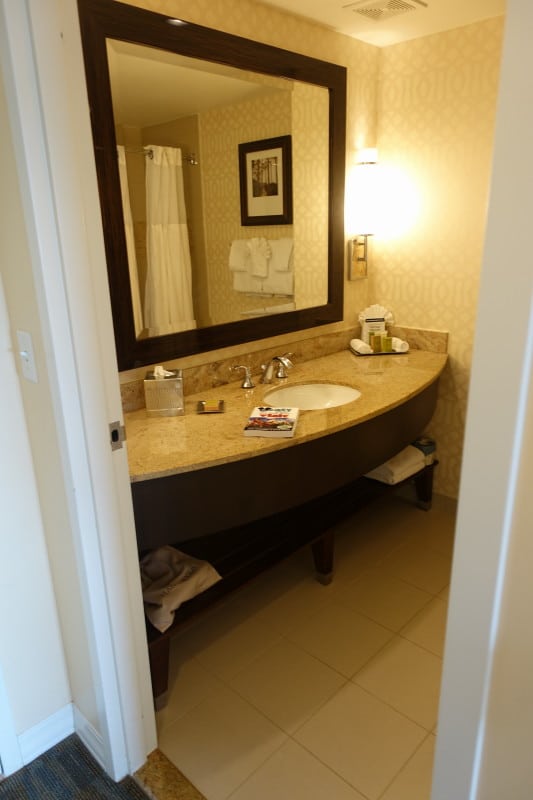 The bath is  spacious, but has no extra help for family travels–it has room for double sinks but offers just a single sink, and is not divided.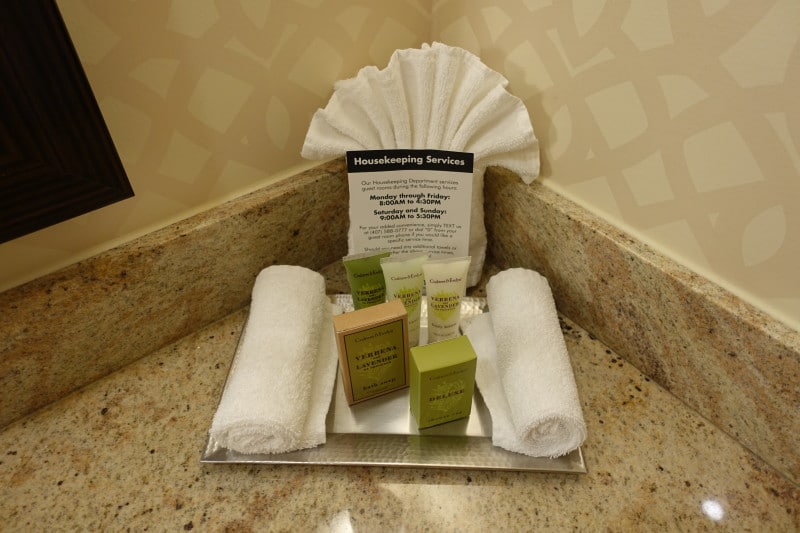 Bath toiletries.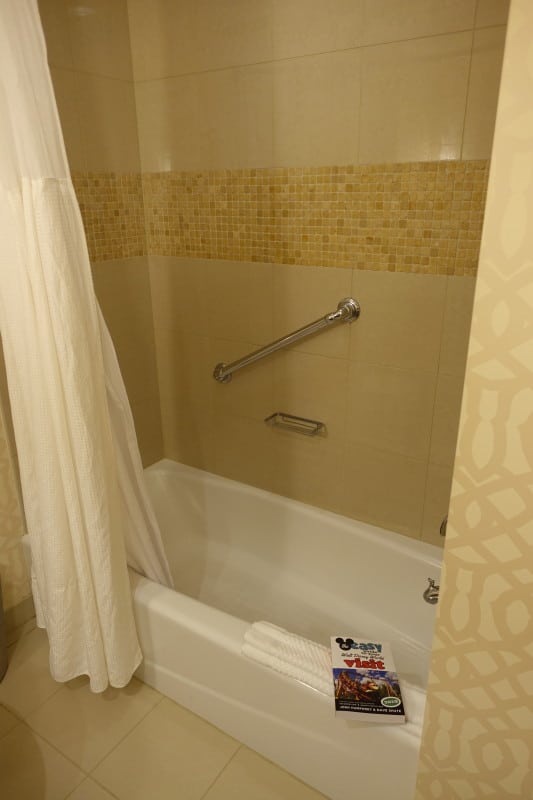 The tub/shower combo.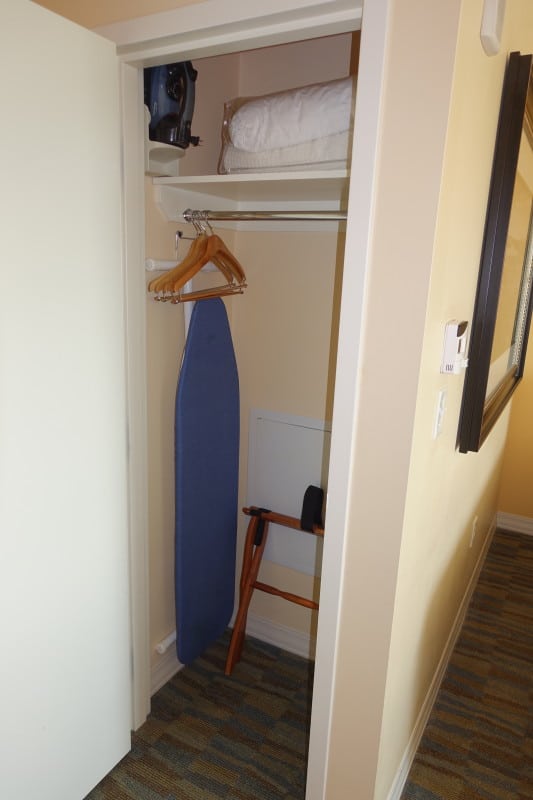 Back out in the entry hall, the small but likely adequate closet is right next to the door to the bath.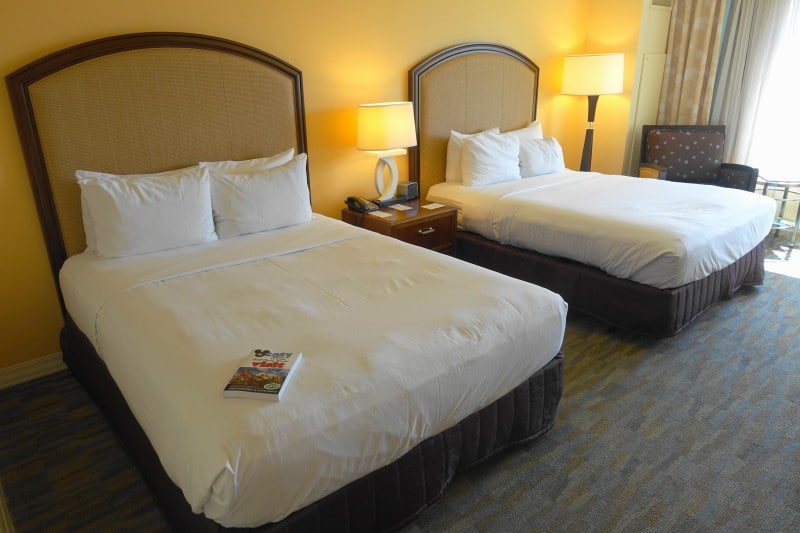 Deeper in the room on one side you'll find two queen beds and an easy chair.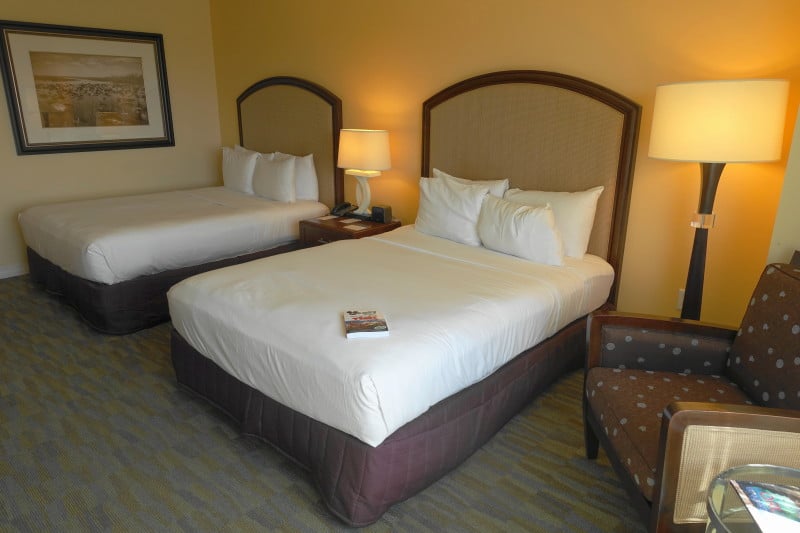 The bed side from the back.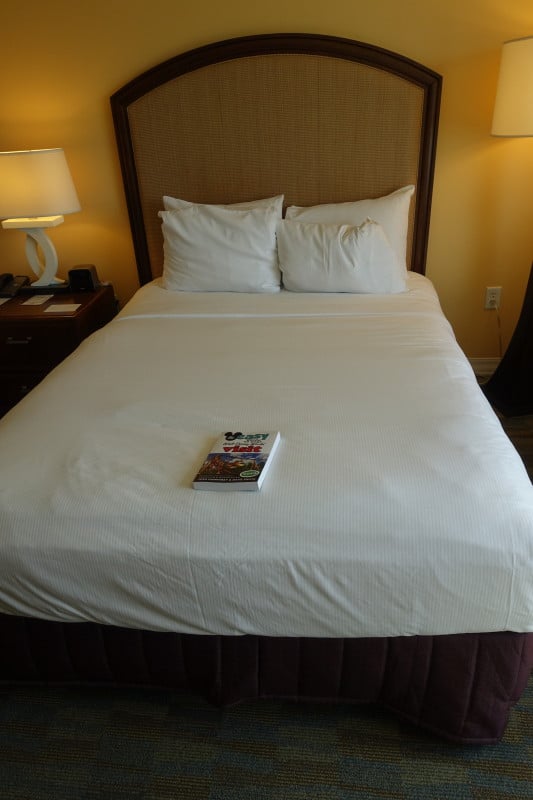 A closer view of one of the beds.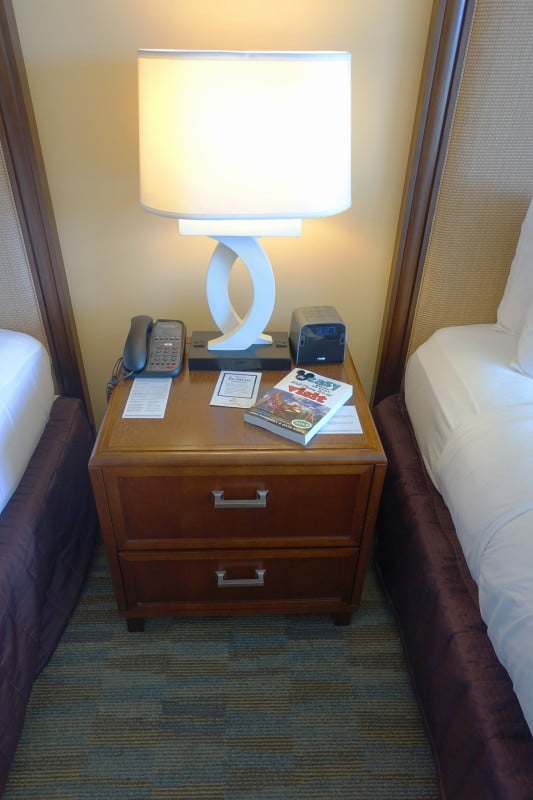 Between the beds you'll find this bedside table, with what appears to be two drawers.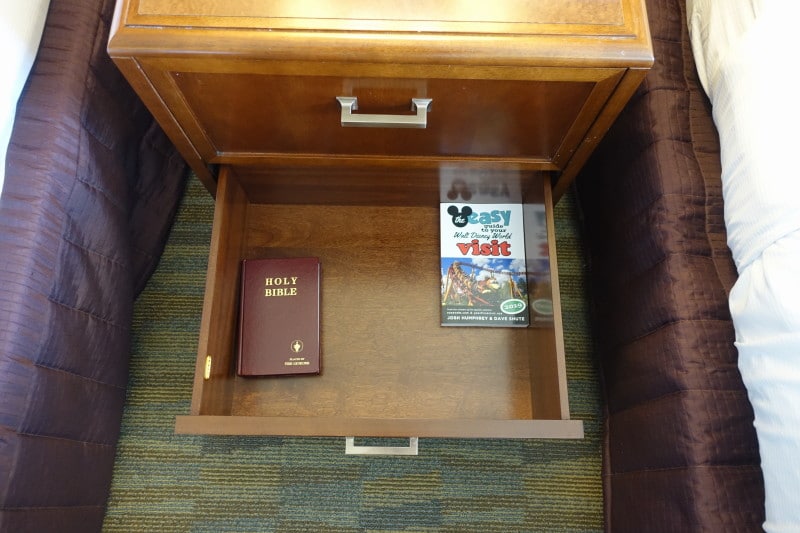 The lower item is in fact a drawer, with plenty of room for your important books.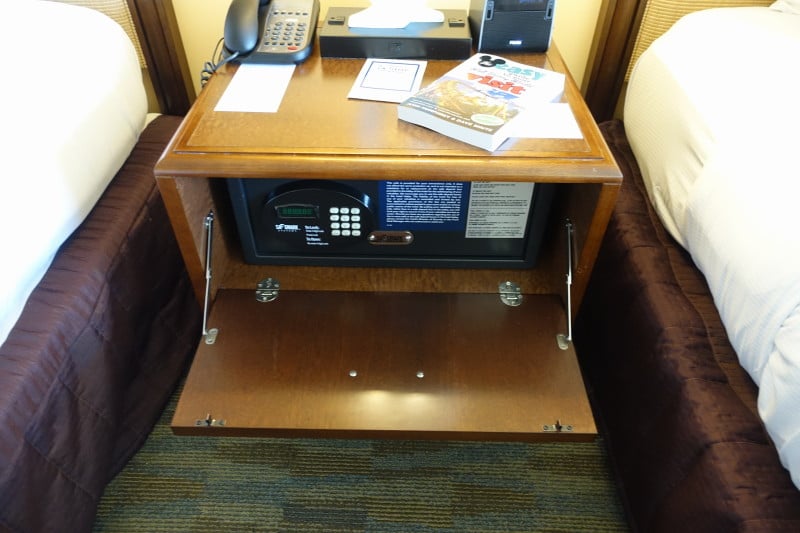 Above it, what looks like a drawer front flips away to reveal this safe.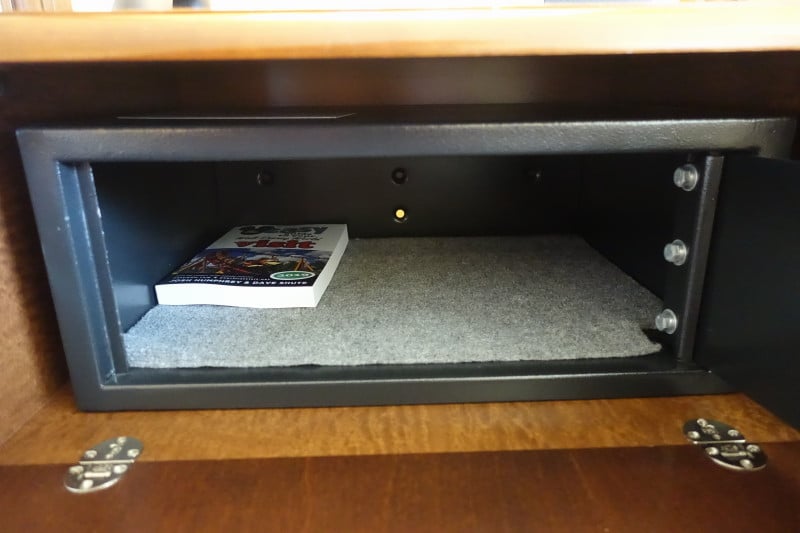 My book is 6″ by 9″–showing how large this safe is.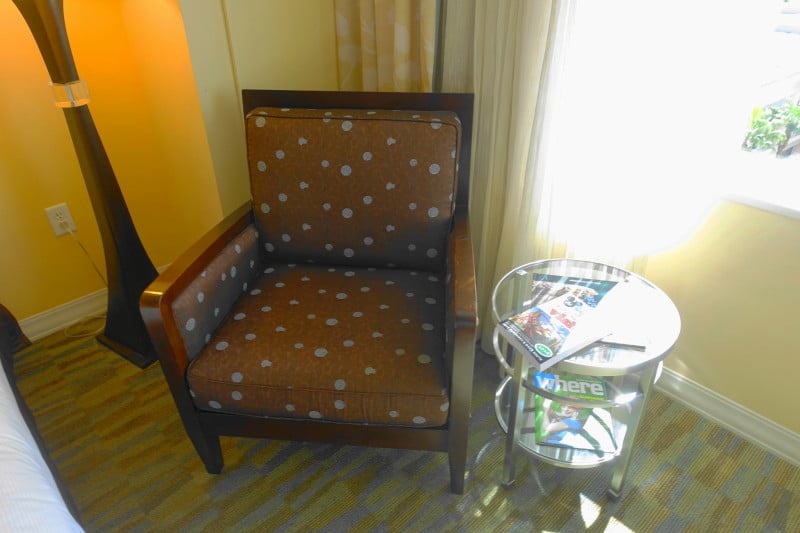 The last item of note on this side is this easy chair, with a small table on one side and lamp on the other.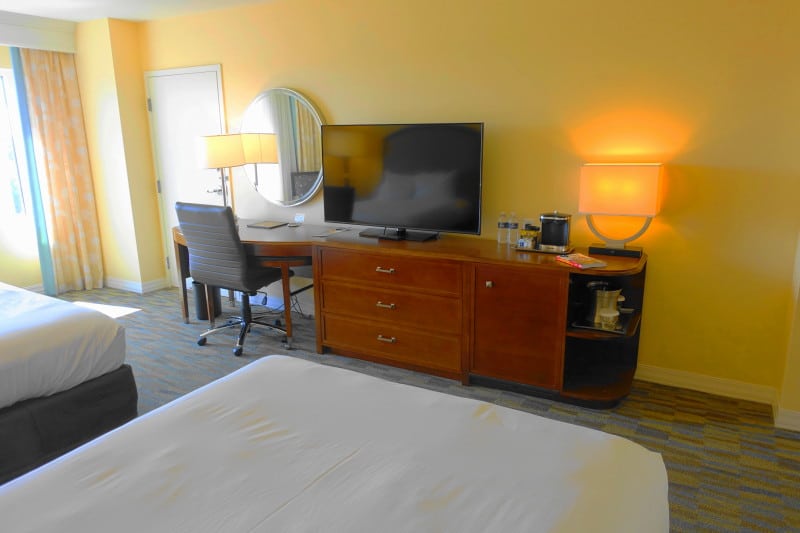 The other side of the room has a mini-fridge, dresser, and desk.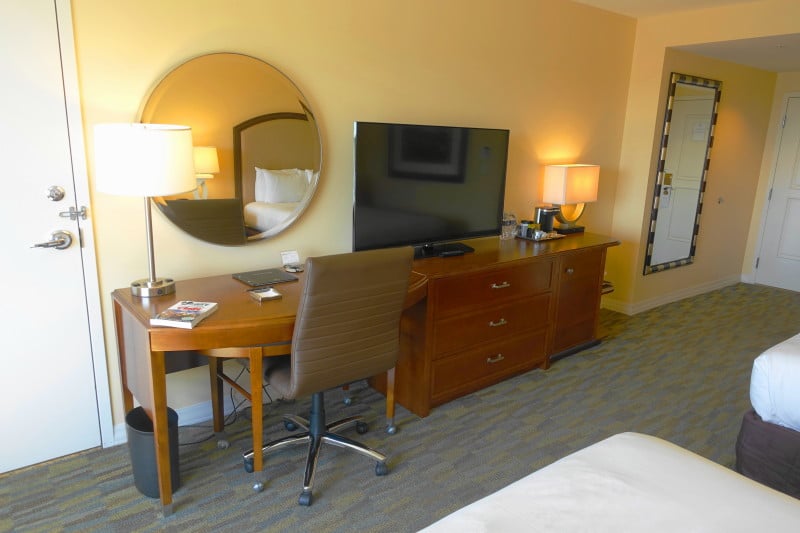 The TV side from the back of the room.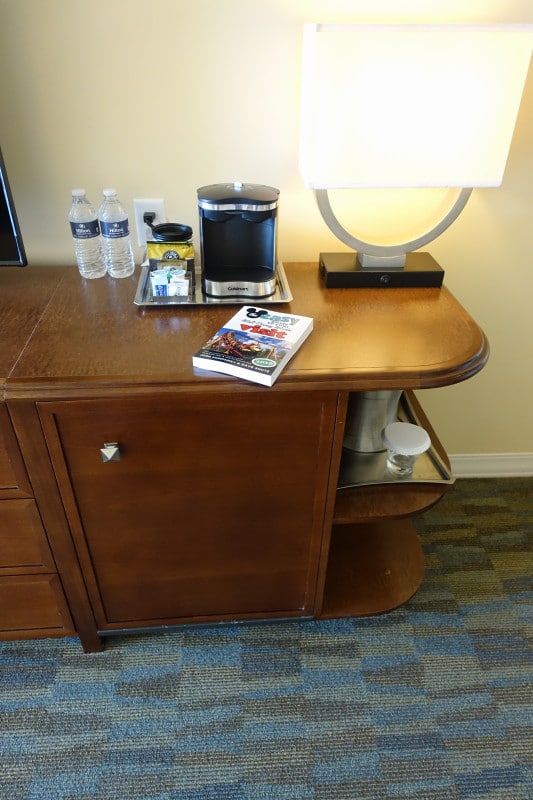 The mini-fridge is below the coffee service.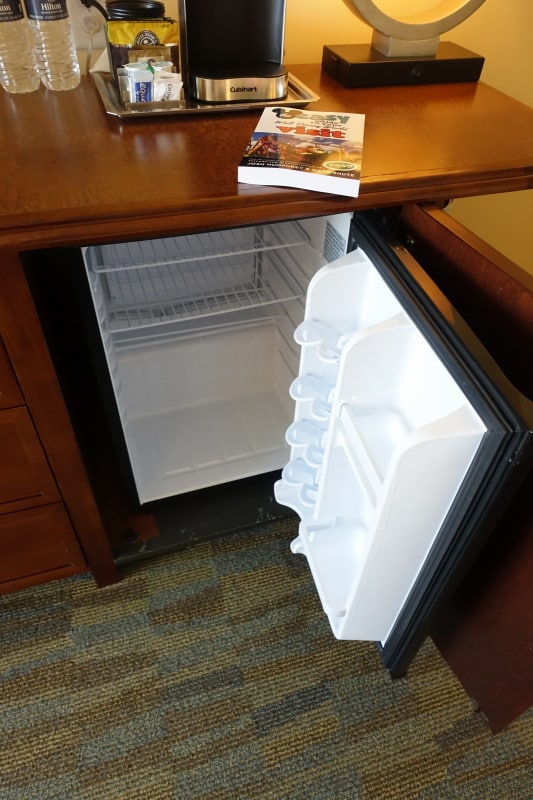 Inside the mini-fridge.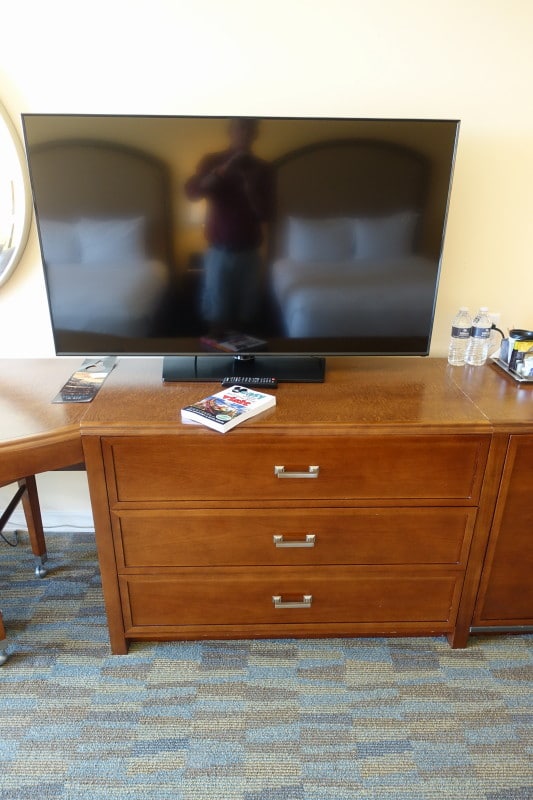 The dresser has a 54″ TV above and three drawers below.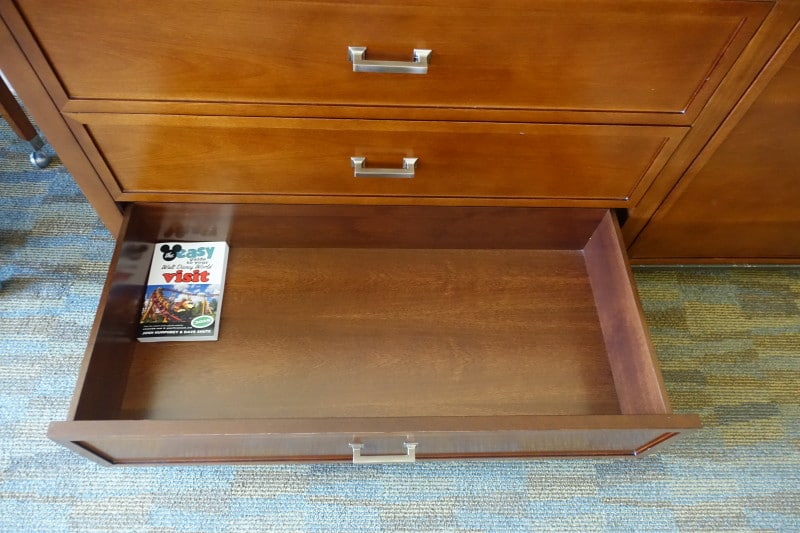 The drawers are good sized.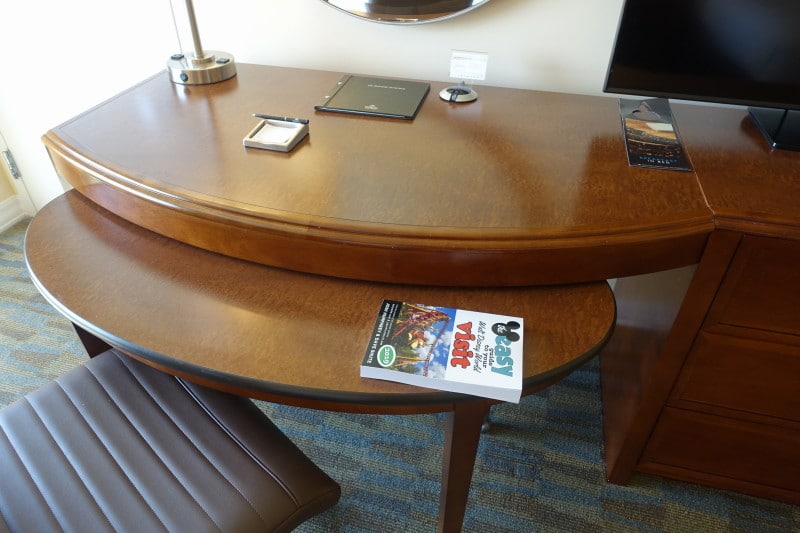 The desk includes a rolling table which I've pulled out a bit that adds flexibility for actions ranging from typing to playing games with the kids–although seats are limited.
I can't comment on how well the fireworks show up, as I was not in my room during any of them–that will be for another stay.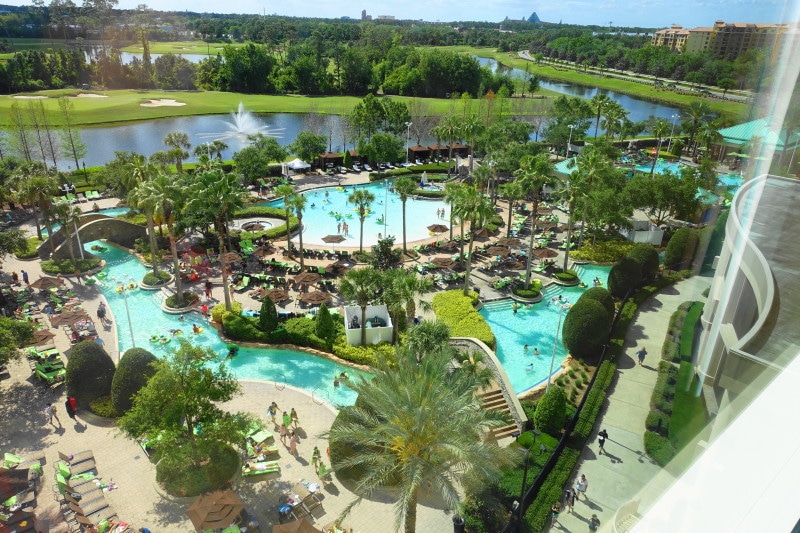 But here's the view from my room, with the astonishing pool (a full review of the pool complex at the Hilton Orlando Bonnet Creek is here) below, the golf course beyond, and in the distance you'll note the Tower of Terror and the Dolphin.  Lenses make these seem further away than in fact they are.
At about 370 square feet (some sources claim these rooms have 414 square feet, mine was not even close to that) these spacious Hilton Orlando Bonnet Creek rooms are comparable in size to the middle range of Disney deluxe resorts.
But with no balconies, no real concessions to larger families in the bath layout, and limited (but not bad) seating, they don't have a lot to recommend them for typical families.  Couples, or families of three, should do just fine in these rooms.
And frankly, the color scheme and decor (how did you like that easy chair?) are at best uninteresting. Another Hilton property at Disney World that also has access to the two key perks, the Hilton Buena Vista Palace, has better accommodations, with balconies and divided baths.
This review continues here.
MORE ON THE HILTON ORLANDO BONNET CREEK
OTHER KEY PAGES FOR WHERE TO STAY AT DISNEY WORLD

Follow yourfirstvisit.net on Facebook or Twitter or Pinterest!!
RELATED STUFF