"Fall Breaks" and Autumn 2018 Crowds at Walt Disney World
By Dave Shute
FALL BREAK CROWDS IN 2018 AT WALT DISNEY WORLD
One of the things you'll see now and then on the web is the claim that "fall breaks from school create big crowds at Walt Disney World."
"Fall breaks" are multi-day school holidays before Thanksgiving, and, if material, would have an effect on Disney World—because Disney World is most crowded when it's easy for kids to go.
If you check the facts, though, you'll find that fall breaks are both uncommon and scattered across October and early November—they don't much matter other than Jersey Week and two October weeks, the one includes  Columbus Day and the one the week after.
You are much more likely to run into trouble in the fall by choosing to go to a park on a bad day—
The effect of picking bad park days can be quite profound, and is why you'll see some people report that "October is the new July," while other people have easy and delightful visits in October.
But all that being said, there are in fact better and worse weeks in the fall.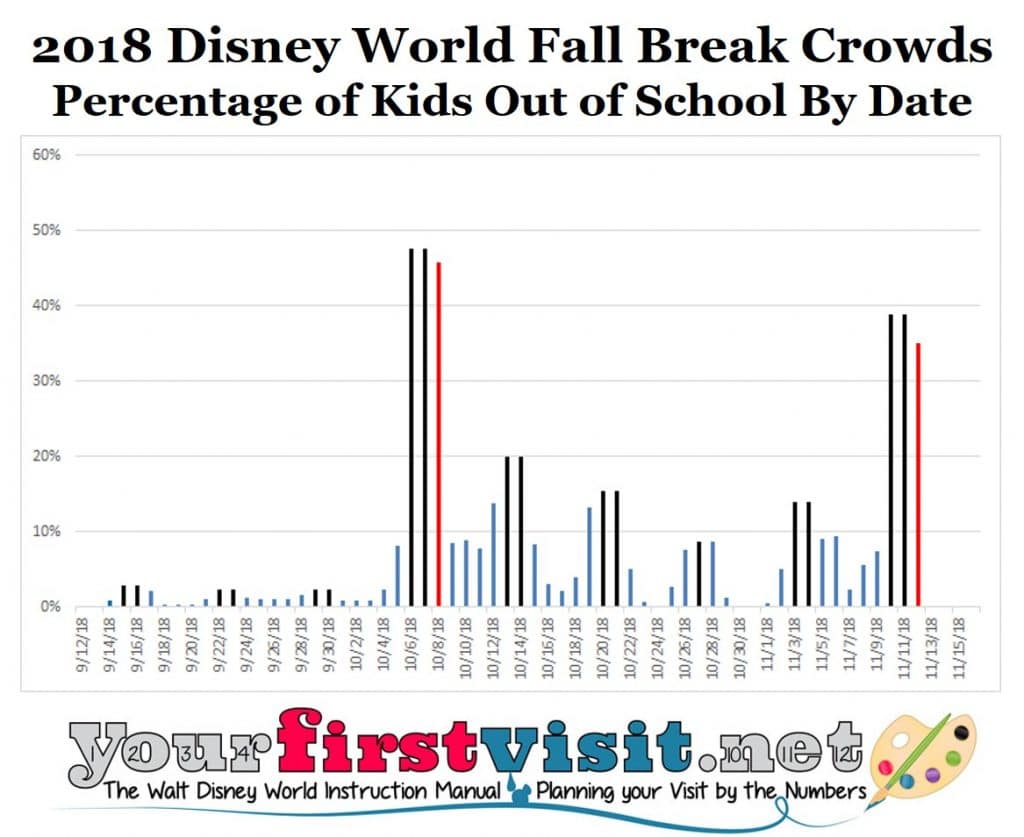 See the chart, which shows the weighted percent of US school kids in my database with a three-day weekend or longer break in 2018 in later September, in October and in November before Thanksgiving week. (For how it's built out of ~276 school districts and 15.3 million kids, see this.)
In it, weekends are in black, and Columbus Day and the day Veteran's Day is celebrated are in red. Everything else is blue.
The first conclusion you can draw is that the only time when a lot of kids have full-week fall breaks is the week that includes Columbus Day–the week beginning 10/6 in 2018. The much-lower midweek bars (especially on Wednesdays) the other weeks indicate how few kids have full week breaks in other weeks.
The second conclusion is that many kids have long three, four and even five day weekends pretty much every weekend from just before Columbus Day to just after Veterans Day. These long weekends do provide more convenient opportunities for families to go to Disney World, and do contribute to extra crowding, particularly to the week beginning 10/13 and the week beginning 11/3.
On the other hand, the week beginning 9/29 in is showing many fewer kids on long weekends than I had thought. I have it marked as 5/moderate-minus crowds, but in retrospect it looks more like a low crowd week, especially before its ending weekend.
I am comfortable with my other crowd forecasts for this period–although those who follow one of my itineraries will see much better crowds, and those making particularly bad park day choices will see worse ones.
Note: none of this is about Thanksgiving week, which is quite crowded and a lousy time to go!


Follow yourfirstvisit.net on Facebook or Twitter or Pinterest!!
RELATED STUFF