Why The Hotels Aren't Crowd Calendars
By Dave Shute
Every year around this time I get comments from people trying to book one of my recommended December weeks that say something like "all the Disney World hotels are booked, so how can these be lower-crowd weeks?"
The short answer I always give is that this happens every year.
Disney World hotel occupancy is not a crowd calendar. These hotels are almost full almost all of the time, in high crowd periods or low. For three years now, occupancy has been above 85 percent, and for the last seven quarters it's averaged 89 percent. For an average room, that equates to about two nights free every three weeks.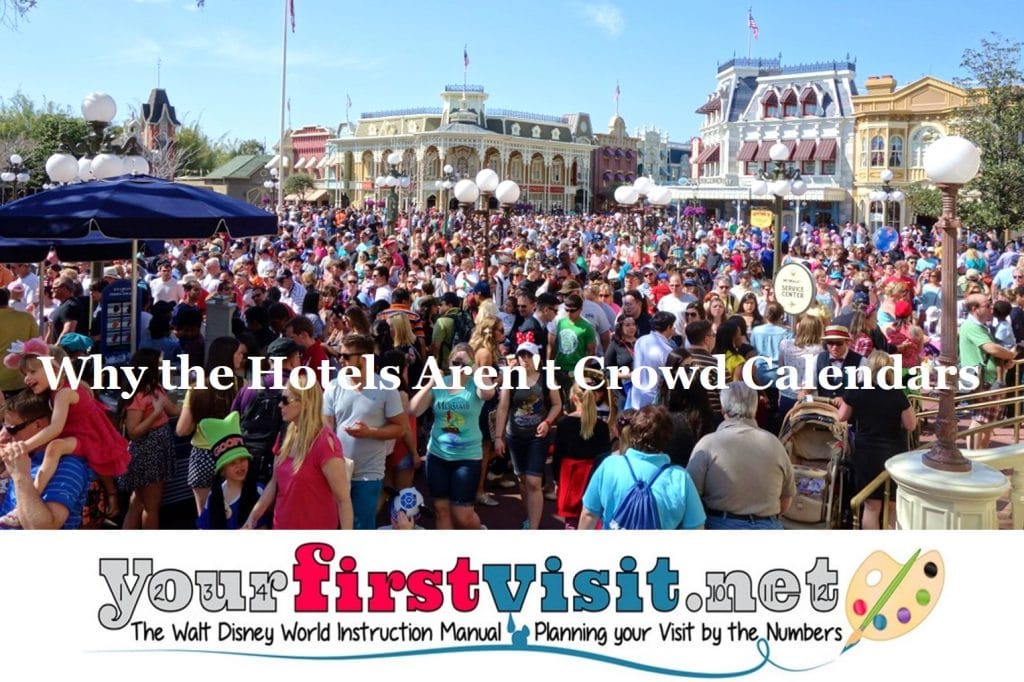 Rooms have been even harder to find in 2017.
First, about 3 percent of capacity permanently disappeared in 2017, with demolition of rooms at Caribbean Beach and Coronado Springs, and conversion of formerly eight-person areas at the Wilderness Lodge to four-person areas in Copper Creek.
Second, the ongoing room refurbs at Pop Century and Coronado Springs have taken another 1.5% to 3% of rooms out of capacity, depending on how many buildings are closed at a time for refurb
This may not sound like a lot–but it's about half of the previous excess capacity.  So a room that used to be unused two nights out of every three weeks now might now be unused two nights out of every six weeks…
You can tell from Disney's pricing patterns that the most popular nights are Fridays and Saturdays, and the least popular Mondays, Tuesdays and Wednesdays.  So vacations that include weekend nights–as almost all do–are even harder to book.
Moreover, I am told–I can't independently confirm this–that Disney is booking "orphan" room nights differently.
Say a room is booked through a Saturday, then available the next five nights Sunday to Thursday, and then booked again beginning the Friday after. Before this purported change, a guest who wanted to book this room Monday, Tuesday and Wednesday would have no problem, even though it would leave "orphan," hard-to-book single nights on Sunday and Thursday.
Word is that this no longer works so well, as Disney's systems prefer in this case guests looking for a Sunday-Tuesday or Tuesday-Thursday stay, leaving a more bookable two-night block before or after.
So guests looking for longer stays will run into the problem of all the weekend nights being booked up, and guests looking for shorter stays will have easier or harder times depending on how many orphan nights their preferred dates will yield.  On shorter stays, shifting your check-in day just a day can help. On longer stays, dividing them into two or even three shorter stays can help.
The best approach, though, is to book well in advance. Historically, people have most commonly booked their Disney World vacations three months ahead.  The more ahead of this you can book your rooms, the better off you will be.  More than 180 days before is the magic number…but even if it's closer than that, as soon as possible is better than later!
Another way to ease the burden is to use a travel agent, who likely will have both more patience and more ideas for finding you a room. This site has partnered for years with Kelly, who you can reach at KellyB@DestinationsInFlorida.com or 980-429-4499.
Quarter to quarter, Disney's recent average occupancy* has been between 85 and 90% for a while (the red line is 85%):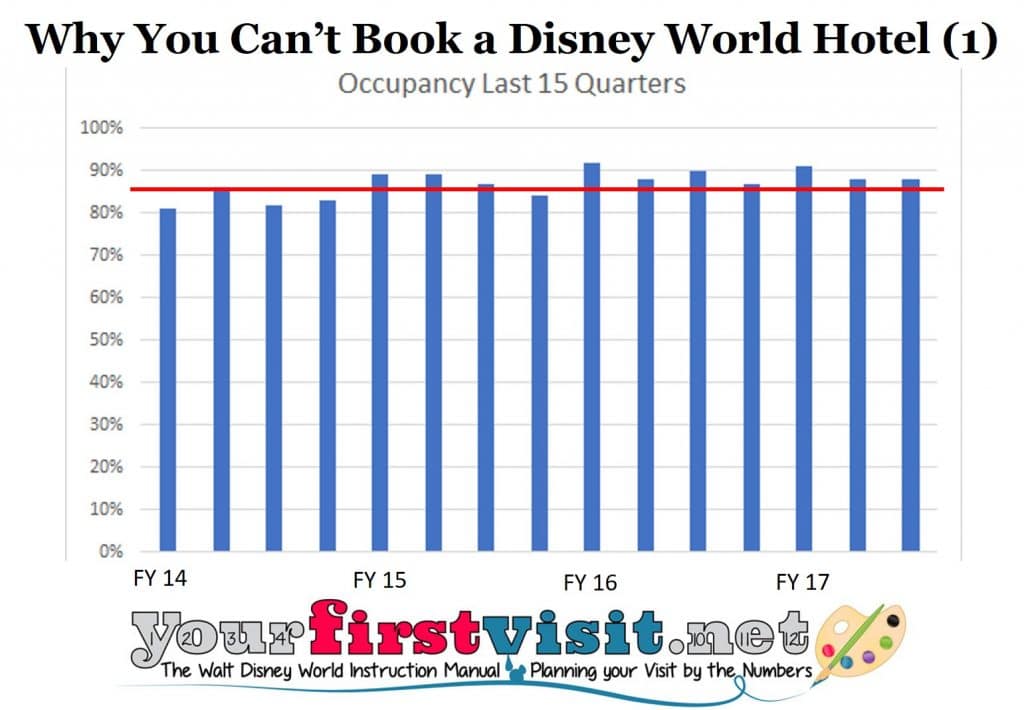 On a four-quarter trailing moving average basis (which cleans out the effects of seasonality), it's been around 90% for seven quarters in a row (red line is 90% occupancy):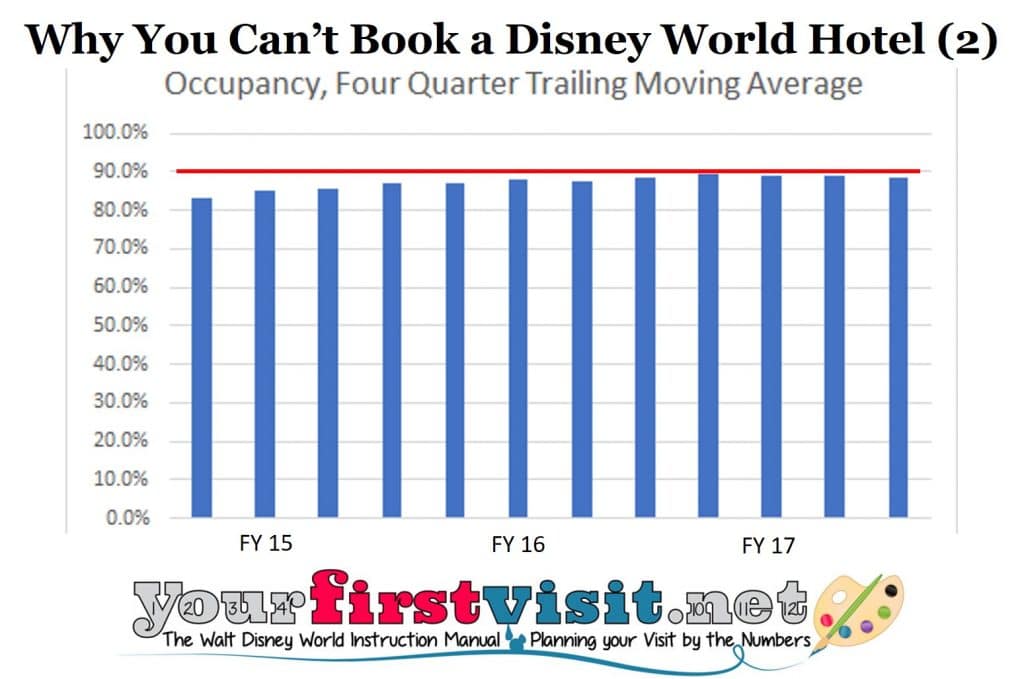 The difference between 85% and 95% occupancy is about 2,540 more rooms filled per night—or, at an average of 3 people per room, about 8,000 more people.
Eight thousand more people divided among four theme parks, two water parks, Universal, Sea World, Disney Springs, days off, etc. just don't much matter to a set of theme parks that have a base average of more than 147,000 visitors a day anyway.
(This is the same reason that the cheering competitions, runDisney events, etc., don't much matter to park crowding. Fifteen thousand cheerleaders or runners and family members may seem like a lot to you…but translate into less than 10 percent more people on property.)
Here's the longer answer.
WHY THE DISNEY HOTELS ARE NOT A CROWD CALENDAR
Crowds at Disney World don't come from the Disney hotels, which are almost always close to full. They come from hotels outside the parks.
On an average day in 2016, there were 147,000 people in one of the four Disney World theme parks. (Math applied to this.) You can convert those into required hotel rooms by making assumptions about
People per room (e.g. 3) and
Rooms occupied by those not in a Disney theme park that day: people in a hotel room for a Disney World vacation but taking a day off from the four Disney theme parks and instead going to a water park, Disney Springs, Universal, taking a day at the pool, shopping, or skipping the parks on their arrival night)—I'll use 25% as my assumption on this.
So divide the 147,000 people in the parks on an average day by three people per room and you get 49,000 required rooms; shift this by another 25% for the folk on a Disney-oriented vacation but not in a Disney park that day and you get 65,000 required rooms.
Disney World itself right now has "only" about 25,400 rooms available, and probably can't hit much above 95% occupancy for any sustained period (at 95% occupancy rooms are booked 19 out of every 20 nights) except in the rarest of circumstances, because even with the new orphan night policy, there aren't enough two and one-night stays to fill in the tiny gaps that exist between 95% and 100% occupancy.
At 90% occupancy Disney World can serve just 22,900 of the 65,000 needed rooms—just a little more than a third.
Occupancy at the Disney hotels doesn't flex up and down much with crowds. Rather, Disney runs its price seasons and its deals to hit a fairly high level of average occupancy year round. Hotels fill up in the highest-crowd times, but they also fill up during the rest of the year too–including times when savvy Disney World visitors (the most likely to occupy a Disney space—especially DVC owners) know are great times to visit—like early December!!
In other words, the crowds don't come from Disney World hotels. They just don't flex enough. Rather, they come from off-property folk. So full Disney World hotels don't necessarily mean high crowds. (They can mean that—it's just that they don't necessarily do so.)
Want a real crowd calendar?  See this.
*This is Disney's domestic occupancy, so it does include the three Anaheim hotels, which make up about 10% of total rooms. Because it's just 10%, I ignore them, except that I do substract them to get rooms available in Florida.



Follow yourfirstvisit.net on Facebook or Twitter or Pinterest!!
RELATED STUFF