Review: The Fantasmic! Dessert and VIP Viewing Experience
By Dave Shute
In August 2017 Disney World announced the new Fantasmic! Dessert and VIP Viewing Experience offering. This "Experience" offers some nice snacks, a souvenir mug, and—at least on my visit to it in late September 2017, more on this point below—first come, first served seating in the "Dining Package" reserved area of the Fantasmic! amphitheater.
The cost, including tax, is $39 for those ten and older, and $19 for those aged three to nine.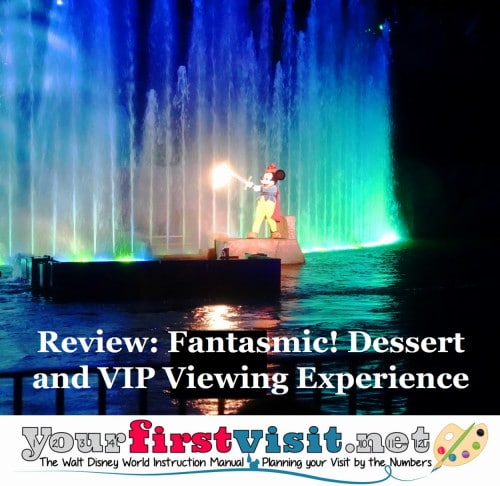 Fantasmic! is an evening show at Disney's Hollywood Studios. Combining a cast of more than 50 people, huge puppets, water effects, live action, projections, and a boat show (well, sorta), it touches on more or less every great Disney animated film through The Lion King and Pocahontas, with a few interludes with more recent characters.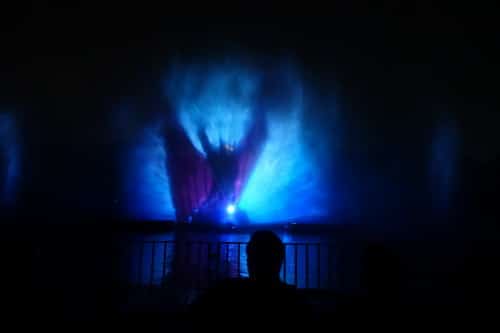 I've seen it more than a dozen times, and while it is getting a little old—the projections, on water screens, are particularly in need of both technical and substantive updates—it is among my top five Disney World attractions, and on all of this site's Disney World itineraries. There's more on Fantasmic! here.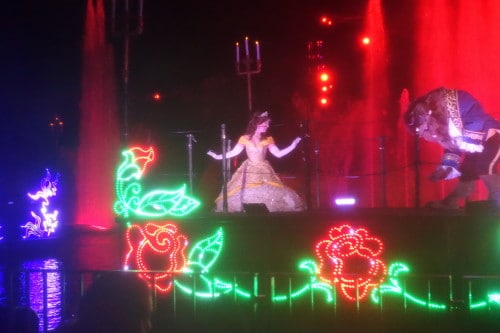 Two showings of Fantasmic! a night used to be fairly common, but with the introduction of the new evening show Star Wars: A Galactic Spectacular, one Fantasmic! show a night is now much more typical—so it's not unusual for there to be more people who want to see Fantasmic! than there is capacity.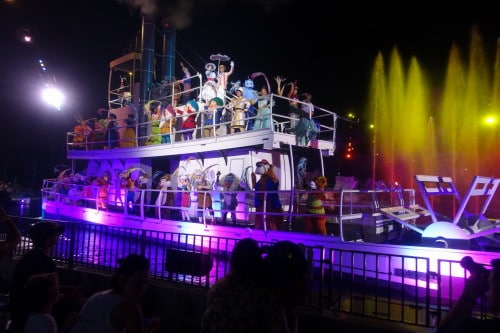 There's now five ways to get a seat for Fantasmic!
One is to use one of your pre-booked FastPass+, which on a one-day visit to the Studios is not a great use of FastPass+. The late timing of the show means you probably won't be able to book any additional FastPass+ at the Studios that day. Also, Fantasmic! FastPass+ are Tier One FastPass+, and frankly on a one day visit your Tier One FastPass+ is better spent on Toy Story Mania or Rock 'n' Roller Coaster. (Most of my itineraires have two visits to the Studios, partly for this reason, partly so that you can see both evening shows, and partly as prep for Toy Story Land and Star Wars.)
Second is to keep looking for Fantasmic! as a 4th, 5th or whatever day-of FastPass+. This works most days, but comes with no guarantee of success.
Third is to get in line for Fantasmic! really early—like more than an hour before show start. This works quite well, but this site isn't really designed to tell you how to wait longer in line…
Fourth is to purchase a Fantasmic! Dinner Package at The Hollywood Brown Derby, Mama Melrose, or Hollywood and Vine. Traditionally the problem with this—other than cost—has been the choice of restaurants. The Brown Derby is terrific, but not exactly fun. Mama Melrose is pedestrian. Hollywood and Vine traditionally focused on the Disney Junior characters, which put it right in the wheelhouse of kids for whom Fantasmic! might be too scary (it has lots of villains, including large dragon and serpent puppets). Recently lunch and dinner at Hollywood and Vine has shifted to a more broadly appealing character line-up of Mickey, Minnie, Donald, Daisy, and Goofy, making it a more viable option. But at Hollywood and Vine lunch Fantasmic! package (after tax and tip) is around $63/39 per person, and the dinner package around $70/43. Mama Melrose is a bit less, and Brown Derby much more.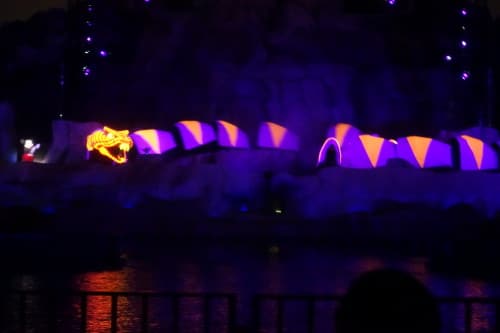 The Fantasmic! Dessert and VIP Viewing Experience presents potentially a money and time-saving fifth alternative–to the dining package in particular. At $39 for those ten and older, and $19 for those aged three to nine (tax included, no tip), it is cheaper than a dining package—although not by much–and it saves you the time you would otherwise spend at the sit-down restaurant.
The way it works is you make your reservations online here (or of course you can call 407 939-3463).
Then at the Studios you enter the FastPass+ line at Fantasmic! When you enter is a little screwball. Disney's promotional material—and the paperwork I got from them—indicates that seating is in a dedicated part of the amphitheater "in the first couple of rows of the theater."
"Dedicated" would seem to mean that you don't need to arrive early to get good seats.
However, on our visit (I went with my imaginary internet friend Steve Bell of MilitaryDisneyTips.com), seating was first-come first served in the Dining Package area of the amphitheater. This matters if you want a specific location. Up close is best for viewing; mid-way gives you an adequate view and avoids the water spray you will get up close; toward the back is best for an easy exit. If there's not a dedicated seating area on your visit, the earlier you arrive, the more seating choices you will have. If there is a dedicated seating area, then you will be up close, and will get misted.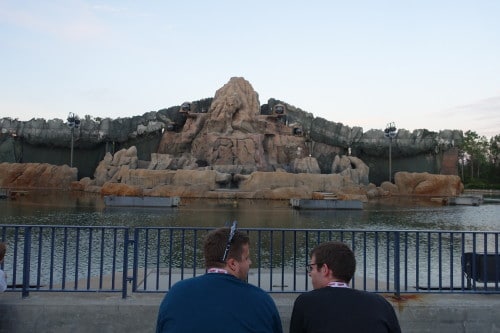 We purposely got up close, as I'd sat pretty much everywhere at Fantasmic! except front and center in the first few rows. Can't really complain about how close and centered our seats were. And the mist, frankly, was welcome, as it was a hot and humid night. On cooler nights, the mist would be a bug, not a feature.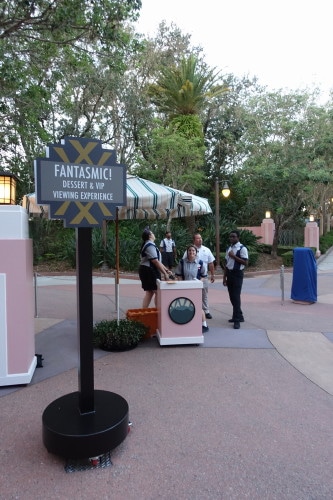 Anyway, back to the process, a bit after you enter the FastPass+ line you'll see a sign heading you off the line…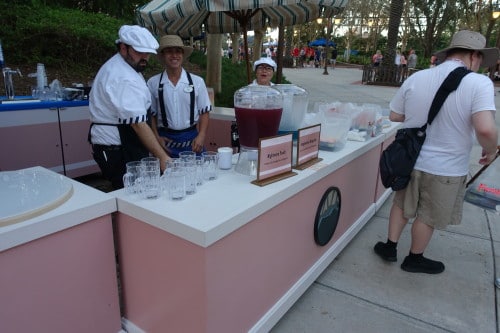 …and a kiosk off to the side.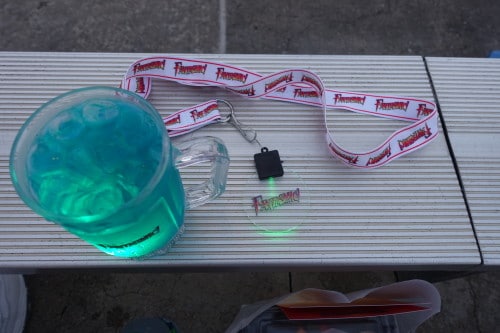 Here you get a lanyard that identifies you to cast members further in as a possessor of this Experience, a drink in a special cup (we got blue margaritas), a small bottle of water, and a boxed set of desserts and savory snacks.
Then you go in and sit and drink and snack and wait for the show.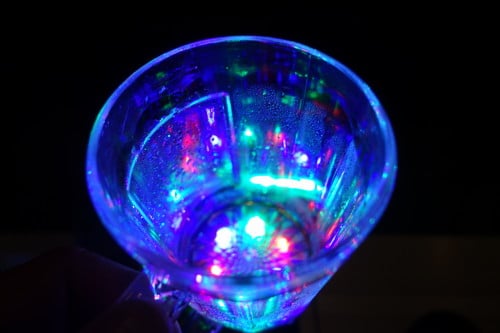 There was nothing special about the margarita—there's also a non-alcoholic punch for the kids, and of course the water bottles—but the mug was fun. It has settings for fast and slow flashing, plus steady lights. The image is of the steady lights.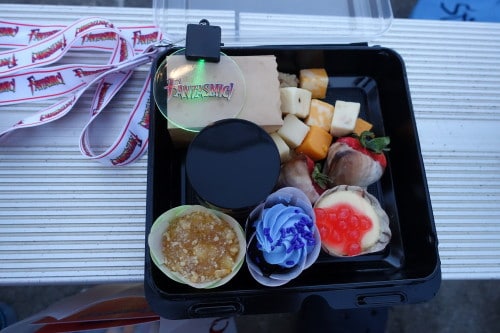 The snack box has both more and better food than I'd expected. The three cupcakey looking things are an apple crisp, cheesecake, and a chocolate cupcake. Each was delightful. The two chocolate-covered strawberries were large and perfectly ripened. The cheese cubes are typical, and in the cute little paper bag are some nice salty tortilla chips. The small jar—you are seeing its lid–includes a trail mix that was the only offering not particularly to my taste, but trail mix preferences do vary (my fave is M&Ms, peanuts, and golden raisins).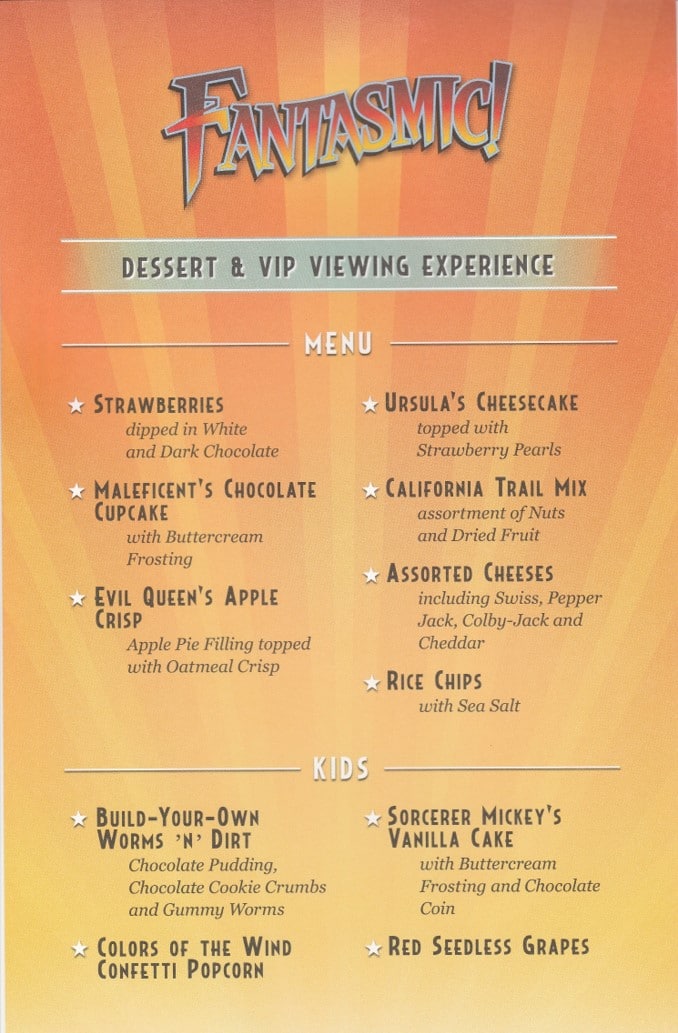 The menu (click it to enlarge it).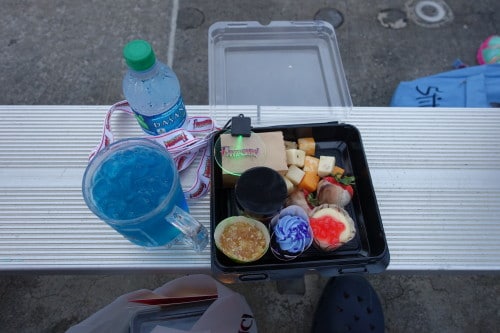 Here's the full set of loot, with one exception There's a knife-fork-spoon-napkin set up at the bottom of your bag, somewhat hidden by a printed "Fantasmic! Fun Facts" flyer. Some people might not find these, and hence complain about difficulties in eating the cupcakes in particular. Not that you would have this problem. Because you've been warned. But we got a little messy…
In total, while not what you'd call a healthy meal, there's a fair amount of food here. If you had a heavy lunch, and a snack after, it might substitute for dinner—or come pretty close to doing so.
So for your $39/$19, you get a large and varied snack, a drink, a bottle of water, and a fun mug. (Kids get more kid-appropriate snacks, e.g. gummy bears.) In addition, you get as good a seat at Fantasmic! as you are willing to come early for, without using a FastPass+, and without the time and expense that a sit-down dining package dinner would cost. (The dining package saves you no time at Fantasmic! itself, as it also has first-come-first served seating in the dining package section.)
At this price, the Fantasmic! Dessert and VIP Viewing Experience is clearly not for everyone, and is an even worse deal for those whose dining earlier in the day makes the snacks largely superfluous. The drink is nice, but no one ever goes to the Studios yearning for a blue margarita.
That said, it is a legit approach to seeing Fantasmic! for those who can afford it, especially if the rest of their dining this day lets the snacks substitute for dinner.
There's lots of good seats for Fantasmic!, but so long as the seats for this experience remain where they are, the seating location is hard to beat. You are near the center of the show, but can pick how close to the water you want to be. If the event does convert to dedicated seats by the water, you will get misted, but the vantage point from up close is really nice…


Follow yourfirstvisit.net on Facebook or Twitter or Pinterest!!
RELATED STUFF