A Friday Visit with Jim Korkis: The BoardWalk's AbracadaBar
By Dave Shute
Welcome back to Fridays with Jim Korkis! Jim, the dean of Disney historians and author of Jim's Gems in The easy Guide, writes about Walt Disney World history every Friday on yourfirstvisit.net.
THE STORY OF ABRACADABAR
By Jim Korkis
The AbracadaBar at the BoardWalk opened in July 2016, serving enchanting elixirs and curious concoctions in the location previously occupied by SeaShore Sweets.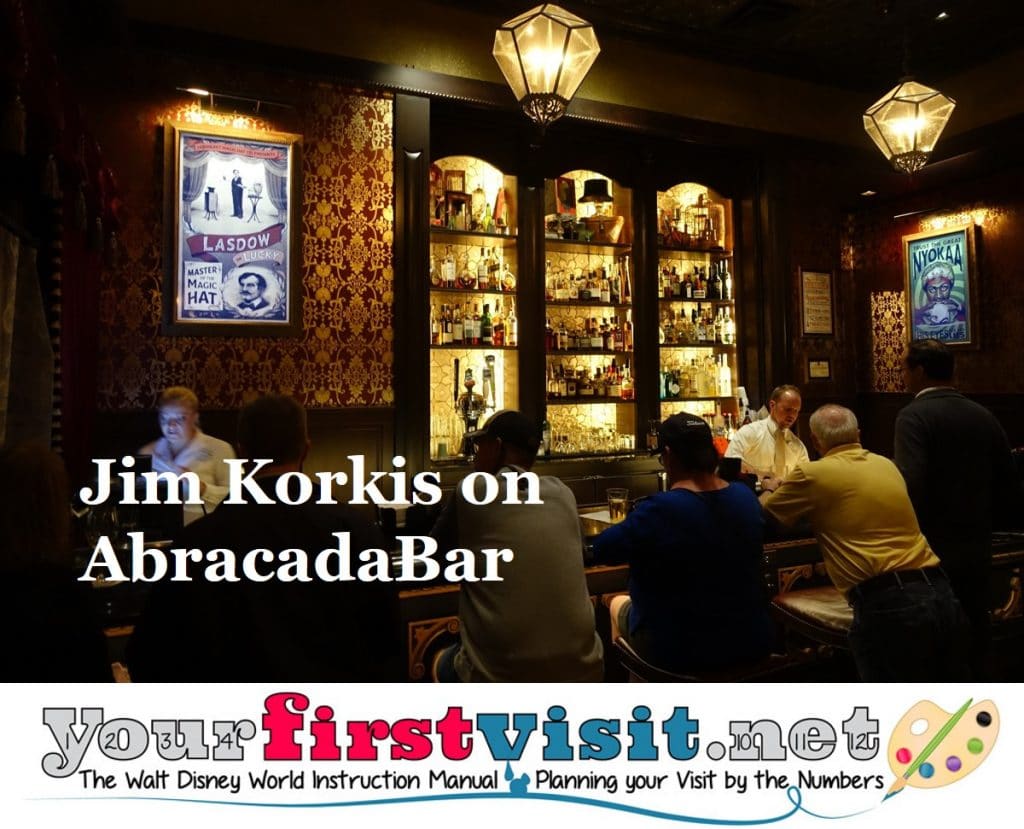 According to Disney publicity, "This little lounge was a former stomping ground for the famous magicians, boardwalk illusionists, and lovely magician's assistants of the Golden Age. After a show, prestidigitators would gather to 'conjure' up new cocktails, swap magic tips and tricks, and stay up all night attempting to 'out-charm' each other with their extraordinary illusions.
"According to BoardWalk lore, it was on just such an evening that every single magician in the lounge vanished into thin air, and was never seen again …"
Now, after sitting vacant for nearly seventy-six years, it is back in operation to the general public.
It was on a Friday the 13th in September 1940 that the mysterious disappearance took place but since this private sophisticated social club was left exactly as it was decades ago the magic still remains strongly intact, and can be seen, heard, and savored in the bar's signature cocktails including Elixir 13, a mixture of Lucid Absinthe and water that may have helped cause the magicians' disappearance.
The rich and ornate area is decorated with enchanted ever-changing magic show posters, mystifying mirrors, and vintage props and tricks left behind decades ago including displays of locks and keys, cards, linking rings and magic wands.
Even the wall paper has hidden images of interlocking rings, doves, rabbits, card suits, handcuffs and other magical artifacts.
On one wall is a framed copy of The Boardwalk Bugle newspaper from Wednesday November 13, 1940 telling the official back story:
"The shocking revelations of a secret magicians' lounge could point to new clues concerning the group of beloved illusionists who mysteriously vanished from our boardwalk weeks ago. Though, truth be told, we may be more perplexed than before.
"A custodian working at BoardWalk's magic club made the surprising discovery late yesterday evening when he rested his mop against a false door leading into the secret room. By the look of the room's peculiar décor – including magical accoutrements and shelves lined with curious elixirs – this is no doubt the clandestine hideout of our missing master magicians.
"But there's just one dilemma…there are still no magicians in sight!
"After investigating the magicians' hideout this morning, The Boardwalk Bugle noticed something extra out of the ordinary about this already peculiar lounge. Glasses filled with odd elixirs still sat on the countertops.
"Magic props and playing cards were scattered all about. And, stranger yet, all of the clocks in the room were set to thirteen past the hour – almost as if time froze and every magician disappeared on the spot.
"When we questioned the club owner about her knowledge of the hidden room and the possible whereabouts of the missing magicians, she repeated the same unhelpful news we've been reporting for weeks now: "A good magician never reveals her secrets!"
"According to multiple witnesses, the missing conjurers in question were last seen entering the loading area behind BoardWalk's magic club on September 13th. All wore ostentatious costumes, and were accompanied by assistants, stagehands and crates filled with small animals – including doves, rabbits and the like.
"Suspicions only arose when the touring magician Laslow the Lucky failed to appear for his much anticipated matinee performance the following day. In addition to M. Laslow, it would appear that his assistant, multiplying rabbits and every illusionist on the boardwalk vanished along with him.
"Whether a good illusion or a simple misunderstanding, The Boardwalk Bugle will be certain to keep our dear readers informed about the whereabouts of our beloved magicians."
*  *  *  *  *
Thanks, Jim! And come back next Friday for more from Jim Korkis!
In the meantime, check out his books, including Secret Stories of Walt Disney World: Things You Never You Never Knew
, which reprints much material first written for this site, and The Vault of Walt: Volume 4, and his contributions to The easy Guide to Your Walt Disney World Visit, all published by Theme Park Press.



Follow yourfirstvisit.net on Facebook or Google+ or Twitter or Pinterest!!
RELATED STUFF