Theming and Accommodations at Disney's Kidani Village
By Dave Shute
(For the first page of this review of Kidani Village, see this.)
THEMING AND ACCOMMODATIONS AT KIDANI VILLAGE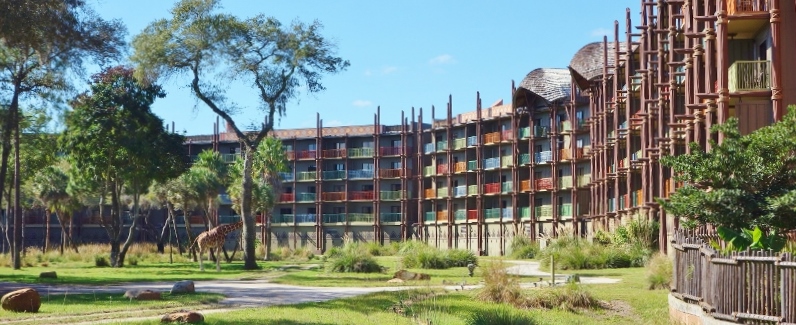 There are currently ten official Disney Vacation Club resorts at Walt Disney World.
Because the two sets of options at the Wilderness Lodge, Animal Kingdom Lodge and Saratoga Springs are so different, and the Polynesian offering is so distinctive, for review purposes I count a total of twelve resorts, but rank only eleven.
Their overall ranking for first time family visitors is as follows:
My rankings exclude the Polynesian Villas and Bungalows, as it does not offer one or two bedroom villas. If the ranking were based solely on studios, the Polynesian offering would be near the top.
These resorts are available to anyone to reserve through the regular Walt Disney World website or the resort reservations phone number at 407-939-7675.
They also are available to the general public at great discounts through renting points from a Disney Vacation Club member.
 THE THEMING OF KIDANI VILLAGE

Disney's Animal Kingdom Villas are described on Walt Disney World's Disney Vacation Club website as a place where you can
"immerse yourself in the wonders of the wild, surrounded by colorful creatures … Delight in African-inspired details while you relax in accommodations that capture the adventurous atmosphere of the wild. Feel at home in this village alive with the spirit of the savanna."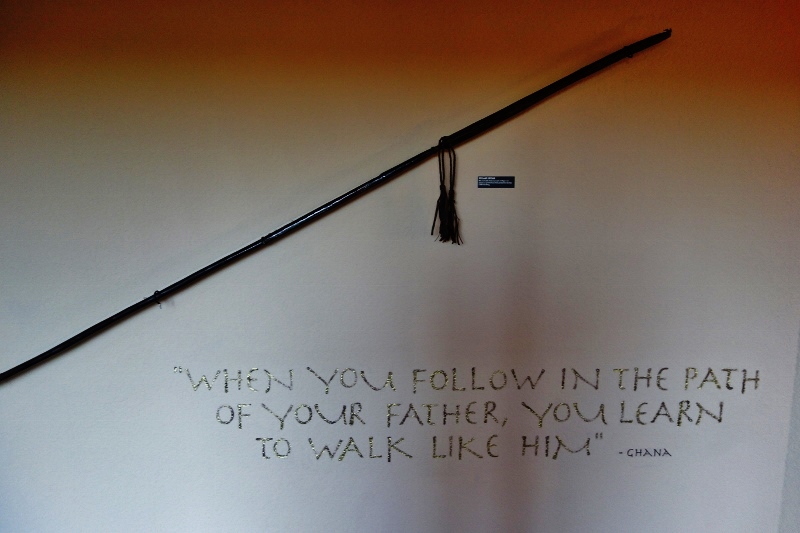 The two Disney Vacation Club areas here–Kidani Village and Jambo House Villas–share resources with Disney's Animal Kingdom Lodge.
The original Animal Kingdom Lodge opened in April, 2001, as the most unique resort hotel at Walt Disney World, and one of the more unique in the world.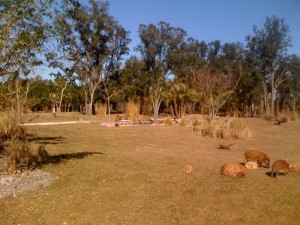 This distinction came partly from its stunning lobby, partly from its glorious African art and theming, but mostly from the fact that more than half of the rooms overlook "savannas" filled with wild animals.
Sipping your morning coffee on your balcony with a giraffe 50 feet away needs to be experienced to be believed…
The original Animal Kingdom Lodge also included two table service restaurants, a quick-service dining area, a pool and an exercise area.
In 2008, Disney completed converting some of the Animal Kingdom Lodge's rooms into Disney Vacation Club rooms, and in 2009 it opened Kidani Village, a separate Disney Vacation Club building with its own lobby and check in area.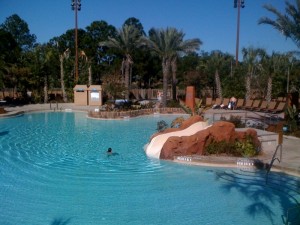 Kidani Village also has its own pool, workout area, and adds a third sit-down restaurant to the complex, Sanaa.
When Disney World opened Kidani Village, it renamed the original Animal Kingdom Lodge as Jambo House, to limit–or perhaps simply re-nominalize–confusion between it, its check-in area, and its DVC rooms, and those at Kidani Village.
Among the DVC resorts, Kidani Village's strengths for first time visitors are its views of animals–especially if you reserve a savanna-view room–its spacious and very livable One and Two Bedroom Villa floor plans, and the fact the One Bedroom Villas can sleep 5 and Two-Bedroom Villas can sleep 9.
Kidani Village's restaurant, Sanaa–with an Indian-influenced African menu–is also delightful for adults, but has limited options for kids.
ACCOMMODATIONS AT KIDANI VILLAGE
All Disney Vacation Club resorts except the Polynesian Villas and Bungalows have studio rooms, One-Bedroom Villas, and Two-Bedroom Villas.
Most have Grand Villas as well.
Kidani Village floor plans of all room types are on this page.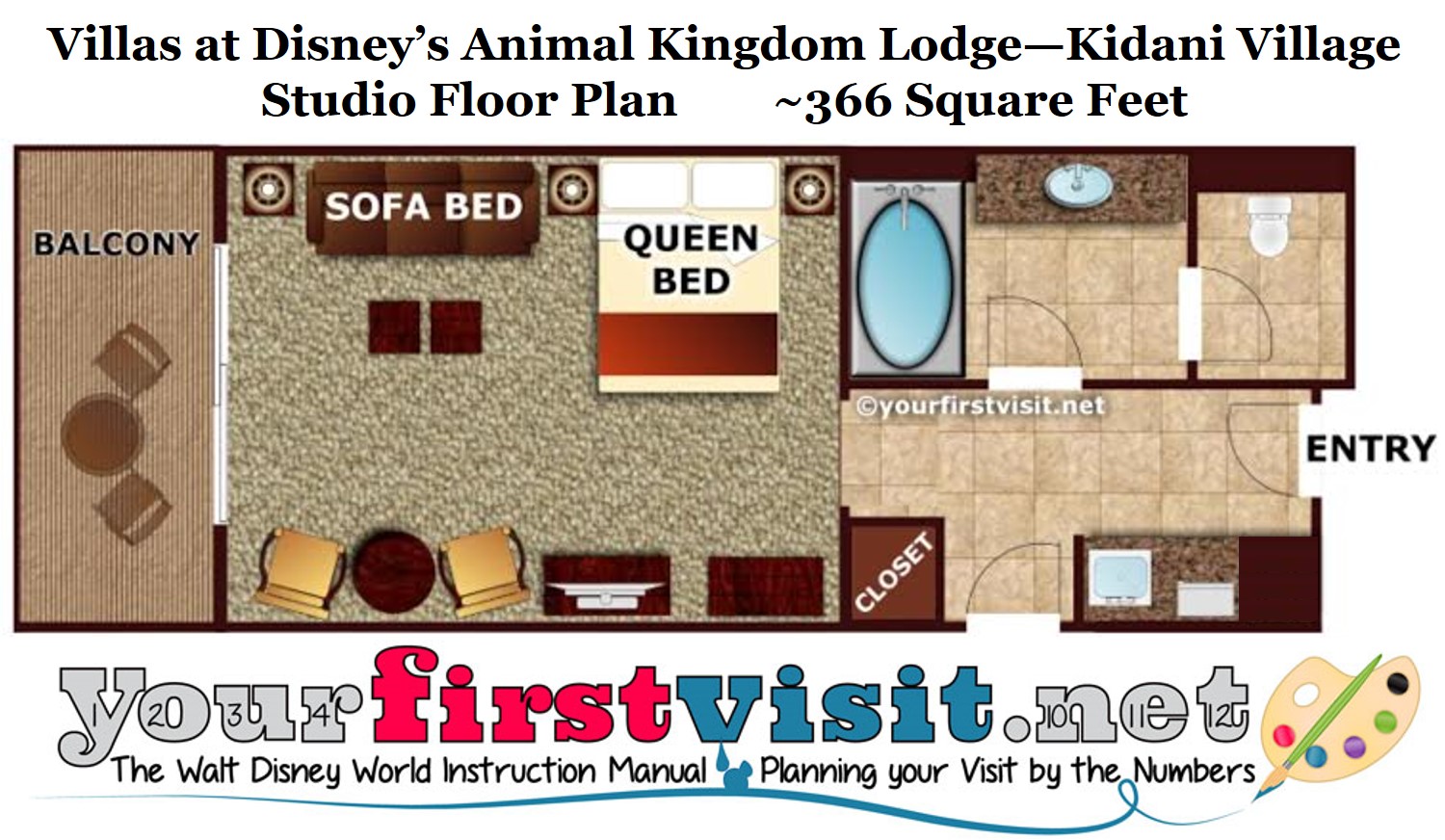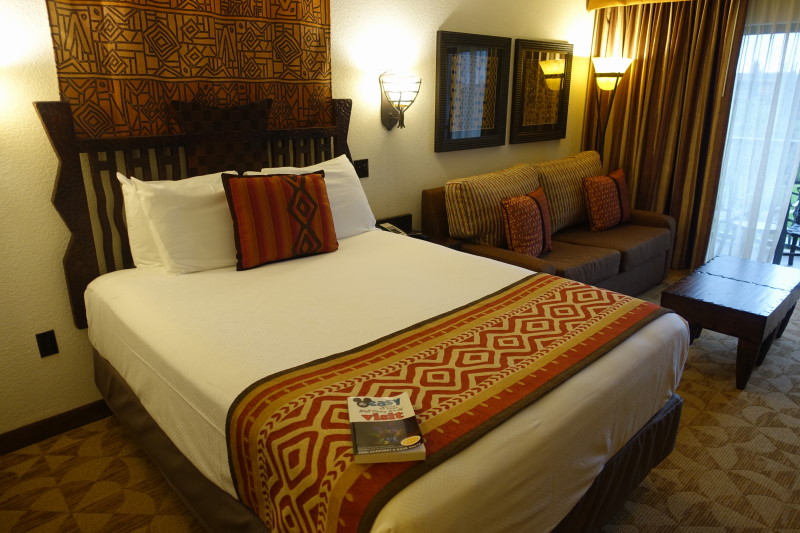 At Kidani Village, Studios sleep four and have a mini kitchen that adds a microwave and toaster to the usual coffeemaker and mini fridge found in all deluxe rooms.
A photo tour of a Studio begins here.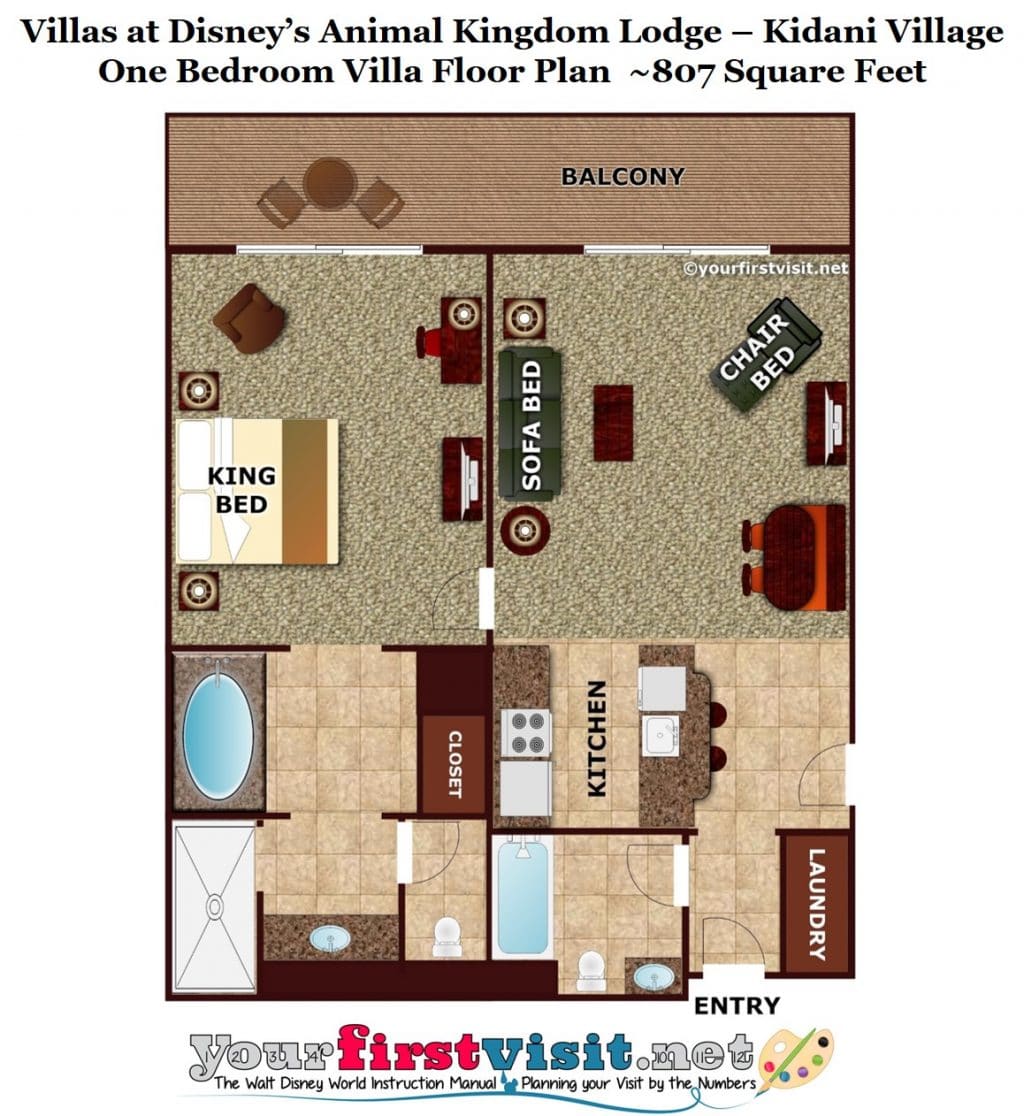 One-Bedroom Villas have a master bedroom with a king and a private master bath.
They have as well a particularly livable full kitchen/dining/living space with a second bath, and sleep 5.
The three additional sleeping spots are on fold-out furniture in the living space.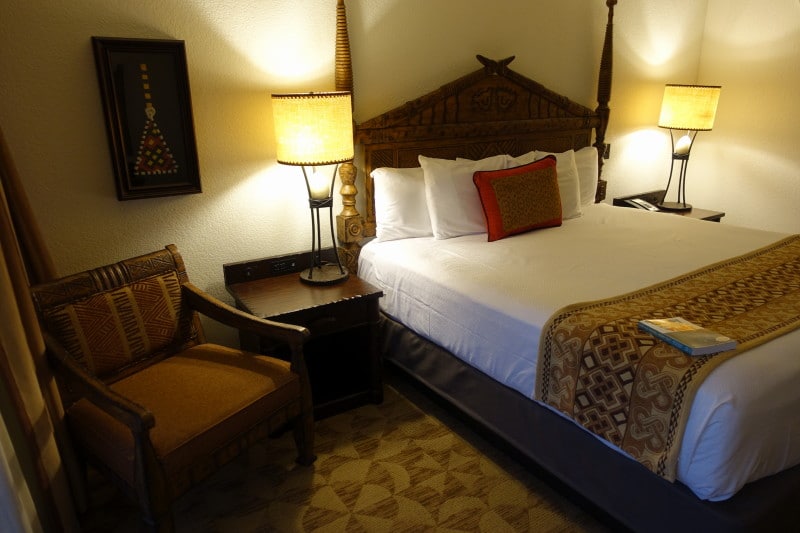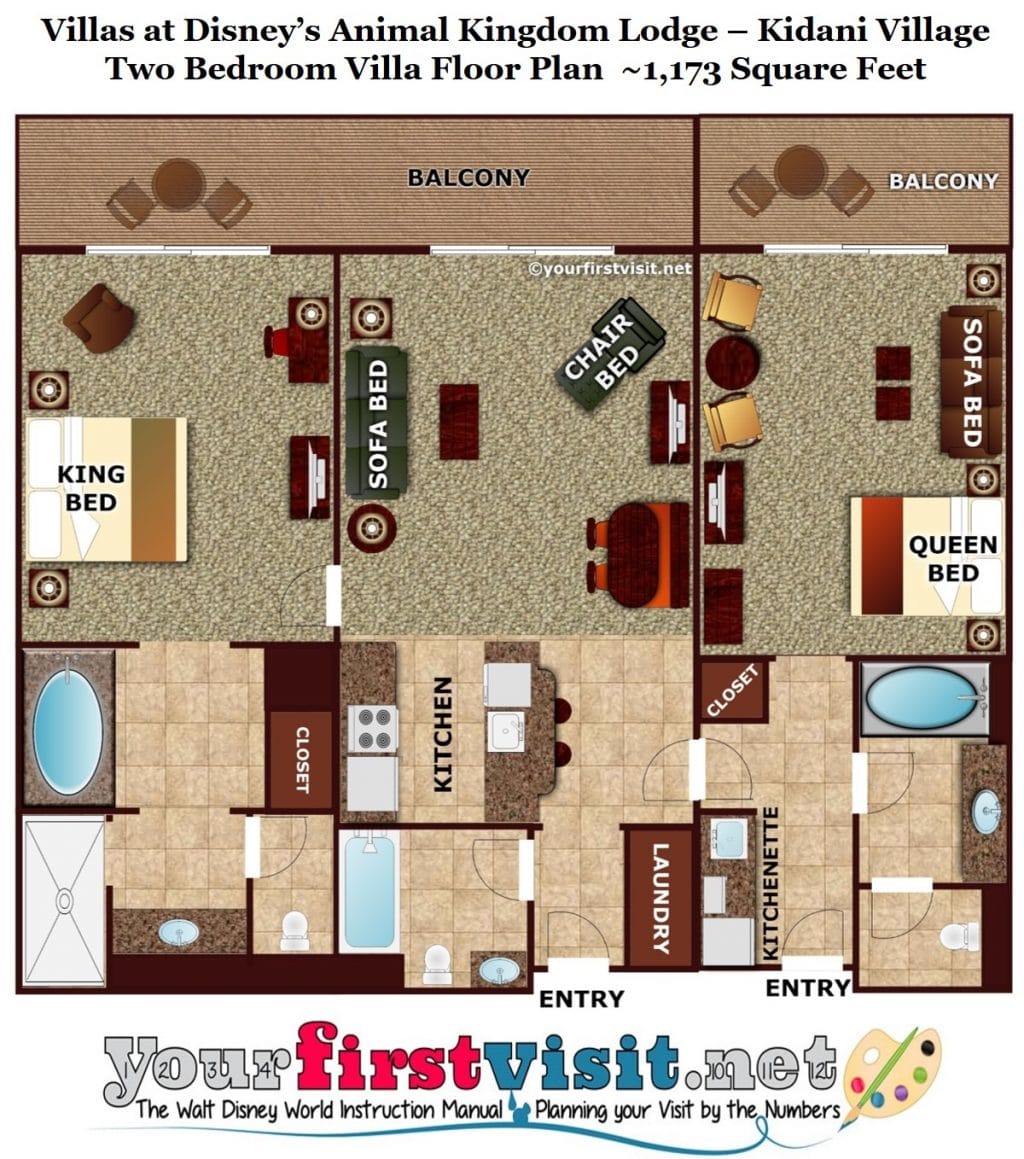 Two-Bedroom Villas add a second bedroom with a queen and a sleeper sofa (two queens in some rooms) to the amenities of a One-Bedroom, and sleep 9.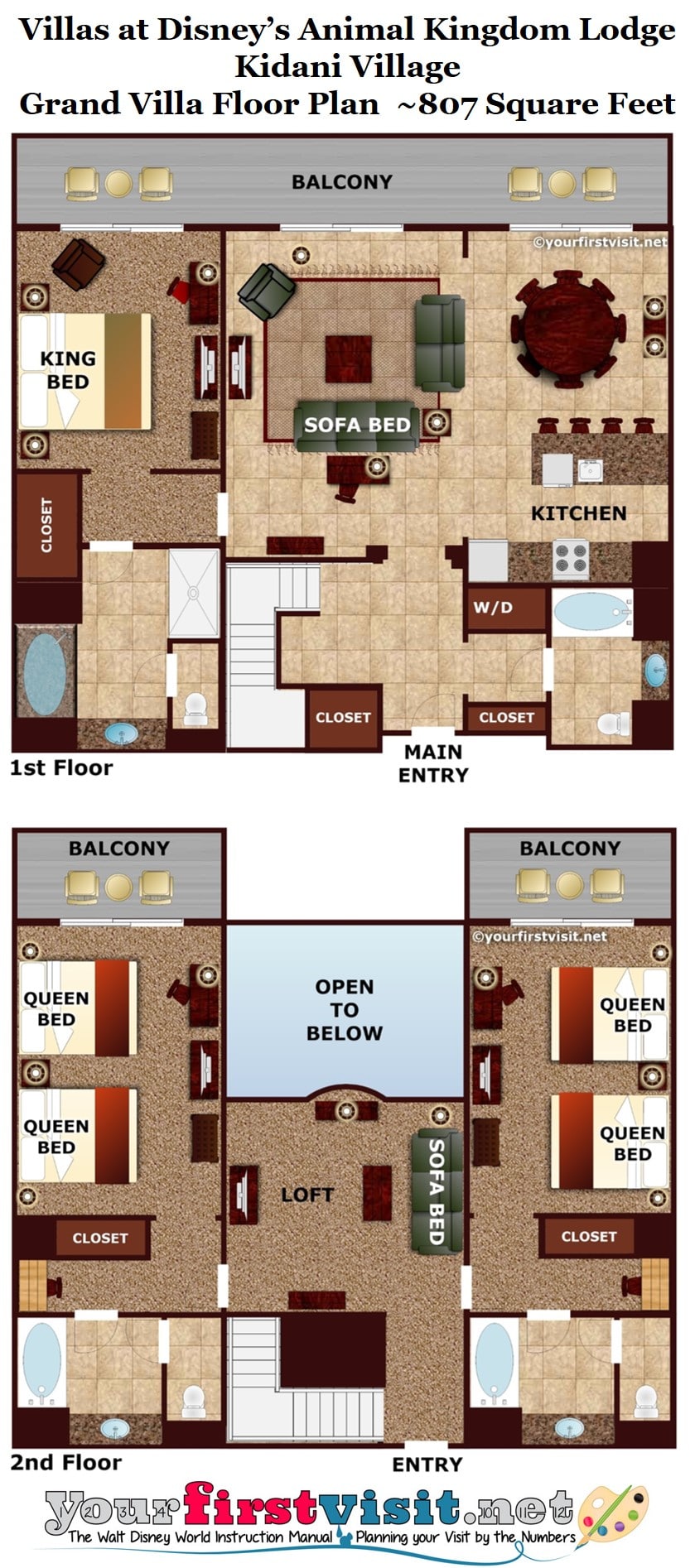 Grand Villas at Kidani Village sleep 12 in a little less than twice the space of a Two-Bedroom Villa, in three bedrooms (one with a king, and two with two queens) plus sleeper sofas.
At Kidani Village, Grand Villas are two-story spaces.
The master bedroom, living room, dining room, and kitchen are on the first floor, and the two other bedrooms are on the second.
Also on the second floor is a smaller sitting area, lofted to the main living room.
(To each of the capacity figures above, you can add one more kid under 3 at time of check in who sleeps in a crib.)
This review continues here!


Follow yourfirstvisit.net on Facebook or Twitter or Pinterest!!
RELATED STUFF